Wed, 2 Dec 2009, 09:54 AM



I Don't Know Anything About A Jinx



By Bob Frey


Photo copyright 2009 Auto Imagery, Inc.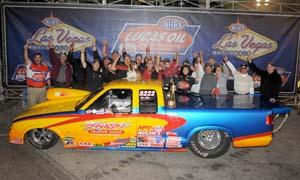 Max Tafoya Jr.
I know you'll find this hard to believe, but for a while, a long while, it was thought by some that if I came by to do a story on you that you might as well pack up and go home. That's because some racers thought that I was a, what's the word, oh yeah, a jinx. Now I don't know where that impression came from although I do know that it goes back years. Well, for those of you who may be the subjects, or intended subjects on one of my stories in the future, you can rest easily because the jinx, if there ever was one, is officially over. If you don't believe me just ask Max Tafoya Jr. Max, you may recall, won the Las Vegas national event and was the feature story on DragRaceCentral.com the following week. Then, at the Division 7 race at the Strip at Las Vegas Motor Speedway, Max won again. He went through a huge field of cars before meeting Mike Sawyer in the final round. Max got the win and finished two of the best weeks ever for him or any sportsman racer, for that matter. I'm sure that if you ask him he will tell you that he doesn't know anything about, never heard of, doesn't believe in and laughs in the face of any "Bob Frey jinx." I always liked Max.
Now I must admit that this jinx thing wasn't without a little merit a few years ago. I did, indeed, talk to racers who then had rather bizarre things happen to them. Of course the fact that I had interviewed them, thought about interviewing them or did a little television feature on them had absolutely no effect on the occurrences that followed. At least I don't think they did. Let me give you a couple of quick examples and you decide for yourself. I will change the names to protect, well, me!!
At Pomona many years ago, I was doing a segment for the old NHRA Today television show (I really miss that show). The piece was going to center around the sportsman drivers who were still in the running for the World Championships. In the Stock Eliminator class there were three drivers who were all bunched up at the top and who could each win the championship if things went their way. I took the cameras over to the first two drivers, we'll call them Chuck and Don, and talked with them. They appreciated the fact that I was interested in their situation and the fact that they might win the championship. We spoke for a while, I wished them luck and moved on to driver number three. This particular driver, we'll call him Grant, had been running well all year but needed a big day to pass the other two. As I approached him and said that I would like to talk about his chances, he simply looked at me and said, "I'm sorry, Mr. Frey, I can't talk to you because you're a jinx." And he was serious. He then went out and lost in the first round and one of the other two, you know, Chuck and Don, went on to win the championship. My fault? I seriously doubt it.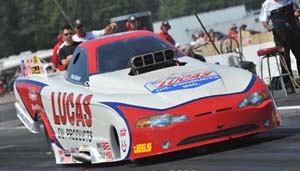 No, not this Frank.
On another occasion I was at Indy and was doing a story on a Top Alcohol Funny Car driver from New Jersey who, for the purpose of this story, we'll call Frank. No, not that Frank. Anyway, this driver had been running well and then he stunned everyone by grabbing the top spot in the field. To show you how impressive that was the number two driver was a guy from New Jersey by the name of Frank, yes, that Frank, and the number three guy was Pat Austin (and I didn't change his name). Anyway, Frank number one paced a very good field of cars so I thought he was worthy of a story. I went over, talked to him, set him up for a television story where he could talk about his weekend and the fact that he was number one for the first time in his career. He spoke well, the television producers loved the piece and all was going well. All, that is, until round one when Frank never showed up. I mean he wasn't in the lanes, he wasn't in the pits and he wasn't even in the state. He simply left. Number one at Indy and he took off right after I interviewed him. Go figure. And to this day I still don't know exactly what happened, but I'm sure it had nothing to do with a jinx. At least I don't think it did, but you'll have to find Frank to get his side of the story.
One more instance and we'll call this driver Bob. No, not me, the other Bob. OK, to make it easier let's call him Robert. No, not that Robert. Geez, work with me people. Anyway, this particular driver was racing at a divisional race in Utah and he had a really neat car. Now I like neat cars, ones that are a bit different from the normal, so I was attracted to this machine. For the purpose of this story, let's say that it was a Ford station wagon. As usual, I talked to Bob, I mean, Robert, got his story and knew that it would make a good television segment. Now Robert told me that he had an accident a few years earlier and he had lost the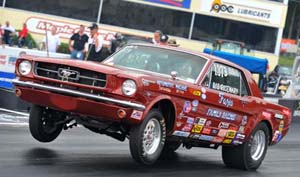 No, not this Robert.
feeling in one arm. Ok, that's a little something that may or may not make the show. Well, as my cameraman was getting ready to shoot Robert's first run, I was doing a little announcing in the tower. As a sidelight I should say that when I go to these races I am often asked to do some announcing, and I figure it's either one of two things, the track likes having a big-time drag racing announcer make a guest appearance at their track, or I work cheap. You decide for yourself. Moving on...As I was announcing, one of the tower workers asked if I was doing a story on Robert (who had a solo run in round one)? I said yes and then was told, "That's too bad because Robert's being pushed off the line." I looked, and sure enough, there was Robert in his really cool car getting pushed back before he even made a burnout. And to make matters worse, at least for me, we hadn't shot any footage of Robert on the track. So out of the tower I ran, down to the car where Robert had the hood off. As he is looking at the engine, his crew guy cranked it over and there is a quick flash of flame from the carburetors. When that happened, it caught Robert's jacket on fire on the arm where he told me he has no feeling. As he continued to try to work on the car, his jacket was burning and I was trying to point it out to him because, well, he can't feel it. Like most of my stories this one ended happily, at least for me if not Robert, and we continue to be friends today, although I haven't done a story on him since then.
These are just a few examples of things that happened in the past, the distant past, and I think you'll agree that I had nothing to do with the outcomes or what happened to the racers. I didn't make the Stock guy lose, send Frank home or set Robert on fire. At least not that I remember. The point is, as the expression goes, "Stuff happens." OK, so we changed some more words to protect, well, me, but you get the idea. I do my best, the racers do their best, and if all works out well, it all has a happy ending. So, racers, feel free to talk to me, tell me your life story and then go out and win. Hey, it can happen, and if you don't believe me, ask Max. Or Frank, if you can find him.




NHRA: 10 Most Recent Entries [ top ]

May 21- Second JEGS SPORTSnationals Added, to be held in mid-August in New England
May 20- DENSO Sponsors NHRA Champs' Shelter-in-Place Dachshund Race
May 14- To Our Racing Community-From Racers for Christ
May 13- The Name Game Part I
May 12- Morgan Lucas, Son of Forrest and Charlotte Lucas, Appointed President of Lucas Oil Products, Inc.
May 05- Cancellation of the 14th Annual Summit Racing Equipment NHRA Nationals
May 04- NHRA Announces Revised Plan to Restart 2020 Mello Yello Drag Racing Series
Apr 29- DSR Drivers Join Global Superstars in Fight for COVID-19 Relief
Apr 02- NHRA National Dragster will Temporarily Shift to a Free-to-All Digital Magazine
Apr 02- NHRA Announces Revised E3 Spark Plugs Pro Mod Drag Racing Series Schedule