Mon, 19 Oct 2009, 08:50 AM



Haight and Gallen Score Wins at Goodguys Nostalgia Nationals



Courtesy of John Drummond


Photo copyright 2009 Bob Johnson Photography





BOWLING GREEN, Ky. --

Haight vs. Coker
The Goodguys 2nd Nostalgia Nationals at historic Beech Bend Raceway Park in Bowling Green, Kentucky was a colorful blend of hot rods, vintage race cars, crisp fall weather and an enthusiastic crowd that witnessed a spectacular weekend of racing and hot rodding! In the end, the weather got warm and rods and race cars packed the quaint facility owned and operated by Dallas Jones and his family. The 2nd Nostalgia Nationals served as the third and final Goodguys Vintage Drag Race of the 2009 season.
After two runner-up finishes in nostalgia top fuel this year, the third time proved to be the charm for veteran Howard Haight. Driving the New York based "Nitro-Diction" entry tuned by Pete Jensen; Haight broke through for his 7th career Goodguys top fuel win in 8 career finals. "I want this one bad" said Haight while helping prepare the car for the final. He started the day by dispatching Kevin Brewer's "Midwest Threat" with a 6.392, and then took down "Diamond Dave" Miller's "Telstar" entry with a 6.303 in the semi's before defeating the car of Odie Coker in the final 6.426 @ 234.70 to Coker's red-lighting 7.037. The "Nitro Diction" entry was the only top fuel car to run a sub-seven second run in each round of eliminations.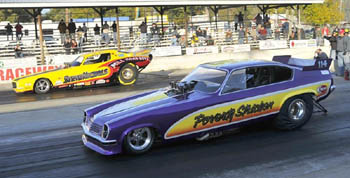 Gallen vs. Nichols
Nostalgia funny car racer Peter Gallen of Broomall, Pennsylvania took his colorful "Poverty Stricken" '74 Vega to a popular win here in Bowling Green defeating a stout field of 9 vintage funny cars. Racing out of the #2 qualifying slot, Gallen drew Paul Romine in the "Man O' War" '79 Ford Mustang for his first round race in what turned out to be the fastest side-by-side nostalgia funny car race in Goodguys history. Gaining a .114 to .141 advantage off the line, Gallen ran 5.945 @ 246.53 to defeat Romine's gallant 5.955 @ 244.47. He then ran 6.151 to defeat John Dunn's "Dunn & Gone" '73 Duster in the semi's then defeated arch rival and #1 qualifier Steve Nichols in the final running 6.107 to Nichol's tire-smoking 7.766. Gallen's 8 month old son Aiden joined his daddy and the rest of the happy crew in the winner's circle to accept their first Goodguys hemi Oscar.
Returning to the winner's circle in Pro Comp I for the first time this season was Richard Edwards and his VP Racing Fuels sponsored '48 Fiat. A two time winner in 2008, Edwards used a 7.088 on a 7.00 class index to collect the event win over a red-lighting Steve Walczak. In the 7.50 index Pro Comp II eliminator it was Steve Knopp tasting victory with a 7.536 winning ET.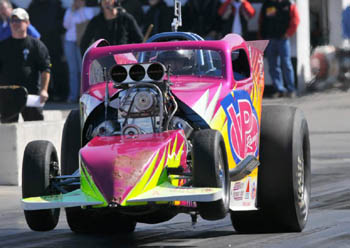 Richard Edwards
Utica, Kentucky's Darrell Wathen showed everyone in the 8.50 index B/GBAS category why he's the man to beat. Twice in eliminations, Wathen pegged the index with runs of 8.503 to defeat Rob Davis in the semis and again with an 8.505 in the final to defeat a wheelstanding Larry Grenke. Grenke must be given some credit for showmanship as the wheelstands he pulled throughout the weekend in his blown '63 Plymouth Belvedere left the race fans begging for more!
Yet another treat for the fans was Saturday's round robin, run-'til-there's-a-winner 1/8th mile eliminations for the Street Rod Shootout and Hot Rod Shootout. Pitting cars from the car show side of the event against each other in heads-up 1/8th mile competition in two divisions (Hot Rod are allowed blowers and nitrous) the event always attracts some exciting show cars strutting their stuff on the dragstrip.
Tasting victory in the Street Rod Shootout was New Berlin, Wisconsin's Jiggs Lindhorst. Competing here in Bowling Green for the first time after winning the Hot Rod Nationals in Indy 5 times, Lindhorst took out 2008 Hot Rod Nationals champion Ralphe Dehne in the quarter finals with a 7.324 to Dehne's 7.351 (which turned out to be the closest race of the entire shootout). In the semi's, Lindhorst went sub-7 seconds clicking off a 6.919 @ 98.58mph, then in the final dispatched the '68 Olds 442 of Larry Mayfield with his best 1/8th mile lap ever - an amazing 6.865 @ 98.33mph!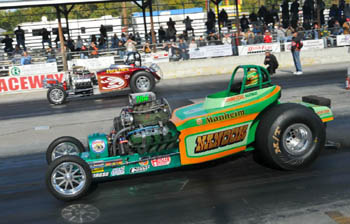 Hough vs. Guasco
In the Hot Rod Shootout, Chris Cowles, behind the wheel of his '70 Nova went looking for a repeat performance of last year's win here. He got it with a straight and true 6.953 @ 96.05 to defeat Darryl Scott's 7.728 @ 91.84.
The special match race between Rich Guasco's "Pure Hell" and Dave Hough's "Nanook" fuel altereds certainly didn't disappoint with each car getting a match race win and bragging rights. In Sundays' first lap, Jason Richey drove Gausco's famed '32 bantam to a winning time of 6.647 @ 161.11 while in the afternoon stanza, Nanook took the win with a 6.683 @ 216.83 while Richey smoked the tires the entire length of the quarter mile to the delight of the crowd.
Other event winners included Tommy Cook (Nostalgia Comp), Mike Shahan (Nostalgia Gas), and Brad Spires (Hot Rod Eliminator)

Official Race Results:

Nostalgia Top Fuel
Winner: Howard Haight, Brownsburg, IN 6.426 @ 234.70
Runner Up: Odie Coker, Kiefer, OK 7.037 @ 204.76 (foul)

Nostalgia Funny Car
Winner: Peter Gallen, Broomall, PA '74 Vega 6.107 @ 241.37
Runner Up: Steve Nichols, Newark, DE '70 Camaro 7.766 @ 205.54

Pro Comp I
Winner: Richard Edwards, Terre Haute, IN '48 Fiat 7.088 @ 191.10
Runner Up: Steve Walczak, Rochester, NY '32 Bantam 7.041 @ 190.40 (foul)

Pro Comp II
Winner: Steve Knopp, Shelbyville, IN 7.536 @ 184.32
Runner Up: Gayle Jenkins, Mt Sterling, IL 12.000 @ 81.97

B/GAS
Winner: Darrell Wathen, Utica, KY, '41 Willys 8.505 @ 145.22
Runner Up: Larry Grenke, Muscatine, IA '63 Plymouth 10.000 @ 103.72

Nostalgia Comp
Winner: Tommy Cook, Columbia, KY '34 Roadster 8.563 @ 147.13
Runner Up: David Seacrest, Austin, AR 8.107 @ 166.52

Nostalgia Gas
Winner: Mike Shahan, Bainbridge, IN '65 Falcon 10.382 @ 108.73
Runner Up: C.B. Bagshaw, Mooresville, NC '66 Nova 12.437 @ 59.22

Hot Rod Eliminator
Winner: Brad Spires, Avon, IN '70 Nova 11.156 @ 115.93
Runner Up: Tom Kovacs, Mooresville, KY '69 Firebird 10.509 @ 125.93 (foul)

1/8th Mile Street Rod Shootout
Winner: Jiggs Lindhorst, New Berlin, WI '34 Pontiac 6.865 @ 98.93
Runner Up: Larry Mayfield, Owensboro, KY '68 Oldsmobile 8.723 @ 79.61
 
1/8th Mile Hot Rod Shootout
Winner: Chris Cowles, Bowling Green, KY '70 Nova 6.953 @ 96.05
Runner Up: Darryl Scott, Elizabethtown, KY 7.728 @ 91.84

Pro Classes Round by Round

Funny Car Rd 1
Steve Nichols, Newark, DE '70 Camaro 6.122 @ 232.95 
def. Shawn Bowen, Grand Blanc, MI '77 Pontiac 13.986 @ 85.47

Peter Gallen, Broomall, PA '74 Vega 5.945 @ 246.53 
def. Paul Romine, Indianapolis, IN '79 Mustang 5.955 @ 244.47

Anthony Bronge, Park Ridge, IL '69 Camaro 6.321 @ 231.12
Def. Kevin Lennon (broke)

John Dunn, Monticello, IL '73 Duster 6.323 @ 231.28
Def. Greg Jacobsmeyer, Florrisant, MO '70 Challenger 9.449 @ 84.87

Funny Car Rd 2
Peter Gallen 6.151 @ 236.63 def John Dunn 6.293 @ 235.56
Steve Nichols 6.338 @ 225.82 def Anthony Bronge 6.408 @ 229.24

Funny Car Final 
Peter Gallen 6.107 @ 241.37 def Steve Nichols 7.766 @ 205.54

Top Fuel Rd 1
Diamond Dave Miller, Cedar Hill, MO 7.006 @ 203.03 
def. Tom Steed, Bellerica, MA 7.106 @ 152.50

Howard Haight, Brownsburg, IN 6.392 @ 236.75 
def Kevin Brewer, Muscatine, IA 8.902 @ 80.22

Odie Coker, Kiefer, OK 6.820 @ 193.21 
def Joe Krupinski, Salem, IN 10.000 @ 87.88mph

Top Fuel Rd 2
Howard Haight 6.303 @ 241.41 def Diamond Dave Miller 7.849 @ 123.80
Odie Coker 13.691 @ 72.83 was unopposed

Top Fuel Final
Howard Haight 6.426 @ 234.70 def Odie Coker 7.037 @ 204.76 (foul)





Drag News: 10 Most Recent Entries [ top ]

May 27- Castellana Victorious at The Night of Thunder Mike Castellana took home the win Saturday
May 24- Holley National Hot Rod Reunion presented by AAA Celebrates Car Culture Over Three Memorable Days
May 24- Biehle is Ready for Pro Mod Racing at The Night of Thunder
May 16- Winners Crowned at .90 Series Opener
May 16- 32 Members of the International Drag Racing Hall of Fame will be at be at Spring Classic Nitro Revival May 18-20
May 16- 18th Annual NMRA Ford Motorsport Nationals Final Results
May 16- PDRA Reemphasizes Commitment to Pro Extreme
May 16- For Better or Worse
May 16- Musi Racing Engines and Buck Racing Engines Take Early Lead in Flatout Gaskets Nitrous Wars
May 16- St. Louis Nostalgia Rendezvous this Weekend at Gateway Motorsports Park