Sun, 26 Jul 2009, 01:42 PM



Record Crowd Cheers National Guard ADRL Winners in Virginia



Courtesy of ADRL Communications


Photo copyright 2009 Roger Richards





DINWIDDIE, Va. -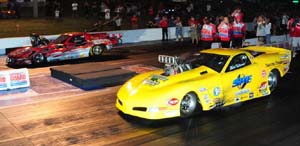 Tutterow vs. Stanton
Virginia is for lovers of National Guard ADRL racing. At least that's what it looked like July 25, as a record-setting crowd witnessed Bubba Stanton, Jim Halsey, Chuck Ulsch, Lance Hines and Brian Gahm each collect a new Minuteman trophy from the ADRL NATIONALGUARD.com U.S. Drags II at Virginia Motorsports Park (VMP).
The 600-acre facility south of Richmond issued a news release Saturday evening, stating attendance "overwhelmed everyone involved with the event." The release further said that since opening in 1994, VMP has hosted 14 other major-league drag racing events, "but the National Guard ADRL this weekend far surpassed crowds in the past," according to track general manager Bryan Pierce. In fact, Pierce pointed out for the first time in VMP's 15-year history, track and state officials agreed to close the entrance gates in order to reroute excessive traffic that was creating a more-than-four-mile traffic jam extending to the nearest Interstate.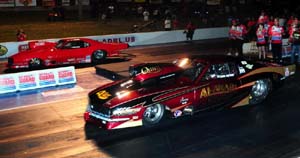 Khalid Al-Balooshi vs. Halsey
Meanwhile, Stanton, from Potts Camp, Mississippi, steered his '63 Corvette to a 3.80-seconds win at 196.70 miles per hour over the eighth-mile course against Yadkinville, North Carolina's Todd Tutterow in the Pro Extreme final. The win was the fourth of Stanton's National Guard ADRL career, and his first since last August.
"We left pretty close together, but then I never saw Todd again," said Stanton, the 2006 Pro Extreme world champion. "I just concentrated on getting to the other end. It sure feels good to be standing here (in victory lane) again."
For Pro Nitrous points leader Halsey, it marked his third National Guard ADRL win this year and came over Khalid Al-Balooshi from the Mid-East country of Qatar.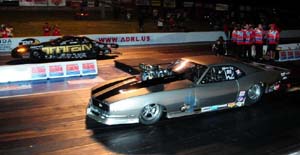 Ulsch vs. White
"The car worked great all afternoon," Halsey said of his '68 Camaro. "We made solid passes every time except for one in the semis, but we got away with that one. In the final, Balooshi made a good pass, but he was a little late on the tree and that's what cost him."
In the competition debut of a new, supercharged 2002 Camaro, Clarksville, Maryland's Ulsch officially reset the Extreme 10.5 elapsed time and top speed records to 4.01 seconds and 197.19 mph, then defeated Gary White and his turbocharged, six-cylinder Scion with a 4.03/196.07 combination in the final.
"What can I say about the car?" Ulsch said after scoring his first National Guard ADRL race title. "It's awesome and working perfectly; I wouldn't change a thing about it."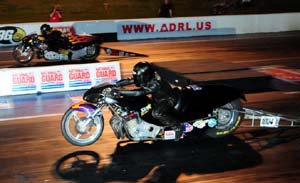 Hines vs. McKinney
The Pro Extreme Motorcycle final turned out to be the quickest side-by-side race in the history of the class, with Dublin, Georgia's Hines going 4.22 at 168.43 to win his first Minuteman by defeating Eric McKinney's 4.23 at 169.13 in a pairing of 2009 Suzukis.
Finally, the Extreme Pro Stock win went to points leader Gahm of Lucasville, Ohio, who ran 4.14 at 173.99 mph in his '07 Mustang over Cary Goforth in an '08 Cobalt.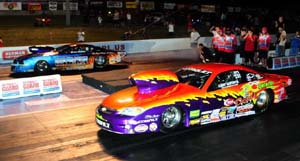 Goforth vs. Gahm
The next race on the 2009 National Guard ADRL Tour is the Hardee's Gateway Drags II, scheduled for Aug. 7-8, at Gateway International Raceway, near St. Louis, Missouri.