Fri, 24 Jul 2009, 03:52 PM



Wagons of Steel



By Bob Frey


Photo copyright 2009 Auto Imagery, Inc.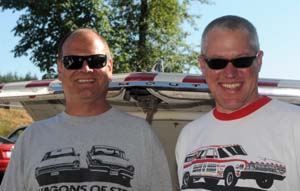 Mike Brenno and Chris Barnes
While it's true that a lot of people come to the drag races to see the professional vehicles, from the Top Fuel cars to the Pro Stock Motorcycles, for years they have also enjoyed watching a wide variety of sportsman cars. In fact, those sportsman cars thrilled the fans for years before Funny Cars, Pro Stock and the Pro Stock Motorcycles were even classes in the NHRA rulebook. The variety of sportsman cars range from twin-engine alcohol dragsters to tiny little, four-cylinder Stock Eliminator machines, and among those Stock Eliminator cars are some of the truly iconic cars in the sport. In the early days of drag racing full-bodied cars like the Ramchargers, the Golden Commandos, Al Eckstrand and his "Lawman" car were all part of the fabric of the sport and fans got on their feet when they came to the starting line. Even some racers who are still competing, like two-time U.S. Nationals champion, Al Corda, campaigned cars that are still talked about. His station wagon won Indy in 1971 and today, some racers still idolize him and his car, racers like Chris Barnes and Mike Brenno.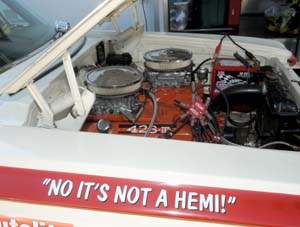 Chris and Mike are the movers and shakers behind a car and a movement called "Wagons of Steel." At the recent Northwest Nationals they were racing their latest creation, a 1964 Plymouth that comes complete with the classic candy stripes and a 426 max-wedge engine. "We found this car and bought it for $800. It wasn't a piece of junk, I mean, people loved the way it looked, but it wasn't in great shape." Now that's an understatement. Chris said that the car had a 318 cubic inch engine with a two barrel carburetor, but it wasn't the kind of car you wanted to drive on the street for any length of time. "When we got it, we drove it around for a while before we realized that the studs were coming out of the back axle. Now that could have been catastrophic." Hey, I don't know anything about mechanical things and even I know that if the studs are coming out of the axle you really don't want to be driving it down I-5 in Seattle. "We took it in the shop and Mike took the rear end out, put a new one in and then I told him that it's never going on the street again and we had a race car." Chris and Mike admit to owning about thirty cars that are kept at their two homes. "Chris has a lot of ground and he has most of the cars there," Mike said. "But I have some at my home, too." And while they said that most of the cars are Mopars and a lot are station wagons, they did admit to owning some that don't fall into either category. "We have a few other cars," Mike said. "We even have a Rambler." Wow, there goes the neighborhood.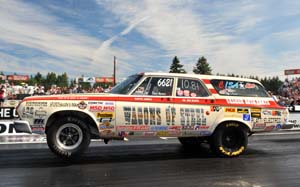 Chris Barnes
Besides being the name of their car, "Wagons of Steel" is also a web site that the two have and that's how they find a lot of the cars that they have. "Over the years people have come to the site and they know that we're always looking for new cars," Chris said. "And they know that, for the most part, we're not going to take the good parts out of the wagons, put them on a two-door and sell them for a profit. We have a lot of respect for these cars and people know that." He did admit to the fact that, occasionally, in order to make a living, they do sell some of the cars. "We have one car that we're working on right now, and when it gets done we'll race it and we will debut it with a 'For Sale' sign on it." I assume that's not the Rambler!
When they are not working on their Wagons of Steel, Chris prints and sells t-shirts for a living while Mike works for the Bone Factory. "That's a company that makes plastic bones for medical instruction. Nothing goes into the body, but it's all used for education." Hey, a guy has to make a living, right? For his part, Chris has always had a fascination with station wagons, while Mike never really had any exposure to drag racing until he met Chris. "I lived back east, went to art school and college before I moved out here (to the Seattle area)," Chris said. "My aunt has a business on Vashon Island and she always told me that if I wanted to move out here she'd have a job for me." Mike, on the other hand, was just sitting around when he got a call from a friend who told him that Chris needed someone to work on his cars. "We got together and have been working together now for years." While they are partners in the business, Chris handles all of the driving chores while Mike does the engine work. "When I first started working on them Chris called me 'Dr. Big Block' and that name has stuck. In fact, it's on the door of the car that we're racing here."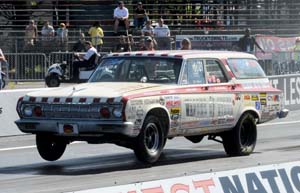 Like most drag racers, Chris and Mike have their heroes, and when station wagons are your life, it's no surprise that Al Corda and Pete Tritak and Bill Morgan are among those heroes. "Our car is a lot like Al's," Chris said. "In fact he has signed the dashboard of our car. And the Tritak and Morgan car, even though it was a '63 car, was one of the most successful wagons in history." Indeed it was, and through their exclusive network Chris and Mike know exactly where that historic car is. "I spoke with the guy who owns it a few days ago. Believe it or not the car is only about a few miles from the original shop." Chris went on to say that it was wagons like that, and a chance encounter with a station wagon as a kid, that initially got him interested in the wagons. "I was looking out a window a long time ago and a guy drove up in a wagon, one of those with wood on it, and I commented that they used to make wagons with wood and now they're making wagons of steel." He went on to say that in his early days as a drag racing fan he always loved the wagons. "Cars like the Ramchargers with their candy-striped cars, Al Corda's and others were just really neat cars and I'm glad that we are carrying on that tradition." One thing that is different about the current Wagons of Steel from those classic cars that he mentioned is the fact that a lot of the early Mopars were shifted by using the Chrysler push button transmission. "Dan Dvorak, who helps us with our engines, still uses that, but I think that would be like driving with a manual typewriter to shift."
The current Wagon of Steel races in the C/SA class, and that means that Chris gives up a lot of head starts, but he also gets chased by several of the newer Stock Eliminator cars. "I like to do the chasing, but I'll tell you, some of those new A/Stock and AA/Stock cars really fly and that can make it tough on us at the end of the track. Still, it's a lot of fun and we're having a great time." That said, the 4,000 pound wagon will make its next appearance this week in Sonoma where they will look for their first national event win. "We've gone rounds when we did some bracket racing but a third round is our best showing so far at a national race. We're looking to change that this week." And while they want to change their luck, what they don't want to change is the respect and the admiration they have for some of the truly classic cars in drag racing. Let the fans enjoy the pro cars, but if you want to see a little piece of drag racing history, visit the Stock Eliminator pits at a national race, and if you're lucky, you just may run into the Wagons of Steel.
Chris and Mike want to thank the folks who have made their racing possible, including Vashon Auto Parts, Sportsman's Inn, Didricksen Construction, Platt Electric, Rock Island Pizza, APT Transmissions, Firm Feel Inc. and Ryland Painting. In addition to the two owners the crew consists of Jerry Barnes, Matt Hatfield, Matt Stoller and Julie Saathoff. And Chris and Mike want to add a very special thanks to their "long suffering spouses," Natalie Kosovac and Noella Emmons.




NHRA: 10 Most Recent Entries [ top ]

May 21- Second JEGS SPORTSnationals Added, to be held in mid-August in New England
May 20- DENSO Sponsors NHRA Champs' Shelter-in-Place Dachshund Race
May 14- To Our Racing Community-From Racers for Christ
May 13- The Name Game Part I
May 12- Morgan Lucas, Son of Forrest and Charlotte Lucas, Appointed President of Lucas Oil Products, Inc.
May 05- Cancellation of the 14th Annual Summit Racing Equipment NHRA Nationals
May 04- NHRA Announces Revised Plan to Restart 2020 Mello Yello Drag Racing Series
Apr 29- DSR Drivers Join Global Superstars in Fight for COVID-19 Relief
Apr 02- NHRA National Dragster will Temporarily Shift to a Free-to-All Digital Magazine
Apr 02- NHRA Announces Revised E3 Spark Plugs Pro Mod Drag Racing Series Schedule