Tue, 2 Sep 2003, 12:23 PM



No. 1 of Two Fro's 50s on Shirley Muldowney



By Norm Froscher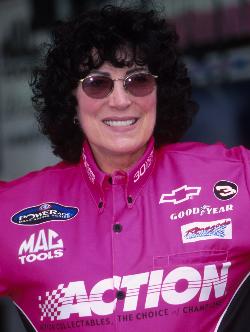 Shirley Muldowney
To share with you everything about Shirley Muldowney I wish, it's going to take
two
of these Fro's 50 Years Writings.
Shirley, you know, is in the midst of her Last Pass tour, a six-event farewell salute with her Top Fuel dragster backed by Action Collectibles and Mac Tools.
Don't worry, Don Garlits (or Donald, as Shirley used to refer to him), you'll get your due later in this series. And actually, is Garlits ever going to retire?
OK, I first met Shirley as NHRA's only licensed Top Fuel pilot when she came to Gainesville for the Gatornationals back in the early '70s. That was when a writer could still possibly get away with calling her by that later hated nickname "Cha Cha".
Yeah. That nickname would enter Shirley's and my world in a most unusual way years later, but that's for our part 2.
My notes of a very early interview indicated Muldowney envisioned herself as sort of a Billie Jean King (the tennis nemesis of Bobby Riggs of the day).
"I really like to beat the guys," she told me. "Oh, they throw their helmets and kick their cars. It's really a sight. They just can't stand the idea of losing to a woman. I'd like to challenge Bobby Riggs and get him in a pro stocker," Shirley said at the time.
Actually, Muldowney stopped short of naming Garlits as drag racing's equivalent of Riggs, but even back then, one got the message.
In Gainesville a couple of days in advance of Gatornationals qualifying, Muldowney said after completing a series of interviews with NHRA publicist the late Bob Russo, her plans were to go around town and "look in some of your shops".
And she wasn't talking automotive shops, either.
Muldowney didn't win an NHRA National Event until 1976, but once she gained Victory Lane, she made a habit of it, winning a total of 18 races and becoming the first to win multiple (three) Top Fuel championships, ahead of even Garlits.
But now let's fast forward through those early years, to the year 1990 and when I talked to Shirley about the race, at that time, at least, that she'd never forget.
"I've thought about it for some time," she told me, "and I finally decided the race I'll never forget was not a single run down the quarter-mile, but rather, an entire event, a whole weekend.
"It was in Columbus, Ohio, in the spring of 1982. Perhaps you might expect the race I'd probably pick would be Montreal and the Molson Grandnationals, which was the site of my terrible crash in 1984. True, I never forgot that weekend, although the wreck came in qualifying, not actually in the race."
Muldowney said the Winston Springnationals turned out to be more like a circus, because of the undercurrent and distractions as she was going for her third Top Fuel championship.
One rival competitor won an early round, then said he didn't have the parts to continue and dropped out, but gave his engine to rival Lucille Lee, whom Shirley eventually defeated in the finals. "I felt Lucille would have done much better still, if they'd left her by herself -- if she didn't have all those people pulling at her and just let her race," Muldowney told me.
Muldowney indeed won the race that year, her fourth and final at the Springnationals, but returned the next season only to lose in the final to probably the biggest Bobby Riggs-type in her mind outside of Garlits -- right, Richard Tharp.
Editor's note: Froscher said Tharp played a part in what he recalls was one of the most controversial exchanges -- at long range -- between Muldowney and Garlits. It was that time at a national event when Muldowney flatly told Froscher "I have the fastest car and Donald knows it and you can tell him that." Which being a good reporter, Froscher proceeded to do. Garlits replied with his famous "Poppycock. If that be the case, we'll race for the pink slip." Tharp, within earshot of the conversation, said, "That came from a woman and you know how women lie." To which Froscher explained to Tharp if that quote was repeated in print that next day, he'd probably be divorced by his wife and Tharp would be the subject of lawsuits from several women's activist groups.




NHRA: 10 Most Recent Entries [ top ]

Mar 16- GAINESVILLE - Top Alcohol Funny Car Eliminations Ladder
Mar 16- GAINESVILLE - Top Alcohol Funny Car Final Qualifying, Session #2 Order
Mar 16- GAINESVILLE - Friday Wrap Up
Mar 16- GAINESVILLE - Competition Eliminator Eliminations Ladder
Mar 16- GAINESVILLE - Top Alcohol Funny Car Qualifying Notes, Final Session
Mar 16- GAINESVILLE - Competition Eliminator Final Qualifying, Session #2 Order
Mar 16- GAINESVILLE - Top Fuel Harley Qualifying, Session #2 Order
Mar 16- GAINESVILLE - Top Fuel Harley Qualifying Notes, Session #2
Mar 16- GAINESVILLE - Top Fuel Qualifying, Session #2 Order
Mar 16- GAINESVILLE - Top Fuel Qualifying Notes, Session #2