A rain out like the one at Indy last week isn't good for anyone, except possibly the airlines, the hotels and the rental car people who we hope will be gentle with us when we return this weekend (but of course, we know better). I don't believe that I've ever seen that much rain in two days in my entire life, although I must admit it was a bit damp at the "Finals" last year. When I went to the track on Monday
I couldn't believe the amount of water that was on the ground and the number of trailers that were just about flooded out. The men and women of the Safety Safari along with the NHRA and Raceway Park staffs who will be responsible for drying that place out certainly have their work cut out for them and they have my undying admiration. As for the call, it may be the first time in my life that I haven't heard anyone second-guessing the decision and that will show you how really bad it was. Let's just hope and pray for sun (or at least dry) this coming weekend.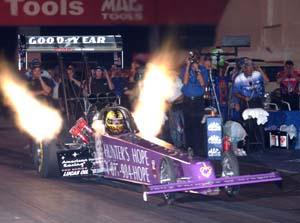 David Baca
Maybe the most interesting field when we return will be Top Fuel, where the bump spot is already a very respectable 4.741 and that should get better with three more full sessions still to come. I've gotten several e-mails and had lots of questions at the track on Sunday and Monday about the makeup of the field for next week and most of it centered around two guys,
Bruce Litton
and
Clay Millican
.
The interesting part will be if Bruce (4.707) and Clay
(4.667)
stay in the field, because both of them will be at the IHRA race in Epping, New Hampshire this weekend and not at Indy. If they get bumped out of the field there will be no problem, but if they don't get bumped they will be put in the 16-car field and on the ladder even though they're not on the grounds. That's the way the rule reads and that could mean there would be two bye runs in the opening round. Of course, with a lot of real talented teams at Indy, it's doubtful that Bruce's time will stay in, but Clay is another matter. In order for him to get bumped out we would have to have the quickest field in TF history and that could take some doing. After all the rain, the scheduling problems and the like it's only fitting that we establish records at Indy this year and the best dragster field ever would be a good place to start. Good luck to everyone no matter where they go this weekend…. Speaking of records, how about the performance by
David Baca
and the
Henkelman & Baca
car? David made the quickest run in the history of the Baca family, and that includes his dad who won at Indy back in 1977, when he went 4.504 at better than 326 miles per hour. To make the run even nicer (as if being #1 at Indy wasn't nice enough), David did it with
Jim Kelly
on the starting line. Kelly, the NFL Hall of Fame quarterback who was there with the team as part of the awareness program for Krabbe's disease, looked like he just won the Super Bowl when the numbers came up on the scoreboard. Kelly and the
American Racing
team are trying to help children, like Jim's son, Hunter, who are afflicted with the disease and there are several ways that fans can join in and show their support at the track. So, if you come back this weekend, look them up in the pits and do your part because it is a very worthwhile endeavor. By the way, Mr. Kelly couldn't have been nicer in all of his dealings with the media, the fans and the racers at Indy and we hope he gets a chance to come back and join us again. He is truly a top notch person and our thoughts and prayers are with him and his family!!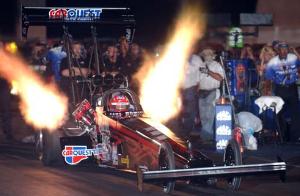 Paul Romine
If you are a history buff, think back to 1971, 1974, 1980 and 1981 and try to remember what all of those "Nationals" have in common. The answer….rain. All four of those Indy events were marred by rain and all took an extra day to complete. There is something else that those races have in common and that's the winners in Top Fuel.
Steve Carbone, Marvin Graham, Terry Capp
and
Johnny Abbott
just might be the biggest surprise winners in the history of the U.S. Nationals and they all won after a rain delay. Having said that, maybe Clay and Bruce should re-think their travel plans for this weekend. Of course
Paul Romine, Scott Weis
and
David Grubnic
now like their chances to win Indy and they hope that history repeats itself (as it usually does).
Did you know
that Paul Romine drove the
"Carrier Boyz"
car to a personal best during qualifying? His 4.578 beat his old mark of 4.580 and put a smile on
Jimmy Walsh's
face that might have been bigger than the one on Jim Kelly's face. No, but it was close.
Jimmy showed everyone something with that run and that may be the beginning of a beautiful friendship between Jimmy and Paul….Scott Weis is in the field and he and his
"Race Girl"
team continue to show improvement on almost a daily basis. Scott just might be the guy to take advantage of this postponement and etch his name in the history books as one of those great, rain-delay upset Top fuel winners. Don't bet against it, and doesn't the new car look stunning? You've got to like guys who take a different approach and the design and paint on Scott's car do just that…..
Scott Kalitta's
4.59 right off the trailer, as the expression goes, certainly got everyone's attention but as good as it was,
did you know
that it's not the best run that he has ever made?
Back in 1999 Scott ran 4.546 in Dallas to grab the top spot in qualifying and he followed that with three consecutive runs in the 4.50 range before losing to
Tony Schumacher
in the finals. Still, career best or not, Scott looked good in his return and even though he told everyone at the press conference on Wednesday that he wouldn't name a crew chief until the end of the year,
Rahn Tobler
did get the nod to join the team and work with Doug Kalitta next year, while
Jim Oberhofer
will work with Scott on the
Jesse James "West Coast Choppers"
car. Looks like a devastating one-two punch to me.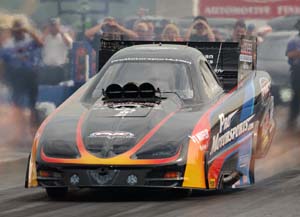 Bob Bode
The Funny Cars looked spectacular after one day of qualifying and
Gary Scelzi
looked like the best of the bunch. His 4.765 was a thing of beauty and Gary may be poised to join the elite in the FC ranks.
Mike Neff
, looking more and more like an "A-list" crew chief every week, has that
Oakley Dodge
running very well and it wouldn't surprise me a bit if Gary went to the Indy final round in his third class next weekend. With a runner-up in alcohol dragster and a win in Top Fuel, a Funny Car championship round would complete the tri-fecta for Gary…..
Bob Bode
and
Terry Haddock
made great runs on Saturday, with Bode picking up right where he left off at Brainerd. Bob's 4.853 puts him solidly in the field and although Terry isn't "solidly in," his 5. 043 was the best pass of his career and the car didn't appear to hurt anything on the run and that's always a good thing.
Did you know
that both Bob and Terry failed to qualify the past two years at Indy? As the new expression goes, "hats off" to both of those drivers and teams for some marked improvement this year….
Johnny Gray
may not have set a personal best but he wasn't far off of it was he? Johnny's 4.821 at 321 mph may have been just what the doctor ordered for the
Checker, Schuck's
and
Kragen
"blue team" which had been struggling of late…Another member of the CSK group
, Phil Burkart
, joined the list of career best performers when he went 4.838 at 318.47 mph in the
"Artisan Home
Entertainment"
car.. Ironically, the only member of the team that didn't have a good outing was the captain of the team,
Del Worsham,
who wasn't in the field when the rains came.
Even the team's chassis builder,
Grant Downing
,
ran better than Del is his initial outing in a fuel car. So much for testing the week before Indy, huh? Remember, that's when Del went 4.78 and it was the best of the bunch during the pre-Indy testing. Next year, Del, take the week off!!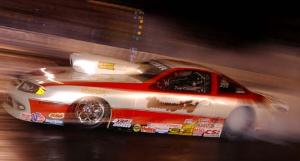 David Connolly
Question? What do
Jeg Coughlin, V. Gaines, Mark Pawuk
,
Darrell Alderman, Ron Krisher
and
Scott Geoffrion
all have in common? Answer, they've all been to the final round at Indy (or won it) and they're all not qualified when we go back. Pro Stock will be very interesting next week with those six and others all trying to bump into or stay in the Pro Stock field, and with 46 cars in the park, that won't be easy. Unlike Top Fuel, where there have been several upsets at Indy, Pro Stock has never had one winner that I would call a true upset, but it could happen this year, with
Steve Schmidt, Troy Coughlin, Jason Line, David Connolly, Terry
Adams, Tom Martino
and
Bo Nickens
among the candidates to do it. From what I understand, weather permitting, there will be quite a test session at St. Louis this week with several of the big name teams in attendance. I do know that Steve Schmidt, who is from Indy, was seen pulling out of the pits on Monday as was
Allen Johnson
and his pair of race cars. Others, like
Barry Grant
and Terry Adams, decided to leave the cars at the track and take a few days off. With this rain out forcing a "five races in five weeks" scenario, that's not a bad idea. By the way, with his new
Jerry Haas
car running so well last week, I just might put Terry Adams as my dark horse pick to meet David Connolly in the final round next weekend. Terry looked real good and the
Bill "Grumpy" Jenkins
tribute car that David ran was spectacular.
Mike Dzurilla
, the owner of the
"Bullet
Motorsports"
team does everything first class and this car was just another example. Yeah, this just might be the time for a stunning Pro Stock final at the "Big Go."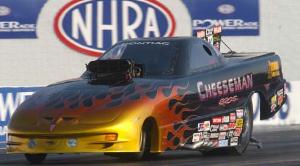 Chuck Cheeseman
Marty Thacker
may have made the run of the event and it still has three days to go. The Top Alcohol Driver pulled the front end up, kept it up for quite a while and actually pedaled the car while it was in the air before coming down and running a 5.38. All of this after going to
Mike Spitzer's
chassis shop after the Bowling Green points race, and then going there again after banging the nose of the car on the guard rail at the end of the track on Thursday. Marty's looking good going back to Indy, that is, if he goes back. OK, so he'll probably return but I don't know if I can say the same for
Alan Bradshaw, David Wells
and some of the other Division 5 drivers who may opt to go to Earlville and the D-5 race there which is still on. Tough call. Now, from what I hear, one driver, maybe two, plan to go to Earlville, qualify, get their points in order to fulfill their requirements for divisional races (and national championships), and then come back and run Indy. I'm not saying that's going to happen, it's just what I heard might happen….And when was the last time that you saw a Top Alcohol Funny Car field that is as strong as this one? Eight of last year's top ten drivers are here and it looks like they will all come back. Missing are
Von Smith
and, surprisingly,
Cy Chesterman
, but other than that this field is absolutely loaded and it could go a long way toward determining the overall champion this year. In addition to the top two combatants for the crown,
Frank Manzo
and
Bucky Austin,
you also have to watch
Marc White
and
Chuck Cheeseman
, two of the toughest drivers in the class. Toss in
Jay Payne, Steve Gasparrelli, Tate Branch
and
Bob Newberry,
the other top ten guys,
and it's like an all star show in TAFC. The rest of the field isn't too shabby either. Better bring your "A" game fellas, you're going to need it. And let's pray for sun!!
A couple of parting sots hear….from what I hear, you can say goodbye to all that dragster talk from the John Force camp…..there will be three cars running out of Yorba Linda next year….a major Pro Stock driver is getting set to expand his team to a two-car team (hint, he drives a Pontiac)….another pair of Pro Stock teams are getting set to team-up in a monster two-car deal…..there is another new Harley-Davidson Pro Stock bike coming soon (like the next race) that will be competitive right from the start….and did I mention that Bucky Austin is coming to Maple grove? Well, he is!!




NHRA: 10 Most Recent Entries [ top ]

Mar 20- Strong Stable of Contending Pro Stock Racers Vie for Final Starting Position for K&N Horsepower Challenge
Mar 20- GAINESVILLE - Special Awards
Mar 20- GAINESVILLE - Lucas Oil Drag Racing Series Wrap Up
Mar 19- GAINESVILLE - Sunday Video
Mar 18- GAINESVILLE - Pro Mod Sunday Wrap Up
Mar 18- GAINESVILLE - Sunday Wrap Up
Mar 18- GAINESVILLE - Pro Mod Championship Points
Mar 18- GAINESVILLE - Bonus Points
Mar 18- GAINESVILLE - Championship Points
Mar 18- GAINESVILLE - Mickey Thompson Top Fuel Harley Series Championship Points