Fri, 5 Sep 2003, 10:03 AM



Let's Pray For Sun!!



By Bob Frey
Photo copyright 2003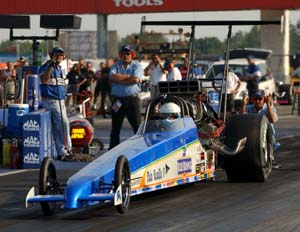 David Wells
The rain that hit Indy last week hurts everyone and it has presented special problems to some of the sportsman teams, most notably those who compete in Division 5. With a point's race this weekend in Earlville, Iowa, a couple of the high profile alcohol teams may pull out of Indy and run the D-5 race instead. Among that small but talented group are both Alan Bradshaw and David Wells, the two drivers who are battling it out for the championship in Division 5. With three national events left to claim and only one more divisional race at which he can pick up points, the Earlville race becomes more important to Bradshaw than Indy, and I'll bet Alan never thought he'd make that statement. David Wells, the "Blue Bunny Ice Cream" guy, can still run at one more divisional race as well as two more national events so the point's chase looks extremely even at this point. If the two both go to Earlville that will open the door for two of the alternates to be inserted into the field and it will be interesting to see which alky teams either return to or stayed in Indy. Right now, with the fields set, Bill McCornack and Fran Monaghan are the first two alternates with Lee Callaway and Larry Miersch numbers three and four. Bill, a former runner-up at Indy, lives in Kentucky so I would expect him to return, while Len Cottrell, who owns the car that Fran drives (along with fourteen other guys before him) has "rounded up the usual suspects" and is headed back to Indy from the east coast for a second chance, something that you rarely get in life, according to Leonard. This team, the popular "Chicken Chokers" alcohol dragster group, went all the way to the semi-finals last year before breaking in their run with the eventual champ, John Haley. Not since Michael Bartone turned the trick in 1996 has a car the failed to qualify for the event won it. In fact, I don't believe it happened before ' 96, either. Whatever happens in the dragster field it looks like the battle for the national championship will go right down to the wire. Morgan Lucas, the top qualifier at Indy, has two more national events to claim (including this one) and one more divisional event, while Tony Bartone, another contender for the crown, has two more national and divisional events at which he can add points to his total. Maple Grove will undoubtedly be one of those national events while the site of Tony's last appearance is anybody's guess. Chicago has the Jegs' All Stars, so that might not be a good place to go (although Tony has never backed away from a fight), and then that leaves Dallas and Pomona as the only other races where the alky cars run. Should be interesting.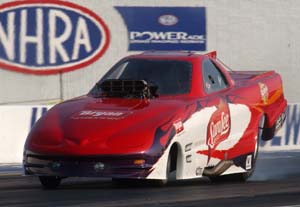 Thomas Frickenschmidt
The alcohol funny car field will probably lose just one, and maybe two to the Earlville affair. Both Vern Moats (#13) and Thomas Frickenschmidt (#15) claim Division 5 as their home so points may be important, but then again, so is exposure for your sponsors. Both Vern and Thomas have sponsors and I'm sure they'd like to get an opportunity for some national exposure for Kendall and Sara Lee. Both drivers are nice additions to any field so Indy's loss just may be Earlville 's gain. And I'm sure with the likes of Bradshaw and Wells in attendance (or any combination of the two), the fans at the Iowa track will be treated to some great racing. Meanwhile, the battle for the Lucas Oil championship in the funny car class should start coming into focus pretty soon, like maybe as early as Sunday. Bucky Austin, the leader right now, is giving Frank Manzo all he can handle in the class that has been Frank's personal possession for the past six years. Not since Tony Bartone won the whole deal back in 1996 has anyone had the number one on the side of their car other than Mr. Manzo. With the point's total the way it is right now, I fully expect to see Bucky and Frank battle it out at every national event for the rest of the season. Bucky has three national events left to claim and Frank has four, while they both have competed at six divisional races (out of the allotment of eight). Bucky leads the way right now and a win at Indy would be huge. I can tell you this, no matter what happens Austin and Manzo won't meet in the finals at Indy because they're on the same side of the ladder. Of course Tate Branch and Jim Sickles are also on that same side, along with four other very talented drivers, so let's not pencil anyone in past the first round. The top qualifier at Indy, Jay Payne, is one the same side of the ladder as Bob Newberry, Chuck Cheeseman, Marc White, Steve Gasparrelli and three other guys and that's no walk in the park either. Jay, who has never won at Indy but has been to the finals in both alky classes, could be the real spoiler here, although I don't believe I have ever seen an Indy field with as much talent as this one. Rain or not, it should be fun and, just for the record, the first two alternates in the funny car division are Paul Lee and Fred Hagen.
The Super Stock class at Indy will now be an "all-run" affair and that means that as many as one hundred eighty cars could show up for the first round. And, while I don't expect that they will all return, it sure does make for some exciting action. I do have to admit that I will miss the scheduled first round match that was on the ladder between Rene Garza and his 1955 Chevrolet and Michael Ogburn and the big bad hemi car. Now that would have been fun.
However this thing plays out, and whoever returns, let's all hope for a good, safe, fun race with classic final rounds, and let's wish the guys and gals who go to Earlville a lot of luck, too. I've been there before and that's one of the nicest tracks on the divisional level, and if you go, plan to take a side trip to Dyersville, the home of the "Field of Dreams." Or is that Indy? Whatever….Wait a minute, I just heard that David Wells is staying in Indy and Leonard may be keeping his team at home to get ready for Maple Grove, so excuse me because now I have to start this article all over again. I never did like the rain!!




NHRA: 10 Most Recent Entries [ top ]

Feb 23- PHOENIX - Sunday Wrap Up
Feb 23- PHOENIX - Mickey Thompson Top Fuel Harley Series Standings
Feb 23- PHOENIX - Championship Points
Feb 23- PHOENIX - Summary of Eliminations in Top Fuel
Feb 23- PHOENIX - Summary of Eliminations in Funny Car
Feb 23- PHOENIX - Summary of Eliminations in Pro Stock
Feb 23- PHOENIX - Summary of Eliminations in Competition Eliminator
Feb 23- PHOENIX - Summary of Eliminations in Super Stock
Feb 23- PHOENIX - Summary of Eliminations in Stock Eliminator
Feb 23- PHOENIX - Summary of Eliminations in Super Comp