Fri, 5 Sep 2003, 10:53 PM



U.S. Nationals Back in Action in Indianapolis



Courtesy of NHRA Communications
Photo by:Auto Imagery, Inc.



CLERMONT, Ind. --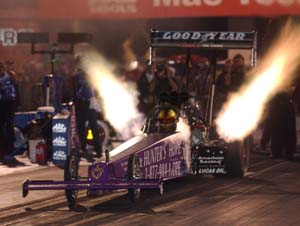 David Baca
Racing resumed for the 49th annual Mac Tools U.S. Nationals Friday at Indianapolis Raceway Park. John Force led the way in Funny Car during the third of five qualifying sessions and is one step closer to earning his 116th No. 1 qualifier of his career.
David Baca, Kurt Johnson and Angelle Savoie also led the way in qualifying in their respective categories at the $2.5 million race, the 17th of 23 events in the $50 million NHRA POWERade Drag Racing Series.
The first two rounds of qualifying ran Saturday before heavy rainfall postponed the remainder of the event.
Force drove his Castrol GTX High-Mileage Ford Mustang to a 4.759-second run at 307.72 mph to lead the Funny Car category.
Force has four wins in six final round appearances at the NHRA's longest-running race.
"I really like to run those kinds of numbers," Force said. "Mentally we have been waiting too long and I have a lot of energy. I'm ready to get in the Budweiser Shootout and win that extra money too."
While there are two qualifying sessions left on the schedule, the top eight Funny Car drivers will also compete in the Budweiser Shootout. The winner will take home an extra $100,000 in bonus money. Force is the No. 2 qualifier and will face No. 7 Ron Capps in the first round of the Shootout. No. 1 qualifier Tony Pedregon will race No. 8 Dean Skuza; No. 3 Whit Bazemore will face No. 6 Tommy Johnson Jr.; No. 4 Gary Densham will face No. 5 Del Worsham.
Baca paced the Top Fuel field with a track record E.T. of 4.499 at 324.51 in his American Racing Wheels dragster. If Baca can stay at the top of the order, it will be his first career No. 1 qualifier.
"When I got down to the end of the track and they said we ran a 4.99, I said, 'Pardon me?'" Baca said. "(Crew chief) Johnny West said we were going to stand on it and we did. We hired Johnny in the offseason and I think we got the best free agent pick."
Johnson went to the top of the Pro Stock order with a track-record time of 6.778 at 203.77 in his ACDelco Chevy Cavalier. Greg Anderson set the track speed record with a 6.786 pass at 205.01 in his Vegas General Construction Pontiac Grand Am.
If Johnson can stay at the top of the field, it will be his second top qualifier of the season and 23rd of his career. "I couldn't wait, you go all week long knowing you made bad runs," Johnson said. "You're still No. 2, you're still close, you're within a thousandth. All you have to do is fix the car and drive it and if the driver does his job and the wheels don't fall off the truck on its way here and it should be able to run up front and that's what we did."
Savoie, the defending event winner, went 7.164 at 185.28 on her U.S. Army Suzuki to lead the Pro Stock Bike category.
"I knew with the weather the way it is we had an opportunity to improve," Savoie said. "I had such a straight run that I didn't have to worry about anything other than hitting my shift points and staying tucked in. I'm looking forward to staying consistent on Saturday and building momentum for Sunday."
Qualifying continues at 11 a.m. and 3 p.m. on Saturday. Final eliminations are set for 11 a.m. on Sunday.




NHRA: 10 Most Recent Entries [ top ]

Apr 21- HOUSTON - Sunday Schedule
Apr 21- HOUSTON - Saturday Video
Apr 21- HOUSTON - Saturday Wrap Up
Apr 21- HOUSTON - Super Stock Class Eliminations Finals
Apr 21- HOUSTON - Funny Car Qualifying, Session #4 Bonus Points
Apr 21- HOUSTON - Total Qualifying Bonus Points
Apr 21- HOUSTON - Funny Car Eliminations Ladder
Apr 21- HOUSTON - Funny Car Final Qualifying, Session #4 Order
Apr 21- HOUSTON - Top Fuel Qualifying, Session #4 Bonus Points
Apr 21- HOUSTON - Pro Stock Qualifying, Session #4 Bonus Points