Sat, 6 Sep 2003, 10:29 PM



Ninth Time the Charm for Pedregon at Budweiser Shootout



Courtesy of NHRA Communications
Photo by:Auto Imagery, Inc.



CLERMONT, Ind. --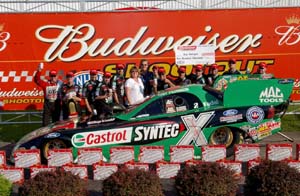 Pedregon celebrates win.
Tony Pedregon picked up an extra $100,000 for winning the Budweiser Shootout Saturday at Indianapolis Raceway Park. The annual bonus event was held between final qualifying rounds for the 49th annual Mac Tools U.S. Nationals.
David Baca, John Force, Kurt Johnson and Angelle Savoie earned the No. 1 qualifying positions in their respective categories at the $2.5 million race, the 17th of 23 events in the $50 million NHRA POWERade Drag Racing Series.
Pedregon won the bonus event race for the first time in eight appearances, beating Force in the final. Force smoked the tires early and Pedregon drove away with the victory with a run of 4.847 seconds at 297.48 mph in a battle between Ford Mustangs.
"It took me eight years to win that race and we really didn't do it on performance," Pedregon said. "It means a little more because I am now in some elite company considering all of the people who have won before me."
Pedregon won six of the first 11 races of the season but has yet to win a race since the June event in Columbus, Ohio. Pedregon lost in the first round on three consecutive weekends (Western Swing) and said the team is finally making strides toward being back in winner's circle.
"I'm very happy we won because we are trying to feel our way back to where we were at the beginning of the season," Pedregon said.
Force didn't pick up the Budweiser Shootout victory against his teammate, but he did earn his 116th No. 1 spot of his career after he turned in a pass of 4.759 at 307.72 to pace the 16-car Funny Car field - also the quickest field in NHRA history. Del Worsham took the No. 16 spot with a 4.873 at 305.91.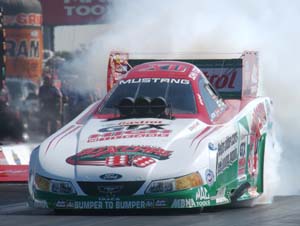 John Force
"It's been a good weekend so far," Force said. "Tony's never won the Budweiser Shootout before, although he has been close twice. His car is really starting to turn around. He's got the point lead and a shot at the championship.
"Our car screwed up in the Budweiser Shootout, but I'm glad we got to go some rounds."
Baca was the Top Fuel leader after all three days of qualifying. He went 4.499 at 324.91 in his American Racing Wheels dragster. It is the first No. 1 qualifier of his career and the quickest Top Fuel field in NHRA history. No. 16 qualifier Mitch King went 4.683 at 312.64 to anchor the field.
"To get my first No. 1 qualifier at the biggest race of the year in what turns out to be the quickest field ever all during my rookie year is amazing," Baca said. "Not many people can say that I'm sure."
Baca is still searching for his first career Top Fuel victory. This weekend he has a special paint scheme, representing Hunter's Hope, a children's charity founded by former NFL quarterback Jim Kelly.
"We're pretty optimistic about tomorrow," Baca said. "We'll need to be on our game but all in all, no matter what happens, it's been so great to get all this attention for our team and Hunter's Hope."
Two-time Top Fuel champion Shirley Muldowney and three-time champion Don Garlits both did not qualify for the NHRA's longest running event.
Johnson went to the top of the Pro Stock order with a 6.778 at 203.77 in his ACDelco Chevy Cavalier for his second No. 1 qualifier of the season and 23rd of his career. Johnson is second in the Pro Stock points, 158 points out of Greg Anderson and first place.
"We just want to stay a notch ahead of everybody and put four good runs in on Sunday," Johnson said. "But the only thing to worry about right now is the first round. We just need to get the right parts and pieces together and go."
Savoie stayed at the top of the Pro Stock Bike ladder with a 7.154 pass at 186.61 on her U.S. Army Suzuki. Savoie, the defending event winner, has 33 career top qualifiers.
"Being the No. 1 qualifier is not as big as winning the race," Savoie said. "But it is a step in the right direction."
Final eliminations begin at 11 a.m. on Sunday.
The Budweiser Shootout featured the top eight qualifiers in Funny Car. The winner walked away with $100,000 bonus check.
BUDWEISER SHOOTOUT AT INDY:
ROUND ONE -- Del Worsham, Pontiac Firebird, 4.949, 308.50 def. Gary Densham, Ford Mustang, 6.429, 139.43; Whit Bazemore, Dodge Stratus, 4.924, 313.15 def. Tommy Johnson, Chevy Camaro, 4.911, 311.27; John Force, Mustang, 4.899, 313.15 def. Ron Capps, Camaro, 4.927, 308.35; Tony Pedregon, Mustang, 5.071, 265.74 def. Dean Skuza, Firebird, 6.157, 153.46;
SEMIFINALS -- Pedregon, 5.109, 271.68 def. Worsham, 5.159, 298.21; Force, 4.824, 321.12 def. Bazemore, 4.909, 291.32;
FINAL -- Pedregon, 4.947, 297.48 def. Force, 9.071, 88.36.




NHRA: 10 Most Recent Entries [ top ]

Mar 21- LAS VEGAS 1 - Fact Sheet
Mar 21- LAS VEGAS 1 - Event Preview
Mar 20- Strong Stable of Contending Pro Stock Racers Vie for Final Starting Position for K&N Horsepower Challenge
Mar 20- GAINESVILLE - Special Awards
Mar 20- GAINESVILLE - Lucas Oil Drag Racing Series Wrap Up
Mar 19- GAINESVILLE - Sunday Video
Mar 18- GAINESVILLE - Pro Mod Sunday Wrap Up
Mar 18- GAINESVILLE - Sunday Wrap Up
Mar 18- GAINESVILLE - Pro Mod Championship Points
Mar 18- GAINESVILLE - Bonus Points