Sun, 7 Sep 2003, 11:37 PM



Schumacher, Wilkerson, Anderson and Showers Take Home Mac Tools U.S. Nationals Honors



Courtesy of NHRA Communication
Photo by:



Reggie Doubles Up



CLERMONT, Ind. --
Tony Schumacher successfully defended his Top Fuel event title Sunday at the NHRA's longest running event, the 49th annual Mac Tools U.S. Nationals at Indianapolis Raceway Park.
Tim Wilkerson, Greg Anderson and Reggie Showers also won in their respective categories at the $2.5 million race, the 17th of 23 events in the $50 million NHRA POWERade Drag Racing Series.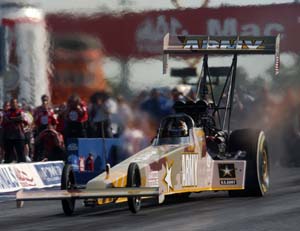 Tony Schumacher
Schumacher beat Darrell Russell in the final round of Top Fuel. Schumacher turned in a career-best elapsed time, going 4.498 seconds at 328.54 in the U.S. Army dragster, beating Russell's 4.613 pass at 290.19 in the Bilstein dragster. Schumacher has nine career wins and three have come at the U.S. Nationals.
"It is unbelievable to come in here and win," Schumacher said. "All of the cars were making consistently fast runs and I knew that if we stumbled, then game over. And this is Indy. This is a big win."
The U.S. Army team hired a different crew chief - championship tuner Alan Johnson - before the June race in Chicago. The team won that race too.
"If Alan says we are going to run fast, then we are going to run fast," Schumacher said. "I have got to stop questioning him because he absolutely knows what he is going. I wanted to win Indy more than anything else in the world."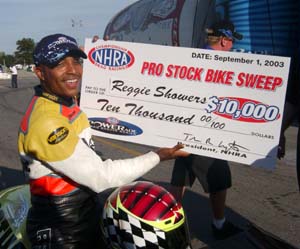 Reggie Showers
Showers, a double amputee, earned his first national event victory of his career. He also earned the K&N Filters Pro Stock Bike Klash bonus event win to sweep the weekend in the two-wheel category. Showers beat Shawn Gann for the Pro Stock Bike victory. Showers went 7.264 at 181.40 on his PDI Suzuki to beat Gann's 7.232 at 188.04 on his Mac Tools Suzuki.
"I've watched my heroes win this race," Showers said. "For me to do it is just unreal. I don't think this will sink in for a while."
Wilkerson earned his second career Funny Car victory, beating Johnny Gray in the final round. Gray, winless in three tries this season, went 4.903 at 314.24 in his Checker Schuck's Kragen Pontiac Firebird in a losing effort. Wilkerson's 4.841 at 321.19 in his Levi, Ray & Shoup Pontiac Firebird earned the win from the No. 15 qualifying spot.
Wilkerson's first final round appearance of his career was at the U.S. Nationals in 1999.
"We've raced alcohol Funny Cars here in the past and won a couple of division races at this track," Wilkerson said. "We've done a good job at this track. I like it here and I think I really do have a soft spot for Indy."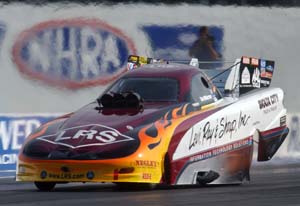 Tim Wilkerson
Wilkerson said he thought his final round opponent was going to beat him on performance - something he toyed with all weekend.
"We had some good data because we made two good qualifying runs in the heat on Saturday," Wilkerson said. "I knew it was going to take more than a 4.85 to win today and we got after it during the elimination rounds. The car responded. I still thought Johnny was going to run faster than he did."
Anderson won for the eighth time in 10 final round appearances this season. The Pro Stock points leader went 6.803 at 203.40 in his Vegas General Construction Pontiac Grand Am to beat Kurt Johnson, who fouled at the starting line in his ACDelco Chevy Cavalier.
Anderson, owner of 12 career wins, is no stranger to the U.S. Nationals. His first career runner-up finish was in Indy in 1999 and he won the race in 2001 - just his second career win. Still, Anderson wanted to prove the win wasn't a fluke.
"Your toughest critics are bound to consider it a fluke until you come back and validate the original win," Anderson said. "No one can say that we didn't earn this one. If I am fortunate enough to move on and win the Pro Stock championship, I would want Indy to be on the list of wins in the same season. If you win the championship but you don't win Indy, it still feels like you left something on the table."
Anderson's biggest challenge to his first NHRA championship is Johnson. Anderson has a 176-point lead over Johnson. Before he can think about championship points any more, Anderson said he was going to enjoy the toughest win of the season.
"This is such a wonderful place," Anderson said. "You come here with all of the power you have and you try to put it all on the track. Everyone throws their best at the U.S. Nationals. The competition always steps up."
CLERMONT, Ind. -- Sunday's final results from the 49th annual Mac Tools U.S. Nationals at Indianapolis Raceway Park. The $2.5 million race is the 17 of 23 in the $50 million NHRA POWERade Drag Racing Series:
Top Fuel -- Tony Schumacher, 4.498 seconds, 328.54 mph def. Darrell Russell, 4.613 seconds, 290.19 mph.
Funny Car -- Tim Wilkerson, Pontiac Firebird, 4.841, 321.19 def. Johnny Gray, Firebird, 4.903, 314.24.
Pro Stock -- Greg Anderson, Pontiac Grand Am, 6.803, 203.40 def. Kurt Johnson, Chevy Cavalier, foul.
Pro Stock Bike -- Reggie Showers, Suzuki, 7.264, 181.40 def. Shawn Gann, Suzuki, 7.232, 188.04.
Top Alcohol Dragster -- Morgan Lucas, 5.412, 262.13 def. Shelly Howard, 5.512, 257.68.
Top Alcohol Funny Car -- Jeff Craig, Dodge R/T, 5.738, 250.97 def. Marc White, Pontiac Firebird, 10.650, 78.58.
Competition Eliminator -- Larry Pritchett, Pontiac Sunfire, 7.962, 168.14 def. Mike Trumble, Sunfire, 8.662, 127.04.
Super Stock -- Charles Bohannon, Chevy S-10, 10.056, 129.55 def. David Bogner, Dodge Avenger, 10.126, 131.15.
Stock Eliminator -- Lee Zane, Buick Apollo, 11.840, 109.08 def. Dan Fletcher, Chevy Camaro, 10.697, 116.18.
Super Comp -- Steve Cohen, Dragster, 8.936, 153.82 def. Kyle Rizzoli, Dragster, 8.917, 175.27.
Super Gas -- David Tatum III, Pontiac Firebird, 9.917, 150.10 def. Bill Yates Sr., Chevy Cavalier, 9.894, 170.77.




NHRA: 10 Most Recent Entries [ top ]

Apr 22- HOUSTON - Top Fuel Round 1 Eliminations
Apr 21- HOUSTON - Sunday Schedule
Apr 21- HOUSTON - Saturday Video
Apr 21- HOUSTON - Saturday Wrap Up
Apr 21- HOUSTON - Super Stock Class Eliminations Finals
Apr 21- HOUSTON - Funny Car Qualifying, Session #4 Bonus Points
Apr 21- HOUSTON - Total Qualifying Bonus Points
Apr 21- HOUSTON - Funny Car Eliminations Ladder
Apr 21- HOUSTON - Funny Car Final Qualifying, Session #4 Order
Apr 21- HOUSTON - Top Fuel Qualifying, Session #4 Bonus Points