Tue, 9 Sep 2003, 07:03 PM



Take 2 At Indy Was Doubly Fun !!



By Bob Frey
Photo copyright 2003 Auto Imagery, Inc.



Schumacher Makes Indy History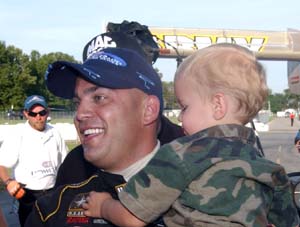 Tony and son A.J.
Even though it took us two weeks to complete, the 49
th
running of the
MAC Tools U.S.
Nationals
was sensational, in fact, in a lot of ways, it was doubly sensational. To begin with,
Tony Schumacher
won the Top Fuel title for the
second
consecutive year and he's only the fifth driver to ever accomplish that feat.
Don Prudhomme, Gary Beck, Joe
Amato
and
Don Garlits
all did it and that's pretty nice company for the "Sarge" to be
in, don't you think? Tony also joins that elite group as the only drivers to win the Top Fuel title at Indy more than
twice.
Tony's Indy record is amazing, with three wins and a runner-up in just eights starts at the track. Well, that's eight starts in the professional ranks.
Did you know
that Tony Schumacher qualified for Indy in 1995 in the Top Alcohol Funny Car field? Yep, he was #16 at that race and lost in the first round to
Pat Austin
. Ironically he would be #16 the next year in his very first race in Top Fuel and he would go to the final round where he lost to
Cory McClenathan
. I have to admit that I found it very interesting and a bit emotional that
Alan Johnson
is now the crew chief for Tony and it was Tony who was slated to run Alan's brother,
Blaine
, in the first round of that fateful 1996 U.S. Nationals. It's amazing how "full circle" things have come, isn't it? Congratulations to the entire Schumacher team, the US Army and the Johnson family, together they gave us all another truly memorable Top Fuel race at Indy. And, just in case you didn't notice, Tony did make his first 4.40 pass in the final and he set low elapsed time of the event (4.498) on the last run of the day. This was the
second
4.40 pass of the event (after
David Baca's
4.499 in qualifying) and Tony's final run becomes a part of Indy history.
Did you know
that Tony's run is the first time that low elapsed time in the Top Fuel class was set on the final run of the event at Indianapolis. The very first time!! Now that's something to brag about, isn't it? Way to go, Tony!!
Oh yeah, it's also the
second
time in the last
two
races that Tony made history in the final round of Top Fuel (see the column after the Brainerd race to bring you up to date on that one).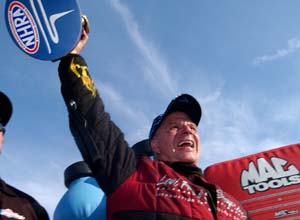 Tim Wilkerson
The
second
weekend of the MAC Tools U.S. Nationals also saw
Tim Wilkerson
win his
second
Funny Car race and he did it in his
second
Indy final round and in his
second
final round in the last
two
races. Tim, who lost to
Whit Bazemore
in the 1997 Indy final more than made up for that tire-smoking affair with a strong 4.841 win over
Johnny Gray
this time around. Johnny then announced that he was stepping down from the seat in the blue
Checker, Schuck's and Kragen
car which means that
Phil Burkart
will now become the
second
driver of that car this year when he takes over at Maple Grove. By the way, my guess is that
Cory Lee
will drive the
T-2
car in Pennsylvania this weekend, but that's just a guess. When Tim went to the final at Indy in '97 he was joined by
two
other guys who were also in the final round this weekend,
Kurt Johnson
and
Darrell Russell.
Tim's win was very popular with the fans and it just goes to show the
Levi, Ray & Shoup
folks that they certainly picked a great team to sponsor and I hope they know how much we all appreciate having Tim and his entire team on the full tour. I'm sure you know by now that Tim also made a bit of history by becoming the 500
th
Funny Car winner in the history of the NHRA national events…Still in the Funny Car class I have a question? Does anybody want to win the championship this year?
Tony Pedregon
lost in the first round and that opened the door for
Whit Bazemore
, a
two
-time Indy winner, but Whit failed to walk through it. Instead, he lost in the same round to
Cruz Pedregon
in a very close and exciting race. How exciting was it? Well,
John Force
was jumping up and down and hugging anyone who was wearing an
Advance Auto
Parts
shirt on the starting line after the run. Really he was!! Anyway, even with the loss,
did you know
that Whit cut into Tony's lead at Indy? By virtue of his #3 qualifying spot (and Tony's #11), Whit knocked another four points off of the lead and now trails Tony by just 57 points (less than three rounds) going into the final six races of the year. John Force, who beat
Del Worsham
in round one before losing to the
second
CSK car in the
second
round, now trails Whit by 152 points and Tony by 209. And here's an almost unbelievable little stat.
Did you know
that John Force has beaten 32 different drivers during his years at Indy but he has only beaten three of them more than once? Del Worsham,
Kenji Okazaki
and Cruz Pedregon are the only drivers whom John has beaten more than once in all of his years at the U.S. Nationals. Amazing…
Greg Anderson won Indy for the second time when he beat Kurt Johnson in the final round and that continues a trend of never, and I mean never, having an upset winner in the Pro Stock class at Indianapolis. Greg upped his lead over KJ to 176 points (almost 9 rounds) so unless something really bizarre happens, you can call the engraver and tell him that the champ's name is spelled "ANDERSON." When they tally the points for the 2003 POWERade drag racing season, it will be pretty obvious why Greg is the Pro Stock Champion. Did you know that Greg has now beaten Kurt Johnson in their last seven straight meetings and that four of those wins have come in final rounds. Like I often say, you do the math. For Kurt, this was the second time that he was the top qualifier at Indy and it was the second time in as many races that he lost to Greg in the final round. And, naturally, the foul in the final round was only Kurt's second red light of the year and it was only the second time that he has fouled out in a final round in his career (Columbus 1993). The losses to Greg this year are probably going to mean that Kurt (my pre-season pick to win the championship) will finish in second place…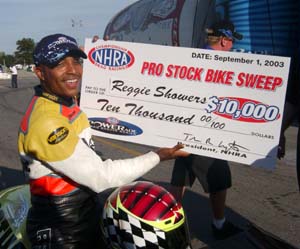 Reggie Showers
Reggie Showers
"
doubled-
up" at Indy, and even though it took him
two
weeks to do it, Reggie pocketed the 10 grand bonus for winning both the "
K & N Filters Pro Bike Klash"
and the MAC Tools U.S. Nationals. Reggie joins former
Star Racing
riders,
Angelle Savoie, John Myers
and
Jim Bernard
(Jim used a Star Racing motor) as an Indy champ and he can now say that he did something for
George
and
Jackie Bryce
that even Angelle didn't do and that is win the "Klash" and double-up. George just may be the "
Dick LaHaie
of the bike class," that is, everyone who drives for him….wins….With all of the red lights in the bike class at Indy (10 out of the 15 races were decided by foul starts), Reggie only got one gift and that was in the first round when
Craig Treble
"bulbed." After that Reggie faced all green light starts and he won
two
of his rounds by holeshots including the final one over
Shawn Gann
. En route to the win, Reggie ran 7.23
twice
and 7.26
twice,
and if you take
Steve Johnson's
.630 reaction time (?) out of the equation, Reggie's .088 in the third round was the
second
slowest green light of the day, but that's a lot better than a red light, isn't it? Just for the record, the last time George Bryce raced at Indy (1993) he fouled out. Go figure.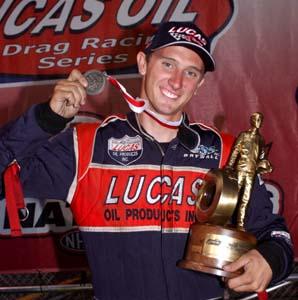 Morgan Lucas
Morgan Lucas
won the Top Alcohol portion of the race and that makes him the
second
driver of a fuel-injected car to win Indy in the past three years. Morgan beat
Shelly Howard
in a good final round and that stopped Shelly from adding her name to the list of women winners at Indy. Of course you know how many are on that list, don't you? Right….
two
!!...
Mike Gunderson
set the sport on its ear when he raced to a 278.35 mph run in the opening round which is the fastest speed ever in the Top Alcohol Dragster class, while
Jeff Craig
pulled off the biggest upset of the weekend when he won the talent-filled Top Alcohol Funny Car field. Jeff beat
Frank Manzo, Jim Sickles, Bucky
Austin
and
Marc White
to get
his first national event win in his
second
final round appearance. When Jeff beat Frank Manzo in the opening round it was the
second
time that Frank has lost at Indy in the opening round. The other time came way back in 1981, the first year of the class, when Frank was beaten by
Fred Hagen
. I want to thank
Todd Veney
for that little bit of info, and Todd should know because his dad won that 1981 race beating Hawaii's
George Cambra
in the final round. There was an interesting DNQ at that '81 race in the alky class, by the way, and his name was
Fred Mandoline
the crew chief for Tim Wilkerson this week at Indy…Both Morgan and Jeff became the 400
th
winners in their particular classes….
Larry Pritchett
also put his name in the record books by winning Competition Eliminator for the
second
time and he also became only the
second
driver to win it in
two
consecutive years, joining
Don Carlton
on that short list….Congratulations to
Ed Schmeeckle
who won the Division 5 race in Earlville this weekend and he did it on his 60
th
birthday and in his
second
consecutive final round. Ed ran well, posting a career best effort of 5.521 and he beat
Alan Bradshaw
in the final round….
Cy Chesterman
also won in Iowa and he wrapped up the D-5 championship, and as hard as it is for me to believe, but in keeping with the theme this week,
did you know
that this is only Cy's
second
divisional crown?




NHRA: 10 Most Recent Entries [ top ]

Mar 19- GAINESVILLE - Sunday Video
Mar 18- GAINESVILLE - Pro Mod Sunday Wrap Up
Mar 18- GAINESVILLE - Sunday Wrap Up
Mar 18- GAINESVILLE - Pro Mod Championship Points
Mar 18- GAINESVILLE - Bonus Points
Mar 18- GAINESVILLE - Championship Points
Mar 18- GAINESVILLE - Mickey Thompson Top Fuel Harley Series Championship Points
Mar 18- GAINESVILLE - Bonus Points
Mar 18- GAINESVILLE - Summary of Eliminations in Top Fuel
Mar 18- GAINESVILLE - Summary of Eliminations in Funny Car