Wed, 10 Sep 2003, 10:57 AM



Bazemore Hopes Third Time is a Charm at Maple Grove Raceway



Courtesy of NHRA Communications
Photo copyright 2003 Auto Imagery, Inc.



MOHNTON, Pa.--
Whit Bazemore is in a serious hunt for the 2003 NHRA POWERade Funny Car championship. The Indianapolis resident has finished in the top 10 for the last eight years and is ready to conquer the entire category.
After the first 17 events of the season, Bazemore is in the No. 2 spot of the standings, 57 points behind Funny Car leader Tony Pedregon. Bazemore has been the runner-up at the previous two events at Maple Grove Raceway and he is looking to go one step further when the NHRA makes its annual trip to the 19th annual Lucas Oil NHRA Nationals, Sept. 11-14. Doug Kalitta, Tony Pedregon, Jim Yates and Angelle Savoie are the defending winners of the $1.8 million race is the 18th of 23 events in the $50 million NHRA POWERade Drag Racing Series.
Bazemore said the event at Maple Grove Raceway was more difficult to be competitive in the past.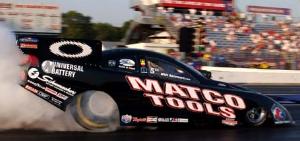 Whit Bazemore
"Reading is a very tough track because of where it is on the schedule after Indy. It was always a hard race," Bazemore said. "Especially in the early years when my teams were under funded. With the small teams, you use all of your equipment in Indy and drag what is left to Reading and hope you can still be as competitive as possible. It was hard.
"We've had better success there lately and we have been to the final in the last two years and we're looking to continue that and take it one step further and get our first win in Reading. I like the area, it is a rustic setting and the track is usually really good. It's our kind of track. It's a high horsepower track and we like that."
Bazemore has earned two wins in six final round appearances this season. The biggest obstacle for the Matco Tools Dodge Stratus team in the fight for the 2003 POWERade Funny Car championship may be overcoming themselves.
Pedregon stumbled throughout the Western Swing. In the three consecutive weekends in Denver, Seattle and Sonoma, Calif., Pedregon and the Castrol Syntec Ford Mustang team failed to win a round. Bazemore lost in the second round twice, and earned a runner-up to John Force in the final at Seattle. Last weekend at the Mac Tools U.S. Nationals in Indianapolis, Bazemore missed another prime opportunity to capitalize when he followed Pedregon out of eliminations in the first round.
"We have done well this season, but I am a little disappointed that we were not able to capitalize on their (first round losses) more than we have," Bazemore said. "I definitely look at the points after each race, but you can't think about it during the weekend. You can't think about it on the starting line. That's not healthy. During the week you pay attention because the points are how you measure yourself against the competition."
This is not the first time Bazemore has been in championship contention. In 2001 Bazemore won three races in eight final rounds, finishing second to Force in the Funny Car standings. That was the season that Bazemore made a late run at the title, earning the No. 1 qualifying position at nine of the final 12 events. He went 44-21 that season for his career-best finish. In '03 Bazemore has a 33-15 round win record. The Lucas Oil Nationals could prove to be a launching pad for the final push toward the championship.
"It is critical that from here on out we perform," Bazemore said. "We have nothing to lose. We either want this championship and we are going to get it or we don't want it and we don't get it. We have to be aggressive and race smart and hard. We need to go for it and not make mistakes. Things can change so quickly in this sport. We're three rounds out of first place right now. If going into the last race of the season and we are still three rounds out, then we still have a pretty good chance to win.
"We are going to try to make a move and get the lead. That is what we are aiming for. We're in a position to do that. A lot depends on Tony's team and how they perform, but we just need to chip away like we have. Especially starting in Reading, if the weather cooperates and we have cool conditions in the fall, that should suit our team in a big way."




NHRA: 10 Most Recent Entries [ top ]

Apr 24- CHARLOTTE 1 - Steve Torrence Enjoying Four-Wide Success Heading to NGK Spark Plugs NHRA Four-Wide Nationals
Apr 24- CHARLOTTE 1 - Fact Sheet
Apr 24- Kalitta Motorsports Welcomes NASCAR Stars to the SealMaster Track Walk in Charlotte
Apr 24- zMAX Dragway Celebrates 10th Anniversary
Apr 24- CHARLOTTE 1 - NGK Spark Plugs NHRA Four-Wide Nationals Brings 40,000 Horsepower Thrill Show to zMAX Dragway
Apr 23- HOUSTON - Lucas Oil Drag Racing Series Wrap Up The NHRA Lucas Oil Drag Racing Series Wrap Up
Apr 23- CHARLOTTE 1 - J.R. Todd Aiming for Two Four-Wide Racing Wins in 2018
Apr 23- Mid America Dragway Joins NHRA Member Track Network
Apr 23- HOUSTON - Special Awards
Apr 23- HOUSTON - Sunday Video