Thu, 11 Sep 2003, 01:05 PM



One on One with Reggie Showers



Courtesy of NHRA Communications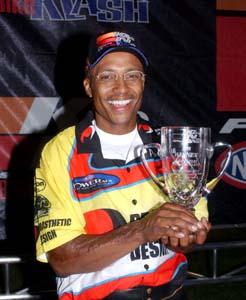 Reggie won the Pro Stock Bike Klash.
There is just something about Reggie Showers that is remarkably good. Maybe it has something to do with the fact that he wears the biggest smile in all of NHRA POWERade Drag Racing. Maybe it is the way he makes everyone feel at home. Or maybe it is the desire that Showers has to inspire others. Showers was involved in an accident when he was 14 years old that left doctors no alternative but to amputate both legs below the knee. That has not stopped Showers from doing anything. He started racing in the NHRA POWERade Drag Racing Series full-time in 2000, and he just celebrated his first national event victory. Not only did he win, but he won big. Showers is headed to his home track this weekend at Maple Grove Raceway in Reading, Pa. a little heavy on awards. He swept the Mac Tools U.S. Nationals, also winning the K&N Filters Pro Stock Bike Klash. In this Q&A session, Showers talks about his new crew chief, how the first 14 years of his life prepared him to deal with adversity and why his disability is no disability at all.
Q: What do you think about your first victory?
SHOWERS: I've watched my heroes win this race, John Myers and Dave Schultz, and for me to do it is just unreal. On a holeshot, no less. I don't think this will sink in for quite a while. I still don't understand what I've done here. I've been on an incredible journey. Last year I made a tough decision to change crew chiefs even when I had no idea George Bryce would be available. But I guess God had a plan and he got us together and look what has happened. I used to know my place. I was a bottom-half qualifier who maybe could luck out and win a race. Now we're a team that can run with anyone.
Q: Beside your recent career-first victory, what do you think your biggest career accomplishment has been to this point?
SHOWERS: That is a good question that is tough to answer because there have been a lot of high points. Probably for me, from a technical standpoint, is being able to run good 60-foot times with the front-runners and heavy hitters in Pro Stock Bike competition. Now, winning the K&N Klash has got to rank right up there. I've watched some of my heroes, John Myers and Dave Schultz compete in the Klash and now here I am as one of those competitors. Winning it is a heck of an accomplishment.
Q: What do you think about the Pro Stock Bike competition this season and what does it take to win a race?
SHOWERS: Wow, it is tough this year. It takes a total package to win. Before, my goals were to qualify and to be the best that I could be, but I never knew what it took to compete on a championship level. Not until I got hooked up with George Bryce and started to apply some of his teachings and recommendations and his advice. It's tough out there, this is the toughest it has been in the history of the class. Last year and the year before, we could have been No. 1, 2 or 3 in the points easily with the effort that we are giving. But it is going to take even more now because everyone has stepped up with their programs and I think it is a testament to the professionalism of each and every one of my competitors racing NHRA Pro Stock Bike this year.
Q: Why did you decide to hire George Bryce as your crew chief during the offseason?
SHOWERS: Because we were missing pieces to our program. We had a good engine program with Vance & Hines and I have a great motorcycle, got a great sponsor with Prosthetic Design and Snap-on. But we didn't have the experience that it takes to compete, qualify well and go rounds and prepare to win. We didn't have a complete team and that is what George was available to give me at this time. He said the stars lined up. Situations freed him up and me up. It was a tough decision to make initially, but I can't stress enough how I think it is the best decision I have made in my racing career so far.
Q: What has made the 2003 season better than any other?
SHOWERS: I think the confidence level that I have been able to experience this season has been the best part of the season personally. I always knew that I had it in my heart. I always knew we had the capability to win, but now we get the proof on paper. We get the time slips with low E.T. of the round, No. 1 qualifier, top back half and win lights. That has been a real confidence booster and that is what you need. You need focus and confidence in order to beat people like Craig Treble, Angelle Savoie, Geno Scali and the rest. It is tough out here. These guys are hard-core racers.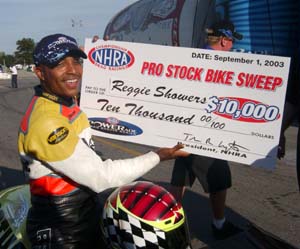 Showers doubled up in Indy.
Q: What made you decide to start racing in the first place?
SHOWERS: I got talked into my first drag race. I was an avid street bike rider who had no intentions of gong racing. I watched guys drag race and I was interested in it a little bit. I got talked into my very first street race, which I don't condone at all, in 1983. I was 19 years old and I won that race. That feeling of victory and overwhelming sense of accomplishment was something that I just had to pursue. I wanted to get off the street because the street was so dangerous and I wanted to learn how to do it professionally and in a safe and confined environment. It just snowballed after that. I watched guys like Terry Vance, Bob Carpenter and Randy Mason race in Pro Stock Bike made me think that this is what I wanted to do. I knew I couldn't do it initially. I had to take baby steps. You have to walk before you can run. Here we are doing it now.
Q: What makes you a good racer?
SHOWERS: I think my heart and my competitive spirit and also my sportsmanship. I like my competitors. If they need a part, they can get it from me. I am not going to deprive them of anything to keep them from racing. The fact that I am a true sportsman at heart helps me out there.
Q: Were you starting to get a little anxious about winning your first NHRA national event?
SHOWERS: No, I think I knew my place. All those years that I have been racing, I knew my place. I knew that I didn't have what it took to go out and dominate and earn a win. If I got lucky, that was realistically the only way I could have won a race. But now we have all of the tools and pieces of the puzzle assembled. I am a very patient person by nature and I wanted to earn my win when the time was right rather than be given a win.
Q: You raced in other drag racing events before joining the NHRA national event tour. What did you learn from that?
SHOWERS: All things being relative, I raced in IDBA and Pro Star. Back then, my experience wasn't as high as it is now, but all things being relative, the guys that I raced against, their experience wasn't high either. Not like it is here at the NHRA. But what I did learn was that I can be successful if I truly believe in myself and my team's capability. What's the saying? Champions are made of people who can endure adversity? I think I have endured a lot of adversity.
Q: What are your expectations for the 2004 season?
SHOWERS: I absolutely have high expectations for next year. My goal for 2004 is to be the best racer that I can be. Maybe not the best racer out here, but the best racer that Reggie can be. I am working toward being a machine. I want to be a machine that when my competitors race me, they are going to know that they have a fight on their hands. I want to make less mistakes and win rounds and focus on the job at hand and not what is going on out in the pits and in everyone else's trailer. I want to be the best team that we can be.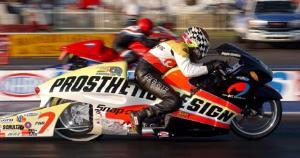 Reggie Showers
Q: Do you feel like you have to prove anything?
SHOWERS: No. I have already proved to myself personally that I can do what I want to do as long as I set my mind to it. I'm done with that. Since I have overcome certain obstacles in my life, I continue to raise the bar with everything that I do whether it be flying airplanes, racing motorcycles or motivational speaking to kids. That was something I was terrified of when I first started doing that. Now I am so confident with my speaking and getting my message across. I think God put me in this position. That is why George Bryce and Star Racing are part of my team now. That is why Prosthetic Design and Snap-on have come on to help me financially. God has given the talent to race this motorcycle with my physical disability. It is a mission. I have nothing to prove, but this is what I was put here to do. I think I was conditioned in the first 14 years of my life for my accident to be able to endure that accident and to learn afterward that I was on a mission to inspire and encourage everyone that I possibly can. I say that all the time and I feel like a broken record, but that is truly my job.
Q: Do you still participate in public speaking as often as you have in the past?
SHOWERS: Absolutely. I do a lot with the Shriners hospitals. Every race that I go to on the tour I stop at the Shriners prior to going to the race and do some motivational speaking. I go in and talk to the kids. Shriners provide burn and orthopedic care and I am the perfect poster boy for them. I am a burn survivor and a double amputee who has overcome, to a certain extent, these obstacles. I go in and I talk with the kids. I walk in dressed in full race gear, and they always ooooh and awe. I play a video and they know nothing about my disability and where I grew up and tell them I was an underachiever physically. I was into a lot of mental things and creativity. Then I break down my accident and I show them my legs and they all see that I am just like them but look what I can do. It is a real uplifting experience for me to help them and their parents. Their parents are very unsure about the future and where these kids are going with their disabilities. I'm like a walking, talking and breathing example of hope. It is so therapeutic for me, mentally and spiritually. Any chance I can get to help. I am a very private person by nature. This is a 180-degree flip for me because when I am at home, a lot of people don't even know that I race. When I am here, I am Joe Racer and I am always promoting the sport, my team, and my sponsor's products. It helps me to be able to vent because I keep a lot of things bottled up inside when I am at home. When I am here, I have a chance to purge and get all of that stuff out. I am learning a lot about myself and my purpose. A lot of people flounder in life and they don't know where they are going. I now know where I am going, or at least I have a good sense of direction.




NHRA: 10 Most Recent Entries [ top ]

Aug 17- BRAINERD - Stock Eliminator Round 2 Eliminations
Aug 16- BRAINERD - Saturday Schedule
Aug 16- BRAINERD - Super Stock Class Eliminations Finals
Aug 16- BRAINERD - Stock Eliminator Class Eliminations Finals
Aug 16- BRAINERD - Friday Wrap Up
Aug 16- BRAINERD - Pro Stock's Matt Hartford Looking Forward to First Trip
Aug 16- BRAINERD - Top Fuel Qualifying, Session #2 Order
Aug 16- BRAINERD - Top Fuel Qualifying Notes, Session #2
Aug 16- BRAINERD - Funny Car Qualifying, Session #2 Order
Aug 16- BRAINERD - Funny Car Qualifying Notes, Session #2