Fri, 12 Sep 2003, 09:21 AM



They're Not Laughing Now



By Bob Frey
Photo copyright 2003 Auto Imagery, Inc.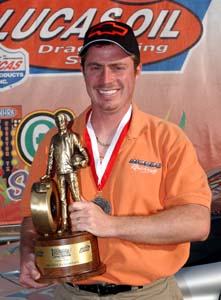 Peter with one of his Wallys.
Peter Biondo is one of the most successful races in the country. With twenty national event wins, four U.S. Nationals' titles and two world championships he really is in a class by himself. OK, so maybe not by himself, but it is a very select fraternity to which he belongs. All of which is kind of amazing when you consider where he started. "I was racing at Maple Grove in the High School challenge when I was about 15 and I lost, but it's the way I lost that I'm almost embarrassed to tell you about," he said. After a little prodding, Peter admitted to losing when he took off on the starting line in reverse. Honest. "I was deep staging and my dad told me to go in, over-stage and then back up into the beams. Well, I was so nervous that when I backed up I forgot to put the car back in forward and I took off in reverse. I was actually crying when I came back down the return road." Back then, you used to drive right back up in front of the grandstands after a run and Peter remembers the response from the other racers. "The stands were full of the other high school racers and they were all pointing and laughing," he said. "I vowed to come back and do better." The rest, as they say…
Peter Biondo comes from a real racing family. His dad has raced for as long as anyone in the Division 1 area can remember, and it was his dad who first met Phillip Monteith, Peter's car owner and partner today. "Dad was racing at New York National Speedway in one of the old bracket classes and he couldn't get his car to go fast enough to run in the quick bracket. He saw this guy, Phil, running well and asked him if he could help him make his car go faster. Phil tweaked the car, it went quicker and they've been friends and partners ever since." At sixty-five years old, Phillip is retired but still does all the engine work on Peter's race car himself. "Phil takes the engine in and out of the car by himself and he loves it," Peter said. "It's a great partnership, Phil brings his talents to the team, building, tuning and working on the car, and I bring my talent, which is driving." And quite a talent it is. Rated by his peers and most trackside observers as one of the most consistent drivers in the sport, Peter has earned the nickname "Terminator" for his lethal reaction times and his uncanny ability to "drive the other end" of the track, too. The car, by the way, is called "Hatari," which mean "Danger" in Swahili. If you've ever seen Peter drive and you've been in the other lane you know that the Pontiac is very appropriately named.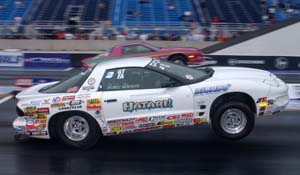 Biondo in his Super Stocker.
When Peter Biondo began racing it was in the bracket classes, Super Pro mainly, and he enjoyed running off the bottom bulb, a term which refers to classes where you get a full tree and don't have a lot of electronics to deal with. "I liked that kind of racing because it put a lot of emphasis on the driver and if you were good at it, you could win a lot." Peter was and he does. Today he races in both Stock and Super Stock, classes which also rely on the driver's reaction time and don't include a lot of the electronics, which is surprising since the Biondo family makes their living by selling those very same electronics. Biondo Racing Products sells practice trees, throttle-stops and delay boxes and Peter, his brother Sal, his brother-in-law and his dad all work at the business. "I don't actually race for a living," Peter said. "I still work five days a week at the business when I'm not racing." He is quick to point out that the other family members do a great job of watching the business while he is away racing. "I have great support from everyone and that makes it a lot easier for me to concentrate on my racing. Still, I'd like to be able to get to the point where my dad could retire so he could race some more. I know he'd like that."
While he is very appreciative of the support that he gets at the business, Peter also is quick to thank his wife, Jackie, for all that she does. "She really supports me and that's a big help, too," he added. Of course, Jackie also comes from a racing family, in fact, the two of them met at the races. "I remember that I was racing George Rupert, one of the best bracket racers in the country, and she came up to me and said 'Good luck. If you beat him I'll buy you a steak dinner. '" Well, I had a great reaction time and ran right on the dial but I still lost, so I figured that I wouldn't see her again," he said with a smile. "But she told me that I did well and she offered to buy me a hoagie. Being from New York I didn't know what a hoagie was but I said yes anyway." Smart move, Peter. The couple has been married for nine months now after a very romantic proposal on the steps of St. Patrick's Cathedral in New York. "I actually had the ring in my pocket and was going to propose on the top of the Empire State Building, but when we got inside I saw the metal detector and was afraid that the ring would set the alarm off so we left." After a carriage ride around Central Park, they stopped at the church and Peter popped the question. Now who ever said that drag racers are not romantic?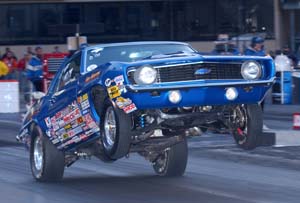 Peter in the Stocker
Today, Peter has his sights set on another Lucas Oil World Championship in Super Stock and he is also way up in the points in Stock Eliminator. "I was doing well in Super Stock going into Indy and now I like my chances to win it all," he said. "If someone gets really hot they could catch me and if they do, well, then they deserve to be champ." Kevin Helms, the two-time champ in Stock looks like a real threat in that class but Peter still could win there, too. "It will be a real battle right down the stretch but I love the challenge. Kevin's a great racer and a great champ, but it's not over yet."
As far as the future, Peter, who is a graduate of St. John's University in New York, looks forward to racing in some other sportsman classes and he always has his eyes on the pro ranks. "I may change classes in the future just to try something different, and driving a Pro Stock car is my ultimate dream." He then mentions the "Professor," Warren Johnson, as the guy he'd love to drive for. "Next to my dad and my brother, Warren is the guy I most admire in this sport because he does it all, builds the motors, drives the car, tunes it and everything and still wins. He's the best." Believe me, that's high praise from a guy who hasn't done too badly himself in the world of drag racing. Especially one who started out going in the wrong direction.




NHRA: 10 Most Recent Entries [ top ]

Feb 20- PHOENIX - Jason Line Hopes to Add Special Moment During Retirement Tour at NHRA Arizona
Feb 20- PHOENIX - Friday Schedule
Feb 19- PHOENIX - Alexis DeJoria Returns in Style, Heads to NHRA Arizona Nationals with Plenty of Momentum
Feb 18- Top Fuel Veteran Doug Foley Set to Make Return at NHRA Arizona Nationals
Feb 18- Dave Richards Keyed Up for 10 race 2020 NHRA Schedule, Debuting Patriotic Theme in Gainesville
Feb 18- PHOENIX - Antron Brown Embracing Journey to Get Back On Top Approaching NHRA Arizona Nationals
Feb 13- PHOENIX - Matt Hagan Still Feeling Effects of Strong Finish to 2019 Season Heading to NHRA Arizona Nationals
Feb 12- POMONA 1 - Auto Imagery Round One Top End
Feb 12- History for Doug Kalitta with Third Consecutive Winternationals Win
Feb 12- Beckman Wins Season-Opener at Home Track; Occupies Funny Car Points Lead