Sun, 14 Sep 2003, 08:09 PM



Fro's 50, No. 10 - Shirley Part 2



By Norm Froscher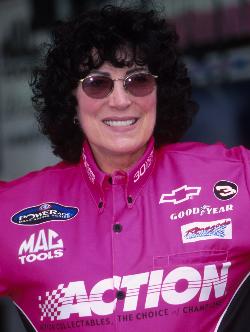 Shirley Muldowney
Shirley Muldowney's close friends of the eighties, members of the musical group Styx, recorded the hit song,
"The Best of Times"
and that pretty well summed up career of the then 5-4, 110-pound brunette racing legend.
But not all. Some, like that 1984 Canada accident, could be classed just the opposite.
Along the way the way, there was a movie, "Heart Like a Wheel" featuring Bonnie Bedalia as Shirley, and then marriage to longtime friend and crew chief Rahn Tobler.
Yeah, I was treated to a personal preview/audition of the movie, being the only viewer in an auditorium in Jacksonville, Fla. That was set up for a magazine story on which I was working.
But back to that accident, which like the much later fatal accident of NASCAR champion Dale Earnhardt, prompted the sanctioning body to take immediate and extensive safety measures.
What happened in the accident was that the inner tube on the small left front wheel of the dragster worked out and became twisted around the spindle, locking it up and causing the car to careen wildly to the left and crash, the roll cage with Shirley, landing some 300 feet away from the rest of the machine.
"The result was that a new tire (from Goodyear) that had no inner tube and a special front wheel," Shirley said in the '86 interview.
She was still walking with a cane ("if I can remember where I left it") in that interview tour around Florida arranged by then NHRA publicist Steve Earwood.
"Everything will be fine as long as you don't speed," she warned Earwood. "I only get in the passing lane when I'm getting paid for it. I'm no fool."
They made every interview on time, and no, Earwood didn't speed.
Yes, '86 was another best of times for the three-time champion and 18-national event winner.
But there was an earlier incident involving Shirley and me which is still frustrating, at least to me. I wouldn't be surprised if she remembers it also.
It was a story I agreed to do for a national magazine (not a drag racing or sports publication) which shall kindly remain anonymous.
This was well before the popular use of computers came to the aid of writers and a typo or change on the typewritten word had to be made through one of those little correction tapes.
Well, the story was finished, I made a copy for my file at the nearby office supply store and sent off the completed product, properly packaged, marked 'do not bend' and went by to post office to send it on to the editor.
But when I then saw the finished product I immediately suffered chest pains.
Here's a couple of things that hit me:
* That nickname Cha Cha, long an anathema to Shirley, was included in the headline, apparently by some copy reader who had been familiar with her early days.
* Right after that, my byline to the story was misspelled and I knew it was going to be a terrible experience.
* Then going about six paragraphs down into the story, my description of Shirley's success, in which I said she was dominating her sport just as Indy Car driver Rick Mears was totally dominant in his. That was changed, in the magazine's interest of clarity and space, I was later told, to read "she is as dominant in her sport as Janet Guthrie is in hers".
Ugh. Guthrie, whose achievement was qualifying for a race or two?
* Finally, my description of Shirley's early career and dedication was changed to something about coming from the wrong side of the tracks and being involved in a failed business and romantic relationship, none of which happened.
You might well imagine I had a phone call immediately:
"Norm, this is Shirley Muldowney," the angry voice said.
"Shirley," I reassured her, "I've made a copy of that original story and it is already in the mail to you. You'll see what I actually wrote."
Editor's Note: Froscher says Shirley seeing the original and intended story probably absolved him from blame for the miscarriage, and they resumed their friendship, which has continued -- for various stories, one in Super Stock and Drag Illustrated in 1993 -- through this season's Last Pass Tour.
He also received a copy of the two-page letter Shirley Muldowney's agent sent to that infamous magazine's editor, but requesting that it not be published, for fear it would be edited for reasons of clarity and space.
And Froscher resolved to not again risk writing for the publication. Yes, he trash-canned the magazine and article, not wishing to keep it in any file. But he says the incident is obviously burned deep in his memory, as it would be in any writer's.




NHRA: 10 Most Recent Entries [ top ]

Mar 17- GAINESVILLE - Saturday Wrap Up
Mar 17- GAINESVILLE - Super Gas Round 3 Eliminations
Mar 17- GAINESVILLE - Pro Modified Eliminations Ladder
Mar 17- GAINESVILLE - Pro Modified Final Qualifying, Session #4 Order
Mar 17- GAINESVILLE - Super Stock Round 3 Eliminations
Mar 17- GAINESVILLE - Super Comp Round 3 Winners
Mar 17- GAINESVILLE - Stock Eliminator Round 3 Eliminations
Mar 17- GAINESVILLE - Super Comp Round 3 Eliminations
Mar 17- GAINESVILLE - Top Alcohol Funny Car Round 1 Eliminations
Mar 17- GAINESVILLE - Total Qualifying Bonus Points