Mon, 15 Sep 2003, 10:41 AM



Zizzo Earns Top Fuel License in 4.74 seconds, Next Stop is Chicago



Courtesy of Joanne Dawson



LINCOLNSHIRE, Ill. --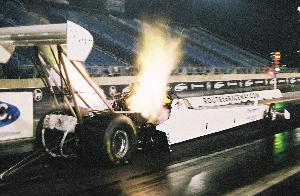 T.J. Zizzo earns Top Fuel license.
Zizzo Racing has announced that they have joined the ranks of Top Fuel, and will campaign their Champion Packaging dragster in the NHRA POWERade Drag Racing Series.
The well-known father and son team of Tony and T. J. Zizzo, both champions in their own right, have driven Alcohol Dragsters in NHRA and UDRA for many years. Just ten days before jumping into the Top Fuel ranks, the two Zizzo's ran their Alcohol Dragsters side-by-side at Union Grove Racaway.
With just one half-track pass and two full passes, T. J. Zizzo completed the requirements to upgrade to a Top Fuel license at Route 66 Raceway in Joliet, Ill. The runs Zizzo made were with the help of two very talented, experienced Funny Car tuners. Zizzo ran 4.939 seconds and an extremely impressive 4.742 seconds at 310.98 mph.
"I was smiling when I climbed out of the car," said an exuberant Zizzo, "and I'm still smiling. These cars are so fast. In the alcohol car, I would think, here comes the finish line, I'll shut it off. In the fuel car you're past the finish line before you realize you're even there. It was the best high I could ask for. It makes me appreciate why we put so much time and effort into racing.
"I can't thank my Dad enough for taking a lot of the bumps out of the road in my ten year driving career; and for believing in me and making sacrifices in order to make this dream come true. I sincerely want to thank Tom Pecora of Champion Packaging and Distributing for standing behind us during everything we've been through and supporting our Top Fuel operation. I also want to thank Motorola, Foreign Car Parts and PPG."
Zizzo will compete at the 3rd Annual Carquest Auto Parts Nationals in Chicago, Ill., September 25-28, 2003. The team will then return to the shop to re-group over the winter.
"I think we're going to lock ourselves in the shop and practice and practice and practice," said Zizzo. "We all need to better learn how to do our jobs. When we emerge, hopefully we will have learned what it takes to attain better results."




NHRA: 10 Most Recent Entries [ top ]

Apr 26- CHARLOTTE 1 - Jim Whiteley Looking Forward to More Four-Wide Racing During E3 Spark Plugs NHRA Event
Apr 26- CHARLOTTE 1 - LE Tonglet Banking on Another Strong Showing at NGK Spark Plugs NHRA Four-Wide Nationals
Apr 26- Al-Anabi Performance Named Presenting Sponsor For E3 Spark Plugs NHRA Pro Mod Drag Racing Series Race
Apr 26- NHRA Dodge HEMI® Challenge at U.S. Nationals to Celebrate 50th Anniversary of Mopar-powered 1968 Super Stock Cars
Apr 26- CHARLOTTE 1 - Jack Beckman Making Most of Opportunities Approaching NGK Spark Plugs NHRA Four-Wide Nationals
Apr 26- HOUSTON -Through the Lens of Ron Lewis
Apr 24- CHARLOTTE 1 - Steve Torrence Enjoying Four-Wide Success Heading to NGK Spark Plugs NHRA Four-Wide Nationals
Apr 24- CHARLOTTE 1 - Fact Sheet
Apr 24- Kalitta Motorsports Welcomes NASCAR Stars to the SealMaster Track Walk in Charlotte
Apr 24- zMAX Dragway Celebrates 10th Anniversary