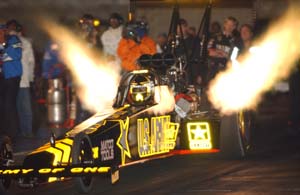 Tony Schumacher
The rain that halted the race at Maple Grove also halted the quickest assault on the Top Fuel record book in years.
Tony Schumacher
, the hottest driver in TF right now, clicked off a spectacular 4.465 on Friday night, establishing himself as the fastest driver in the history of the sport. Of course, with the rain delay, Tony will now have to wait almost a month before coming back to the Grove in an attempt to back up the record. But with races this week in Memphis and next week in Chicago, Tony may have to run even quicker if he wants to establish the Top Fuel mark at the Pennsylvania track. You see, here's how it works. While Tony has one end of the record, that entire event is, basically, in suspension until the teams return on the first week of October. So, if someone makes a sub-record run in Memphis or, more likely, does so at the brutally fast track in Joliet, Tony's 4.465 will be nothing more than a very good run when he comes back to Maple Grove. Technically, the record could be set twice before Tony even gets a shot at backing up his mark, but that's the way the rules are written. Now if no one lowers the mark before the re-run at Maple Grove Tony will just have to run a 4.509 or quicker to become the new elapsed time record holder and get the twenty points that go with it…..Since his final round in Brainerd, Tony really has been the best of the bunch in TF, hasn't he? A low elapsed time and a win in Indy followed by that monster run in Maple Grove and all of a sudden the
"US Army"
team car is in fourth place and just a couple of rounds out of third. I'll bet Tony and his entire team wish that the season were just beginning instead of winding down.
Since the record apparently will be broken soon, did you know that in 1988, the first year of the Memphis race, low elapsed time at the event was a blistering 5.175? Darrell Gwynn set the mark and then went on to win the event over Dennis Forcelle in the final round. And with the heavy rains that we've had at the past two events, did you know that in 1990 rain actually forced the cancellation of a couple of classes at the Memphis race? The "Super" categories, Comp, Gas and Street were all sent home because there just wasn't enough dry ground on which to park them all. And just like the last two events, there was some grumbling but it really was the only thing to do….At that same race in 1990, Blaine Johnson continued one of the hottest win streaks in recent history when he won the event and ran his record over the summer of 1990 to an incredible 41-5, a streak that included eight wins, four national and four divisional events. This week, his brother Alan will bring the red hot Army team to town to see if they can continue their own hot streak….Except for the 2001 event which saw both George Marnell and Gary Densham win, the Memphis race really has belonged to favorites. Sure, Tony Christian nabbed the Pro Stock crown at the inaugural event, but for the most part the marquee drivers end up in the winner's circle in Memphis. Having said that, watch David Connolly, Taylor Lastor and Scott Geoffrion in Pro Stock, while Phil Burkart and Clay Millican could surprise in the fuel classes. Did you know that Taylor Lastor actually made his Pro Stock car debut at this event in 1997? Or did you know that Scott Geoffrion got his first win in Memphis in 1993 after going to the final round nine previous times without picking up a victory? Also, I like the improvement that's been shown by Steve Johns in the Victor Cagnazzi car lately. Whatever happens this weekend all depends on the weather and, if you'll remember, we probably had more water at, on, in, near and around the Memphis track last year than at any event in recent memory and we still finished the race.  Let's hope we get it all in this time around because we're starting to run out of dates.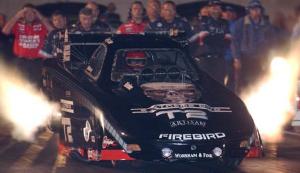 Cory Lee
The
Artisan Home Entertainment
car will be driven by
Cory Lee
this weekend and I think that car and team are just about ready to really start thundering.
Phil Burkart
made some great runs in Indy and Cory Lee would like to continue that trend in the black car in Memphis. Maybe Cory will pull a "Wyatt" on us. A what, you ask? Well,
did you know
that
Wyatt Radke
had one of the best days of his career in Memphis in1993 when he qualified #2 just behind
John Force
? Wyatt then beat
Jerry Caminito
and
Whit Bazemore
before losing to
Tom Hoover
in the semi-finals. That's what I mean by pulling a "Wyatt." You know, it's been a long while since we've seen a really huge upset in the pro classes, so why not this weekend?...Funny Cars have been a huge part of the history of this race, with John Force seeing Elvis at 1,000 feet in 1992,
Gordon Mineo
setting low elapsed time the same year, Jerry Caminito upsetting Force in 1991 and then hitting the wall in 1994
. Cruz Pedregon's
big fire in the '97 final round that came on top of his appendectomy a week earlier,
Jim Blake
beating Cruz in 1995 and
Gordie Bonin
winning have all added to the luster and the excitement of this race and that's just in the Funny Car class.
There have been may other special moments at this event and rain played a very important part in many of them, like the 1999 show. When only one round of qualifying was able to be completed over the first three days of the event, NHRA officials decided to add a second run on Sunday morning. It worked out well for Tony Schumacher, who wasn't qualified but did get in, but it didn't go so well for Mike Dunn. Mike, who had been the point's leader for most of the season failed to qualify for the first time all year and that virtually eliminated him from title contention. Kenny Bernstein's crash after winning in the second round just about took him out of the picture, too while Tony would go on to win the '99 Top Fuel title and I believe that it never would have happened if it hadn't rained in Memphis. At least, that's the way I remember it.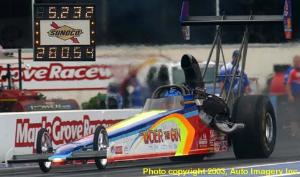 Mike Gunderson
Before going much further I have to give major props to
Mike Gunderson
for his stunning run at Maple Grove last week. After running over 278 miles per hour in Indy, Mike came back and broke through the 280 barrier at the Grove, so Mike Gunderson will forever be remembered as the first guy to go over 280 in a Top Alcohol Dragster. It wasn't long ago we were applauding
Joe Amato
for doing that in Top Fuel…By the way, the NHRA decision on what to do with the fuel cars (or the blown cars) for next year should come very soon. From what I hear, and I promise you that I'm not invited to the meetings, there are three things that might happen. They may reduce the percentage of nitro that the injected cars can use to 90 percent, although some teams say the cars won't ever start on 90%. They may put in a gear reduction which should or could slow them down or they may just make a weight break change for one or both types of cars. That seems to be the most economical way to go although I guarantee you that you can't even get a consensus from the teams as to which way to go. It's not an easy decision but NHRA is taking a long hard look at the situation in an effort to make the cars more evenly matched next year. Whatever they decide I guarantee you that not everyone will be happy, but when the teams themselves can't even come to a unanimous decision as to what's right, well then someone has to make the hard choice. Just for the record, I do remember when they threw a bunch of weight onto Blaine and Alan Johnson when they were tearing it up with their Oldsmobile powered dragster and all they did was come to the next race, set the national record and win the event. Good luck to all concerned and congratulations, again, to Mike….By the way, still on this topic, from what I hear you can look for
Ashley Force
to be in the alky class next year, and more than likely she'll be driving a fuel injected car, while
Morgan Lucas
will return to action in the class too but with a new team. At least that's what I hear…One other "Lucas" note. I have to commend
Forrest Lucas
for his attitude toward the rain situation at Maple Grove. I was sitting with him during one of the rain delays and I happened to mention that Morgan wasn't qualified at that time and I fully expected him to say that they needed another qualifying run and that it wouldn't be right to set the field on just one run. To my surprise, he took the opposite approach and said that getting the race in was more important. "Everyone's had an equal opportunity to qualify," he said. "I'd like to see my boy in but if he doesn't make it, well, that's the breaks." Class move by Mr. Lucas and I think it shows what type person he is and I hope that he doesn't mind me sharing this story with you. Forrest has been and continues to be a great friend to all of the sportsman racers (along with his wife, Charlotte) and it doesn't go unnoticed that he's often on the starting line watching the sportsman eliminations.…Now, let's go to Memphis and pray for sun. Or at least no rain!!




NHRA: 10 Most Recent Entries [ top ]

Apr 21- HOUSTON - Sunday Schedule
Apr 21- HOUSTON - Saturday Video
Apr 21- HOUSTON - Saturday Wrap Up
Apr 21- HOUSTON - Super Stock Class Eliminations Finals
Apr 21- HOUSTON - Funny Car Qualifying, Session #4 Bonus Points
Apr 21- HOUSTON - Total Qualifying Bonus Points
Apr 21- HOUSTON - Funny Car Eliminations Ladder
Apr 21- HOUSTON - Funny Car Final Qualifying, Session #4 Order
Apr 21- HOUSTON - Top Fuel Qualifying, Session #4 Bonus Points
Apr 21- HOUSTON - Pro Stock Qualifying, Session #4 Bonus Points