Thu, 18 Sep 2003, 11:35 PM



It's Stretch Drive Time



By Bob Frey
Photo by:Auto Imagery, Inc.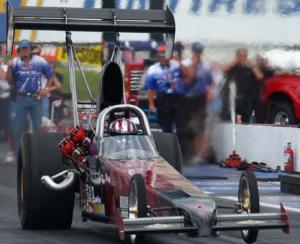 Alan Bradshaw
It's about time to separate the men from the boys, or the girls, whichever the case may be. By that I mean that we're starting to get to that point in time when the national championship picture will start to come into focus for the drivers in the Lucas Oil Sportsman classes. With only six national events remaining, including the Maple Grove race for some, every event takes on added importance. Of course the same is true on the divisional level, maybe even more so, because there are only six of them remaining (counting the ones that are taking place this weekend) and the racers can't participate at all of them like they could at the national events. So, just who are the leaders in the clubhouse as we head into the year's final few weeks? I 'm glad you asked.
In the Top Alcohol Dragster class it's beginning to look like Alan Bradshaw is going to be the champ this year. With thee national events left at which he can claim points Alan, and car owner Randy Meyer have accumulated 716 points which puts them in the driver's seat, literally and figuratively, as the season winds down. Morgan Lucas is currently in second place, but with one national and one divisional remaining he'll be hard pressed to gain the 94 points that he needs to catch and pass Bradshaw. Tony Bartone, who sits third with 579 points, still can claim points and add to his total at two more national and two more divisional races. With Steve Boggs tuning and Tony driving, don't count the "Boyz From New York" out although they have a daunting task ahead of them. David Wells, the highest ranked driver of a supercharged alcohol dragster looks like he is going to finish in the top ten and, with a couple of good races, he could finish as high as second.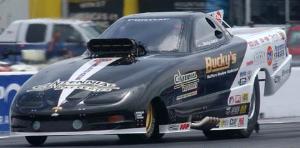 Bucky Austin
For the first time in years, it looks like the battle in Top Alcohol Funny Car is going right down to the last race. Bucky Austin, the "Northwest Hitter," currently has more points than Frank Manzo and it's been a long while since anyone could say that at this time of the year. Bucky still has two national and two divisional races to claim while Frank has three and two respectively. By the time I write my next weekly column in this spot the picture may be a bit clearer since Frank is at Maple Grove this weekend for the make up of that rained out event (stop me if you've heard that before) in an attempt to finish with a perfect divisional score of five wins. Bucky, who already has put five in the win column on the divisional level will now try to match Frank on the national stage and the two of them could get together in Chicago, the site of the Jeg's All Star race next week. Cy Chesterman and Bob Newberry are also in the hunt although they would need all of the stars and planets to align just perfectly. If that doesn't happen, it'll either be Bucky or Frank standing on the podium in California as the 2003 Lucas Oil World Champion.
When you look at the points in Competition Eliminator the first thing that you see is David Rampy with sixteen national events under his belt. Of course you can only claim your best three of six in that class so the other ten have just been for fun and profit for David. Ironically, Mr. Rampy does have a couple of divisional races to claim yet and that could help him add to his total of 577 points. His closest challengers appear to be Doug Engles and Glen Treadwell who have 544 and 516 points respectively. Doug, the driver of that potent V-6 dragster from Division 5, has two races left to claim, one national and one divisional, while Glen and his roadster can add to his total at his next national event. The dark horse in the field is Clint Sallee, the Brainerd winner, who has 491 points and three races still to count. Should be interesting.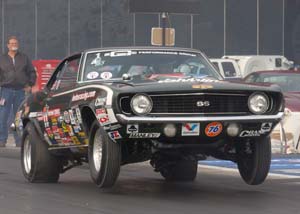 Kevin Helms
Stop me if this sounds familiar, Peter Biondo looks like the guy to beat in Super Stock eliminator. The "Terminator" will probably go to Darlington to complete his Division 2 requirements in an effort to add to his 716 points. Jeff Lane, the big gun from D-6 is about a hundred points back but has two races left and he looks like the only guy with a realistic shot at catching Peter, and even that's a long shot. But anyone who has seen Jeff drive knows that if anyone can do it, he can. Billy Leber and Jo LoCicero have had great years and will finish way up the food chain in Super Stock but they'll both run out of races in their efforts to track down Peter. Stock, meanwhile, looks like it's going to be Kevin Helms, again. Every time Kevin wins he adds to his legacy as one of the great Stock drivers of all time. His seven round win at No Problem Raceway last week, including his magnificent final round with Jeff Hefler, helped solidify his spot at the top. Peter Biondo is within striking distance, but that seven round win last week may have put things out of reach. Lee Zane, the Indy champ, Jody Lang and young Brad Plourd all have had great seasons and should be happy just to be in the same zip code as Kevin at this time of the year. Or any time, for that matter. Now there is one guy who has a lot of races left to claim and that's Bob Unkefer. If Bob were to win the next four national events and go to the finals at the last three divisional events he'd only be about 600 points behind Kevin. Oh what could have been, Bob!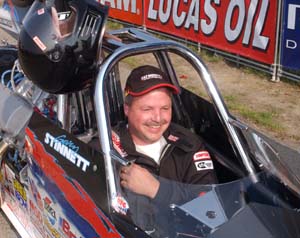 Gary Stinnett
The two "Super" classes always feature some great racing and based on sheer numbers alone the winners should be very proud of themselves. This year Gary Stinnett holds down the top spot in Super Comp as we head down the stretch, but Shane Carr and Anthony Castillo could catch him. Shane trails by 52 points and can claim points at a national and a divisional yet, while Anthony is 67 back but has a whole pile of national events to claim as well as one more divisional. Super Gas finds Bryan Robinson on the top of the heap with Greg Carrillo a distant second, that is if you consider 76 points behind a distant second. Ironically, it's that Jim Smulligan guy who's lurking in sixth place who could spoil everyone's party. Jim, the Englishtown winner and "Perfectly Strange Award" winner at Maple Grove, has 515 points with only two national events claimed. Hey Jim, get with it, son, you could be the champion
I know that there are others in each class who could jump up, have a great fall season and win the championship, but for the most part I firmly believe that the champs are listed somewhere on this page. Well, except for that Unkefer guy and we're just having a little fun with him. So good luck to all of the contenders for the throne and stay tuned because the picture can change literally every week until the end of the season. And one more thing, a lot of these guys will get a chance to face each other next week in Chicago as part of the Jeg's All Star show. Good luck to everyone. Can you say Tibor Kadar?




NHRA: 10 Most Recent Entries [ top ]

Apr 24- CHARLOTTE 1 - Steve Torrence Enjoying Four-Wide Success Heading to NGK Spark Plugs NHRA Four-Wide Nationals
Apr 24- CHARLOTTE 1 - Fact Sheet
Apr 24- Kalitta Motorsports Welcomes NASCAR Stars to the SealMaster Track Walk in Charlotte
Apr 24- zMAX Dragway Celebrates 10th Anniversary
Apr 24- CHARLOTTE 1 - NGK Spark Plugs NHRA Four-Wide Nationals Brings 40,000 Horsepower Thrill Show to zMAX Dragway
Apr 23- HOUSTON - Lucas Oil Drag Racing Series Wrap Up The NHRA Lucas Oil Drag Racing Series Wrap Up
Apr 23- CHARLOTTE 1 - J.R. Todd Aiming for Two Four-Wide Racing Wins in 2018
Apr 23- Mid America Dragway Joins NHRA Member Track Network
Apr 23- HOUSTON - Special Awards
Apr 23- HOUSTON - Sunday Video