Wed, 25 Feb 2009, 07:32 AM



Now That Was Better



By Bob Frey


Photo copyright 2009 Auto Imagery, Inc.





By all accounts the silver anniversary of the race at
Firebird International Raceway
was a huge success. The racing was great, the crowd, despite some dire predictions, was good and the weather was just about perfect for racers and fans alike.
Charlie Allen
and his crew did a great job of getting the track ready for the event and
Forrest Lucas
, with his
Lucas Oil Slick Mist
product line, helped out by sponsoring the event. Since I was in town a week earlier, I know for a fact that there was a great deal of advertising for the event since I heard it on the radio and saw it on television numerous times. Whatever the formula was, to me it seemed to work. Now if we can just carry this momentum into
Gainesville
in a few weeks maybe we can put all this talk about a recession behind us. I have always said that if you have a good product, people will come, and it seemed that was the case in
Phoenix
. Congratulations to everyone.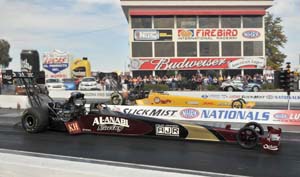 Dixon vs. Kalitta
The racing was good in every class at
Phoenix
, although I must admit there seemed to be more oil-downs than I can remember at recent events, especially the 1,000-foot races. I hope that's not a pattern that will repeat itself at future races. In Top Fuel it sure looked to me like
Larry Dixon
was on a path to win his first race as part of the
Al-Anabi
team. Larry not only qualified at the top of the pack but he made four really good runs on Friday and Saturday, grouping those passes between a 3.843 and his best of 3.807. Then, on Sunday, he opened up with a 3.815 to beat
Terry Haddock
and that time was, by far, the best of the round. Round two brought more of the same as his 3.802 not only beat
Pomona
champ
Doug Kalitta
, but it was low elapsed time of the meet and his 317.27 ended up as top speed of the meet.
Did you know
that this was only the tenth time in his career that Larry has left the track with all three performance marks, #1 qualifier, low elapsed time and top speed? On six of those occasions he also left with the trophy, but not
Brown and crew celebrate win.
this time. That dreaded broken throttle cable sidelined him in the semi-finals and kept him from running the table in
Phoenix
. Still, it sure looks like
Jason McCulloch
and the rest of the team that
Alan Johnson
has assembled are going to be tough to beat, or at least tough to outrun at every race this year. Larry's top qualifying spot was the 32
nd
of his career and that ties him with
Cory McClenathan
for fifth place on the all-time Top Fuel list. Only
Joe Amato, Tony Schumacher, Gary Beck
and
Gary Scelzi
have more top spots, and since Beck did it thirty-five times and Scelzi thirty-three, Larry and Cory could both pass those two this year. I got to spend some time with Larry in the press room after he was interviewed for being number one and I'll say what I have said before, he is a truly nice person who loves the sport, its history and his place in it and he is a real credit to drag racing...
Antron Brown
made a little history when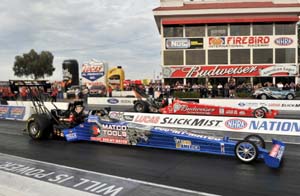 Brown vs. Bernstein
he won the race and, in the process, took over the top spot in the points.
Did you know
that Antron became just the thirty-eighth driver to ever lead the Top Fuel points? He also became the only person to ever lead the points in both the dragster and the motorcycle classes. Of course he is unique because he is the only successful motorcycle rider to ever make the switch to Top Fuel, but still, it's something he can say that he has done that nobody else has. Wish I could say that about something! Following his DNQ at the last race of the 2008 season Antron and his team have started the new year with seven round wins out of a possible eight and they have let everyone know that the
Matco Tools
car is in the title chase and will be for the entire season. It sure looks like
Mike Ashley
has assembled a very good team, with
Brian Corradi
and
Mark Oswald
in the lead, and "AB" has to be considered one of the top contenders for the TF championship this year.
....
Brandon Bernstein
moved into second place with his runner-up finish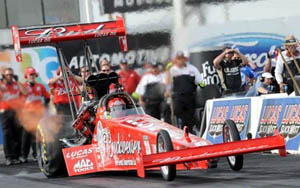 Brandon Bernstein
but he still wasn't satisfied, and I guess that's what makes champions, the fact that they won't settle for anything less than a win.
Did you know
that
Brandon
hasn't won a race since Brainerd in 2007? He has been to five final rounds since then and that's more than most of the teams in the Top Fuel class and I expect him to return to the winner's circle soon. Very soon.
Rob Flynn
has the car running well and the "Red Rocket" will also be a contender this year.....There were three red lights in the first round of Top Fuel and that hasn't happened in a long time. Apparently there were some adjustments made to the starting system this year and it has thrown some of the teams into a tizzy (that's a word, isn't it?) and that's why we saw the red lights in Top Fuel and the sluggish reaction times in Pro Stock. Like the early days when the LED lights were installed, the drivers will get used to it, or they better, and all will return to normal on the starting line before too long.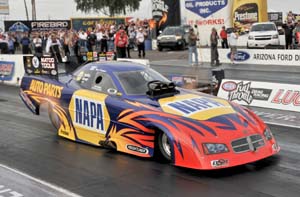 Capps got a single in the final,
I guess we'll never know what may have happened in the Funny Car final round if
Mike Neff
could have returned to the starting line and made a run against
Ron
Capps
. But one thing we do know is that Mike would have had to make a very good run since
Ron
went 4.048 on his solo pass with the
NAPA Auto Parts Dodge
. And since Mike's Mustang went 4.037 in the second round it sure looked like the two were about to give the fans a great race. But, as the old expression goes, that's drag racing.
Ron
's win, his second straight to start the year, was impressive in every way and it sure looks like
Ron
,
Ed McCulloch
and the rest of the team have a new approach to racing this year, doesn't it? No more being cautious or conservative, now it looks like the "Ace" is determined to go for it on every run, even a solo run in the finals. "When I knew we had a single I asked 'Ace' what I should do on the run,"
Ron
said after the race. "He told me to go for it and we did." And, in the process, I'm sure they sent a message that this is a new team and one that can run with any other team in the Funny Car ranks. After Ed and his son, Jason, had tuned their respective cars to the number one spot, how cool would it have been for them to share the winner's circle together? It's going to happen and it's going to happen soon. Like
Brandon
,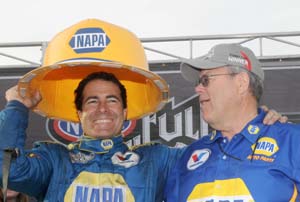 Capps and McCulloch
it had been a while since
Ron
had won a race before the start of the 2009 season.
Did you know
that
Ron
's last win came in
St. Louis
in 2007? "We knew we were too good a team to go that long without a win,"
Ron
said. "And we were determined to do better this year." Well, you can't do any better than they have right now, two races and two wins.
Did you know
that this is the fourth time that
Ron
has won back-to-back races and the first time since he did it since
Gainesville
and
Houston
in 2007?
Ron
's win was his 26
th
in a Funny Car and that puts him in a fifth place tie with
Cruz Pedregon
on that all-time list.
Ron
also won the race from the number one spot and that's the first time in his career that he has done that.
Did you know
that there was only one other time that
Ron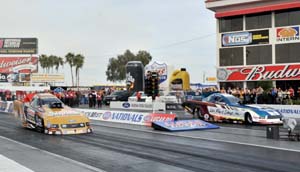 Force vs. Wilkerson
even made it to the finals after qualifying number one? And would you believe that also happened at
Phoenix
at the 2000 event?...
Tim Wilkerson's
weekend may not have been a thing of beauty, but after a DNQ in
Pomona
it had to feel like he just won the championship. Tim beat
John Force
in round one and
Jack Beckman
in round two before losing to
Mike Neff
in the semi-finals. Ironically, Tim's semi-final time of 4.187 was his best of eliminations and it came in a losing effort. Hey, it happens....Mike Neff was serving as driver and crew chief since
John Medlen
was in an
Indianapolis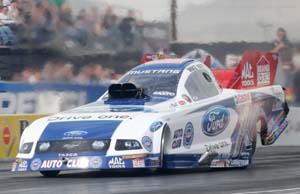 Mike Neff
hospital. From what I've heard John is doing much better but I'm sure a win would have been better than anything the doctors can prescribe. Well, almost anything. Mike was making his fourth appearance in a final round and he is still looking for that elusive, first win. The way that car has run lately it won't be long before Mike Neff, the driver, is lifting a trophy in the winner's circle just like he did as a crew chief. Just for the record Mike is now one of three drivers who had an 0-4 record in final rounds. One of the others was
Tom Anderson
while the other is
Tom Prock
, Jimmy Prock's father. Timing just wasn't on Tom's side since he had a very good car but he lost three times to
Don Prudhomme
in Don's record-setting 1975 and '76 seasons while the other loss came at the hands of one
Russell James Liberman
at Englishtown in 1975. By the way, those two, Anderson and Tom Prock, never did win an NHRA national event, but Mike will.
If anyone looked like a lock for a win in Phoenix it was Mike Edwards. Mike was brilliant in qualifying making runs of 6.613, 6.605, 6.624 and 6.627 en route to the number one spot. He then unloaded a 6.598 in round one, a time that stood up as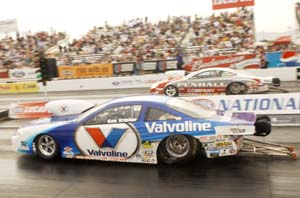 Krisher vs. Edwards
low elapsed time in the class for the weekend. But a funny thing happened on the way to the final round, Mike was upset by
Ron
Krisher
in round two and he lost that round on a holeshot. Mike, who had been devastating on the line for most of the last year, had a .104 reaction time and that cost him the race. Maybe it's the new timing device in the Christmas tree or maybe it wasn't, but I know that I was stunned by the result of that round.
Ron
, by the way, is running engines out of Mike's shop and that made the run even more ironic. Speaking of which, Mike's number one spot was the seventh of his career and his second at Firebird.
Did you know
that the last time Mike was number one in
Phoenix
he was leasing engines from
Ron
Krisher, and now, eight years later, it's the other way around? If history is any indication don't expect to see Mike get beat on a holeshot again this year.
Did you know
that over the past three years he has averaged one holeshot loss a year? One! Even with the loss it's obvious that Mike's decision to start his own engine program is paying big dividends for him and for
Ron
Krisher....After two days of qualifying where it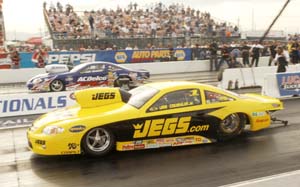 Coughlin vs Johnson
looked like the lane of choice for the Pro Stock cars was the right lane, several teams with lane choice took the left lane on Sunday and it turned out to be a good move.
Greg Stanfield
was the first to do it in round one and he won, and then in the second round all four of the winners ran out of the left lane. Oh yeah, so did
Jeg Coughlin
in the final round and he won the race. Jeg, who had never beaten
Kurt Johnson
in seven previous final rounds, checked that off of his "to do" list when he went wire to wire in the final round. Jeg, as he usually does, was first off the line in every round and that's what makes him the champ. That and the fact that
Victor Cagnazzi
's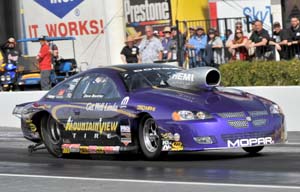 David Beckley
guys are making good power and, maybe even more importantly, making good decisions at the track, decisions like which lane to choose....
David Beckley
was driving the
Mountainview Tire Company Dodge
for the second consecutive race and, like he did in Pomona, he made the field. David got the call because the team's regular driver,
Vinnie Deceglie
, was home with his wife, Linda, who was waiting for an organ transplant. Well, she got that transplant last week and is making real progress from what the team told me. You know, in the overall realm of things, that's even more important than winning races, isn't it?
Dan Fletcher, who won the Lucas Oil Competition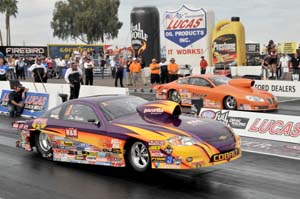 Fletcher vs. Ficco
Eliminator championship last year, and who told me that he wasn't planning on running for the championship this year, now has won the first two races of the season and he's in title contention whether he likes it or not. Dan continues to add to his totals and his reputation as one of the best sportsman racers ever.
Did you know
that this was his 58
th
national event win and that moves him to eighth place on NHRA's all-time win list? It also puts him fourth on the sportsman list behind only
Frank Manzo, Pat Austin
and
David Rampy.
Dan also made a little history when he won Comp Eliminator at four consecutive races.
Did you know
that in the entire history of the class, and that's a span of 651 races, nobody has ever won four races in a row?...
Mike Ferderer
won Super Gas for the 12
th
time in his career and that ties him with
Sheldon Gecker
for the most wins in the 9.90 class. Mike, who went to his first final round in 1977 has thirty-two finals in his career and continues to be among the top "90" racers in the sport....I know there is a long way to go before we start talking championships, but
Ryan Herem
is off to a good start. The runner-up in Super Gas in
Phoenix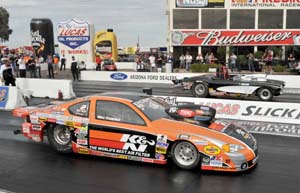 Ferderer vs. Herem
adds those points to his semi-final finish at
Pomona
. That's a lot of points on the board before the end of February.....
Brian Forrester
, the current Super Gas World Champion, isn't doing too badly, either. Brian went to the final round for the second time this year when he added a runner-up at the Gainesville points race to a runner-up in Bradenton
...Joe Teuton Jr
. also has two final rounds in Super Stock and, even though there are a lot of races yet to run, anytime you can get to a couple of finals this early in the year I like your chances of finishing very high in the standings at the end of the year....And congratulations to
Shayne Lawson
for winning his first race in Top Alcohol Dragster. All of the qualifiers for the TAD class in
Gainesville
were fuel-injected cars and
Duane Shields
was the quickest with a 5.259. Maybe this 94% nitro thing will even the class out after all. I guess only time will tell.




NHRA: 10 Most Recent Entries [ top ]

Mar 22- LAS VEGAS 1 - Defending Funny Car Winner Tommy Johnson Jr. Excited for Four-Wide Racing
Mar 22- NHRA Northwest Nationals Tickets on Sale Now
Mar 21- LAS VEGAS 1 - Fact Sheet
Mar 21- LAS VEGAS 1 - Event Preview
Mar 20- Strong Stable of Contending Pro Stock Racers Vie for Final Starting Position for K&N Horsepower Challenge
Mar 20- GAINESVILLE - Special Awards
Mar 20- GAINESVILLE - Lucas Oil Drag Racing Series Wrap Up
Mar 19- GAINESVILLE - Sunday Video
Mar 18- GAINESVILLE - Pro Mod Sunday Wrap Up
Mar 18- GAINESVILLE - Sunday Wrap Up