Sat, 20 Sep 2003, 03:47 PM



McAmis Finds His Groove after First Day Memphis



By Bobby Bennett, Jr.
Photo by:Auto Imagery, Inc.



MILLINGTON, Tenn. --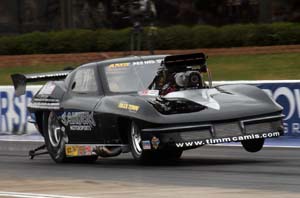 Tim McAmis
Tim McAmis proved on the first day of qualifying at the NHRA O'Reilly Mid-South Nationals in Memphis, Tenn., that if at first you don't succeed, try…try again. The chassis builder from Hawk Point, Mo., didn't let the shortcomings of his first qualifying attempt deter him from climbing to the top of the qualifying list when the day concluded.
McAmis improved off of a 6.254 with a 6.232, 225.33 during the evening session.
"We really didn't change a lot on the car even though the first qualifying attempt wasn't all that good," explained McAmis. "We left everything alone and let the track get better and it ran what it should have on the first run. I feel good about our effort tonight because some good cars didn't get down the track and we did.
"I don't think our run will stand, but I also feel that we have a 6.21 or a 6.22 left in it. We have a good baseline and I think that we have enough that we can step on it."
Mitch Stott held onto the second spot with a 6.245, 227.73 that was achieved during the first session. His second attempt netted a 6.27.
Von Smith followed the same path as Stott by getting in on his first attempt. The former Funny Car driver piloted Roy Hill's Mustang to a 6.249, 226.48. He failed to improve when the car got out of shape and he was forced to abort the run.
The nitrous contingent had Mike Castellana as their quickest representative with his Western Beef-sponsored entry. Driving the same car that won last year's event, Castellana rounded out the top half of the field with a 6.253, 223.99.
Recent Indy winner Rickie Smith was .002 off as his 6.255, 224.25 put him in the fifth spot. His run came during the second session.
New York Mortgage Banker Mike Ashley gained a place in the field as his 6.263 was enough to edge out a personal best 6.271 from Scott Ray.
Billy Harper anchored the field with a 6.273, 224.73.
Pro Modified qualifying concludes tomorrow with sessions scheduled for 12:30 and 2:30. The past national event winners unqualified include Shannon Jenkins (6.280), Thomas Patterson (6.302) and Fred Hahn.
Friday Notes – Qualifying has value for nitrous racers, Stivers towing ordeal and Rowe Rowe your boat to Russia
Qualifying is important - Sometimes drag racing requires its combatants to make some pretty tough decisions. Defending NHRA O'Reilly Mid-South Nationals AMS Pro Modified Challenge champion Shannon Jenkins and team owner Mike Castellana found that out the hard way. After putting Jenkins' car in the top half of the show and Castellana at the top of the second half of the show, both were forced to withdraw from competition and head to Epping, NH. for an IHRA event. Two weeks later that decision looms over their heads, but their decision was supported by a national event victory for Jenkins and a quarter-final finish for Castellana.
Desperately needing high qualifying positions to earn a berth in the prestigious AMS Pro Modified Shootout, the nitrous running duo are pulling out all of the punches to score all the points they can to participate in the eight-car special shootout in Dallas, Texas. Jenkins ranks 11th and Castellana ranks 12th. To get in Jenkins will need to qualify third or better, while Castellana has to hope for second or the pole position. They also need for the drivers ahead of them to not qualify, which will be a tall order any way you slice it.
"It's going to be a challenge," Castellana explained. "We really wanted to stick with things in Indy because we felt we had a good chance. Sometimes you have to make decisions that make the most business sense and that's exactly what we did with Indy. I think we have good consistency working in our favor headed into Memphis. The car I'm driving qualified number one and won here last year."
Needing help to jump into the show, their efforts have been made easier since three of the drivers ahead of them aren't participating.
After the first day, Castellana ranks as the quickest nitrous car on the grounds and is fourth. Jenkins is ninth headed into the final day.
This guy needs the hook up – At least that's how Rick Stivers felt after he had traveled about 300 miles outside of his Lexington, Ky. Home base. Apparently the trailer separated from the rig and crashed into the back of the motorhome. A stunned Stivers was too scared to get on the brakes since all air lines and two safety chains were intact and the tongue was dragging the road. Somehow or another, Stivers brought the runaway trailer under control with some crafty wrangling. The only damage to the trailer was cosmetic and as for Stivers, a change of underwear was certainly needed.
Back in the U.S.S.R. – Danny Rowe was disappointed two weeks ago when he couldn't return for the rescheduled completion of the NHRA Mac Tools U.S. Nationals. Business commitments for the importing business owner from Laguna Beach, Ca.-based sent him to the other side of the world into Moscow, Russia. Rowe wrapped up the trip with a set of meetings and the first thing he did upon returning was loading up his racecar and headed to Dallas for testing before making the trek to Memphis, Tenn.
Traveling Troubles – Summit-sponsored team owner Jim Oddy has experienced better road trips than the one he encountered on the way to Memphis. The team was forced to spend the better part of late-Thursday and early-Friday morning in a Kroger parking lot in Lexington, Ky., trying to rig up a solution to repair a broken hydraulic line on their motorhome. The team finally arrived at the track just a few minutes prior to the first qualifying session. On their one shot at qualifying driver Fred Hahn shook the tires and aborted the first attempt. But, Chip King wasn't as lucky. King's Semora, NC, hometown was in the path of Hurricane Isabel.
Memories - Last year's final round appearance at the O'Reilly Mid-South Nationals is a distant memory for Mike Ashley. Ashley will admit to being a bit frustrated in finishing runner-up to eventual World Champion Shannon Jenkins in that event. The aggravation was short-lived as he posted his first national event victory in Dallas, Texas, one race later.
One year later, Ashley is cautiously optimistic despite being in better control of his destiny. The team's primary sponsor InfiNet has just renewed the team's sponsorship through the 2004 season, the car is responding well to major recent chassis and clutch changes and Ashley is currently ranked fourth in the championship points chase. Better yet, he remains in contention for the #1 spot in the AMS Pro Modified Challenge. That's the optimistic part.
The cautious part in Ashley's own words admits, "We need to make up ground on the 25% over rule change. "We are still .04 to .05 off of the top qualifying position and that is where we expect to be. In today's eight-car NHRA AMS Pro Modified Challenge field you can't be off even .02 and expect winning results. We are well aware of this and working hard to get a handle on the rule change."
On the plus side, the pesky tire shake bug that seemed to plague the team so many times seems gone. That is a welcomed departure according to Ashley.
He continued, "We spent our time this summer testing clutch and four-link combinations. In that department we are now consistent. I have always felt that consistent cars will always win races. Now we are committed to getting a handle on the overdrive and this team will emerge as front running. It won't be long I have unwavering faith in my crew chief Chuck Ford".




NHRA: 10 Most Recent Entries [ top ]

Mar 22- LAS VEGAS 1 - Defending Funny Car Winner Tommy Johnson Jr. Excited for Four-Wide Racing
Mar 22- NHRA Northwest Nationals Tickets on Sale Now
Mar 21- LAS VEGAS 1 - Fact Sheet
Mar 21- LAS VEGAS 1 - Event Preview
Mar 20- Strong Stable of Contending Pro Stock Racers Vie for Final Starting Position for K&N Horsepower Challenge
Mar 20- GAINESVILLE - Special Awards
Mar 20- GAINESVILLE - Lucas Oil Drag Racing Series Wrap Up
Mar 19- GAINESVILLE - Sunday Video
Mar 18- GAINESVILLE - Pro Mod Sunday Wrap Up
Mar 18- GAINESVILLE - Sunday Wrap Up