Sat, 20 Sep 2003, 07:15 PM



Bazemore, Baca Top Qualifiers at O'Reilly Mid-South Nationals



Courtesy of NHRA Communications
Photo by:Auto Imagery, Inc.



MILLINGTON, Tenn. --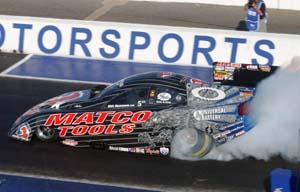 Whit Bazemore
Whit Bazemore earned the 23rd No. 1 qualifying position of his career in Funny Car Saturday at the O'Reilly NHRA Mid-South Nationals at Memphis Motorsports Park.
David Baca, Jeg Coughlin and Angelle Savoie also will lead their respective categories into Sunday's 11 a.m. eliminations at the $1.6 million race, the 19th of 23 events in the $50 million NHRA POWERade Drag Racing Series.
Bazemore edged rival John Force for the top spot by virtue of a faster speed. Bazemore drove his Matco Tools Dodge Stratus to a leading run of 4.826 seconds at 316.67 mph to claim his second No. 1 of the season, while Force was second in his Castrol GTX High-Mileage Ford Mustang with an identical 4.826 at 313.37.
"Anytime you are low qualifier it is a good feeling," Bazemore said. "We ran well last night when the conditions were at their best and we came back today and ran the best when the conditions were at their worst. The 4.87 today was probably more important than the 4.82. The entire team is making a great effort to give me a great race car."
Bazemore, who trails POWERade Series leader Tony Pedregon by 53 points, hopes to turn his top qualifying effort into a race victory tomorrow.
"We're fighting for this POWERade championship," Bazemore said. "We're looking at every single point now because when we get to the end of the year it could be one or two points that make the difference between winning and losing the championship. Tomorrow is crunch day for us. We need to have a good consistent race car and get by the first round and keep going on from there."
Gary Scelzi is third with a 4.837 at a track record speed of 322.42 mph in his Oakley Stratus and '01 Memphis winner Gary Densham is fourth overall with a 4.856 at 311.99 in his Auto Club Mustang.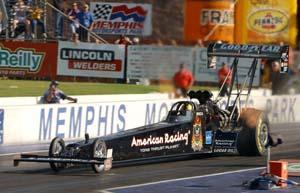 David Baca
Top Fuel rookie Baca claimed his second No. 1 position of the season in his American Racing Wheels dragster, covering the quarter-mile distance in 4.533 at 319.75.
"We've had some success of late and we're trying to keep that momentum going," Baca said. "We went to our first final at Sonoma (Calif.) and were No. 1 at Indy, and we want to continue to improve our performance at this event. It's going to be tough because there's not an easy draw out there. We're just trying to stick to the same game plan and hope that things will keep coming around."
Doug Kalitta was second in the Mac Tools dragster with a 4.542 at a track record speed of 327.90, while Tony Schumacher, who returned to competition today with a 4.61 second run in his back-up car following yesterday's crash, is third with a 4.551 at 321.65.
Coughlin claimed his first top qualifying effort of the season and seventh of his career with a track record time of 6.748 at 202.94 in his Jeg's Mail Order Chevy Cavalier. Greg Anderson drove his Vegas General Construction Pontiac Grand Am to the second spot with a 6.759 at a track record speed of 204.23.
Savoie took her third No. 1 of the season and 34th of her career, including her third at this track, clocking a track record time of 7.096 at 186.82 on her U.S. Army Suzuki. Points leader Geno Scali was second on his Trim-Tex Suzuki with a 7.119 at 187.13, while Shawn Gann was third with a 7.125 at 187.81 on his Gann Speed/Mac Tools Suzuki. U.S. Nationals winner Reggie Showers was seventh overall with a 7.186, but posted the track record speed of 188.46 on his PDI Suzuki.




NHRA: 10 Most Recent Entries [ top ]

Mar 18- GAINESVILLE - Pro Mod Sunday Wrap Up
Mar 18- GAINESVILLE - Sunday Wrap Up
Mar 18- GAINESVILLE - Pro Mod Championship Points
Mar 18- GAINESVILLE - Bonus Points
Mar 18- GAINESVILLE - Championship Points
Mar 18- GAINESVILLE - Mickey Thompson Top Fuel Harley Series Championship Points
Mar 18- GAINESVILLE - Bonus Points
Mar 18- GAINESVILLE - Summary of Eliminations in Top Fuel
Mar 18- GAINESVILLE - Summary of Eliminations in Funny Car
Mar 18- GAINESVILLE - Summary of Eliminations in Pro Stock