Mon, 29 Dec 2008, 10:50 AM



It's Nice to Have Goals



By Bob Frey


Photo copyright 2008 Auto Imagery, Inc.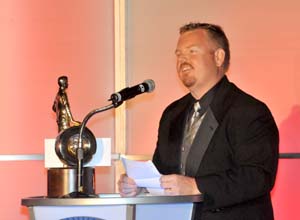 Lee Zane
When you look at the number of racers who compete on the NHRA national event level over the course of a season, compared to that, the total number of drivers who have won a world championship is relatively small. In 2008 for example there were almost 1,100 drivers who claimed points in the Stock Eliminator division alone. Some of them are former world champs, a lot of them are divisional champs but the vast majority of them are racers who compete for the love of the sport and who don't set out to win a world title. Of course, most of the champions will tell you that they, too, didn't originally intend to run for a championship, but after a few good races, "we started to think that we could win it so we went after it." That seems to be a familiar refrain over the years and it's probably true for the 2008 Stock Eliminator World Champion, Lee Zane. After all, at the beginning of the season Lee not only didn't have visions of winning his second Lucas Oil World Championship, he didn't even have a ride. Ironically, he not only found a ride but he raced in five different eliminator categories this year including Pro Stock.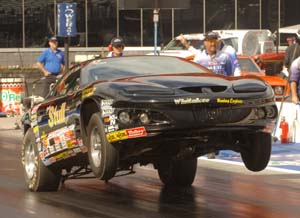 Lee Zane
Lee Zane won the world championship in 2004 and he did it by scoring 703 points. Those points came on the strength of winning three national events, including the U.S. Nationals, and a pair of divisional races. In 2008 his total was 664 points and that was based on winning one national event (that counted toward his total) and a pair of divisional races. He also finished the season by winning the Division 7 race in Las Vegas and then, the next week, he won the final national event of the year in Pomona. The Pomona race was literally icing on the cake because, by then, he had already wrapped up the championship. "It was nice to be able to go to Pomona without any pressure," he said. "To be able to race for fun, knowing that you had already won the championship, is a good thing. It takes all the pressure off, but you still want to win." Lee then admitted that it probably was good that he had already secured the title because his car was tired, worn out and he didn't exactly crush the opposition in California. "I put more runs on the car this year than (owner) Sonny ever did," Lee said. "We had about 137 runs on the engine going into Vegas and then added about twenty more between the last two races. When I got home and took the car to our engine-builder he just looked at it and said, 'This thing is worn out.' We knew it was and we were just glad it made it to the end of the season."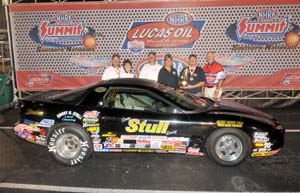 Going west, Lee had the opportunity to stay home and work for a few days while his owner, Sonny Stull, and Sonny's wife, April, drove the car out west for him. "They were so good to me," he said. "At the end of last year I didn't know if I would even be racing and then I got a call from Sonny asking me if I wanted to drive his car. We struck an agreement, he got the car ready and told me to do whatever I needed during the year. You can't ask for a better owner or friend than that." Once he got to Vegas for the huge D-7 event, Lee was out of races to claim and he knew there were a couple of pretty good racers who could still pass him for the title. "Toby Lang and Jimmy DeFrank are about as good as you can get in this class," he said. "I knew that either one of them could get hot and run off a bunch of rounds in a row to catch me or pass me. When I left home my wife, Lisa, just told me to win the races. If you do that, she told me, they can't win and they can't catch you. After she told me that, well, I just went out and did it." Lee did it in style, too, winning fourteen rounds in a row at the end of the year to put a solid exclamation point on his year.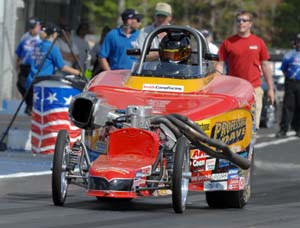 Zane in the Comp car.
In addition to the success he had in the Stock class, Lee also had a pretty good season in Competition Eliminator. He drove a car that was the product of owner Dave Ring and engine man, Al Ackerman. "Dave owned the car and Al owned the engine," he said. "We started out the year real well with a semi-final in Orlando and a runner-up spot at the Gatornationals." But after that, Lee said, things got a little tougher. "We just had trouble spinning the tires and couldn't seem to figure it out. We even switched about two hundred pounds to the back of the car and that didn't help. Still, it was a blast to race in Comp and I really enjoyed it." But not as much as he enjoyed running in Pro Stock, which he did twice in 2008. "I was fortunate enough to meet Jack Gaydosh and he let me get my license in the car at Atco and then go to Englishtown to run in Pro Stock. Let me tell you, as great as it is to win the world championship, to drive a Pro Stock car in front of a lot of my friends and fellow racers in New Jersey was a dream come true. I made my run and went into the stands to watch the rest of the races and my friends gave me a huge round of applause. That made my day and it also fulfilled one of my dreams, and that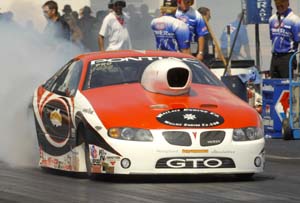 Zane in Pro Stock.
was to drive a Pro Stock car." Lee has a few other dreams, too, including winning the Jeg's All Star race in 2009. "I was there before and made it to the final round but I didn't win. Now I've got a pair of Indy wins, a pair of world titles and I want to add an All Star championship to my resume." And there's one more thing he has on his wish list. "I want to be introduced on Sunday at a national event and walk out on the stage as one of the sixteen drivers to qualify for Pro Stock. That's my main goal right now and that would be unbelievable." He said that, as of this time, he is working on some things that may enable him to race at a couple of events in Pro Stock this year. "I may cut back a little on my travel and stay closer to home. We're buying a new house and I do have a job to go to, so I have to keep my priorities straight. Still, if I could get to run Pro Stock again I'd jump at the opportunity."
2008 was a very good year for Lee Zane, after all, how may guys get to say that they won one national title, let alone two? Now he'll enjoy the off-season, attend a few banquets, pick up his Division 1 championship and then get ready for the new season. And all the time he'll be keeping his dream alive, a dream to win the All Star race and qualify in Pro Stock. What are the odds he could do them both at the same race next year? After what he's done over the past few years, I wouldn't bet against Lee Zane accomplishing anything he sets his mind to.




NHRA: 10 Most Recent Entries [ top ]

May 26- CHICAGO - Fact Sheet
May 26- CHICAGO - Tony Schumacher Aiming for Sixth Career Win at JEGS Route 66 NHRA Nationals
May 25- BOWLING GREEN - Stock Eliminator Class Eliminations Qualifying
May 25- BOWLING GREEN - Super Stock Class Eliminations Qualifying
May 25- BOWLING GREEN - Friday Wrap Up
May 25- BOWLING GREEN - Competition Eliminator Qualifying, Friday Order
May 25- BOWLING GREEN - Stock Eliminator Qualifying, Friday Order
May 25- BOWLING GREEN - Super Stock Qualifying, Friday Order
May 25- BOWLING GREEN - Top Dragster presented by RacingRVs.com Qualifying, Friday Order
May 25- BOWLING GREEN - Top Sportsman presented by RacingRVs.com Qualifying, Friday Order