Wed, 24 Dec 2008, 10:04 AM



Slow Economy Not Slowing Berner's Winter Progress



By Lisa Bingham



CRETE, Ill. --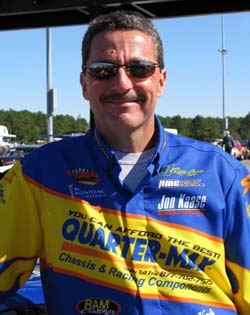 Pete Berner
The now two-time Mountain Motor World Champ, Pete Berner, is picking up the pace this winter, preparing to defend his title in the '09 season. Despite economic setbacks across the industry, Berner hopes to see continued growth of the sport and is expanding his own operation over the winter, including the addition of a 56 foot, all aluminum semi, currently in construction at T&E Auto Haulers in Herscher, Illinois.
"We're keeping busy this off season. We're working hard on our new engine program, refreshing the car, and getting a new truck and trailer, so it's not much of an 'off' season for us. The new rig is coming along great at T&E. They do excellent work, and I'm looking forward to taking delivery of the semi. Richard Freeman with Elite Trailers helped us put this deal together so many thanks go out to him for his help.
"We don't just want to maintain our level of success from last year. We want to continue to grow our operation, always searching for more power, efficiency and speed. We're working hard to improve those things this winter so that we can successfully defend our Championship title."
Berner attended the Performance Racing Industry (PRI) Trade Show this past weekend in Orlando, Florida. The show, an epicenter for racing during the off season, provides common ground for manufacturers, racers, and industry leaders.
"The PRI Show was a great chance to meet with many of my sponsors and thank them personally. I don't get a chance to do that often enough. None of us would be out here racing if it wasn't for the support of manufacturers and industry businesses. I know this slow economy has hit many of the hard working companies out there, but they haven't let that affect their commitment to the racer and my hat goes off to them for sticking with us, even when times are tough. It's our goal to help them continue their success by proving their products on the track and increasing our support."




IHRA: 10 Most Recent Entries [ top ]

Mar 21- 2018 IHRA Summit Sportsman Spectacular Series on April 20-22
Feb 26- Weather-Related Construction Delays Postpone IHRA Xtreme Raceway Park Opener
Feb 16- IHRA Summit Sportsman Spectacular Schedule Announced
Feb 15- New York Track Finds Value for Racers with IHRA Agreement
Feb 15- IHRA Summit Sportsman Spectacular Debut Only One Month Away Now is the Time to Pre-Enter
Feb 15- Summit Texas Location is a Racers' Paradise
Feb 15- Canadian Track Makes Large Commitment to IHRA Drag Racing
Jan 27- Mid-Michigan Destination Joins IHRA Family
Jan 27- Mississippi Track Reaches Sanctioning Agreement
Jan 16- Michigan Track to Host IHRA Summit Sportsman Spectacular