Wed, 24 Dec 2008, 06:28 AM



The Best Of 2008



By Bob Frey


Photo copyright 2008 Auto Imagery, Inc.





For the past few years
National Dragster
has been publishing an issue that features the "Best Of" the previous year. In it they take a look back at the previous year and they pick what they think are the best moments of the season. Of course, as with any list like this, it is very subjective and open to discussion and I think that's what makes it such a nice issue. I know that when I read through the list there are selections that I agree with and some that I don't agree with, and that's interesting since I am one of those who submit ideas for the list. I am not, however (and rightfully so) in on the final decisions, that's left up to the editors and staff of
National Dragster
. Hey, they let me write the
Bob-Tales
column so what more could I ask for or expect? Anyway, the issue just hit my house the other day (we don't have the quickest delivery here in the boondocks of
New Jersey
) and I finally had a chance to go through it. I must admit, on more occasions than not I agreed with the selections. I guess that's why the folks at
Dragster
make the big bucks, huh? They have a great staff and don't miss much. In fact, they had a few selections that I didn't even think of or remember. Anyway, after going through it I thought that I would list what I think were some of the best accomplishments of the year. Take it for what's it worth (no comments, please), but here they are.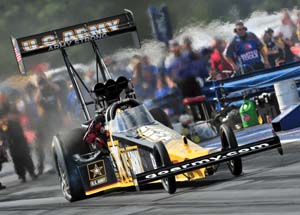 Tony Schumacher
The Driver of the Year in the professional classes wasn't even a contest, and you can't say that many years in our sport. The "Sarge,"
Tony Schumacher
won this just like he won everything else this year, going away. Tony, according to the story, was the unanimous choice and it's hard to argue with that. From a sentimental point of view you
could
have voted for
Tim Wilkerson
but, in reality, Tony was the "man" in 2008. That's why he also won the coveted "Driver of the Year" award that was voted on by the national press and he'll receive that award at the International Motorsports Hall of Fame ceremony next April. It's a great ceremony and Tony and his team will enjoy it and it's nice to see another drag racer win the award. I'm sure you remember that
Greg Anderson
won it a few years ago when he had a year comparable to the one that Tony just had. And
John Force
also won it back in '96. Just a thought.I wonder which, if any, crew members will accompany Tony to the awards ceremony
?...
Other choices for this award could have gone to, ah, nobody really. When you have a year like the
Army
team did you deserve to win just about every season-ending honor that there is....The sportsman Driver of the Year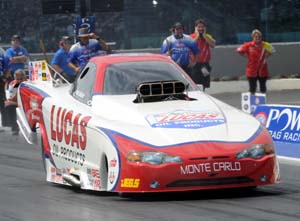 Frank Manzo
was awarded to both
Frank Manzo
and
Dan Fletcher
and I agree with both of them. Frank had another great season, one of many in his career, while Dan added a Competition Eliminator title to the two Super Stock crowns that he already had. Dan also went to the final round in two classes at three national events and that's pretty impressive. I haven't spoken with
Santa Claus
lately but I'll bet I know what Dan wants for Christmas.to finally win two classes at the same national event next year. Hey, there isn't much that he hasn't accomplished so that's a goal for next year. Frank, meanwhile, in addition to everything else he did this year, qualified for every race he entered and that runs his national event streak to 177 in a row.
Did you know
that the last time Frank didn't make a field was at Indy in 1985? ..
Shawn Langdon
winning consecutive Super Comp titles also has to get mentioned as one of the top performances of the year. At least I think it does. When you consider the fact that there were over 1,300 racers who earned points in the 8.90 class, to win the championship is quite an accomplishment, and to do it in consecutive years really is something special.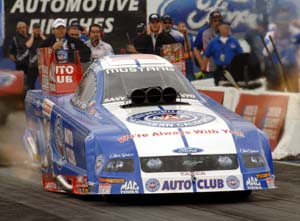 Robert Hight
Whenever you have a category called "Outstanding Run of the Year" it opens up a wide variety of possibilities.
Robert Hight's
4.005 was their selection and it's hard to argue with that. In fact, if I remember correctly, when he made that run in
Richmond
as I was announcing it I may have said "that could be the run of the year." I may have...I know someone who thinks it was the run of the year and that's John Force, and not because Robert is on his team but because John was in the other lane at the time. As good as that run was Robert didn't win the race because he was beaten by another 4.0 run in the next round when
Ron Capps
went 4.088. Maybe not quite as dramatic but it was a winning run for Ron and that's what you try to do on race day....Other runs mentioned included
David Grubnic's
4.467 in St. Louis and Tony Schumacher's string of 3.7 second runs that
he made at 1,000 feet. But I had a few others in mind that didn't get mentioned and several of them were in the sportsman ranks.
Bob Book
, who has given us a lot of great moments with his A/D, went 6.315 at
Richmond
and
that
was, in my opinion, as good as any run this year. I also think that the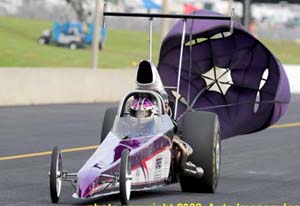 Bob Book
performance that
Jirka Kaplan
displayed at the Division 7 race in
Las Vegas
was stunning. Jirka went 6.068 at the event to qualify number one in the Competition Eliminator field and that was a staggering 1.062 under his index at the time. Like Robert, neither Bob Book nor Jirka won their races but they sure gave us a lot to cheer about with those spectacular runs. And let's not forget
Bill Reichert's
5.165 at
Pomona
at the end of the year. Coupled with his 282 mph speed, the second fastest in the history of the class, it was the best in the TAD class this year and certainly, in my mind, a candidate for "Run of the Year."
I have to admit that the Dragster selection for Outstanding Run by a Funny Car caught me by surprise. It wasn't Robert's run, or Ashley Force's
Robert Hight
310.03 mph pass at Las Vegas (the only FC run over 310 at 1,000 feet this year), but it was one of the slowest runs of the year in the class. Robert Hight's solo run in round one at Englishtown, the run where he was supposed to face
Scott Kalitta
, was the choice and it's hard to argue with that. Robert just idled down the track (23.372 seconds) in a tribute to Scott who had suffered that fatal accident the day before. The run was eerily reminiscent of the one that Tony Schumacher made at Indy (21.388) in 1996 after the death of
Blaine Johnson
. I was fortunate enough to be announcing the run at Englishtown and it was a moment that I'll never forget and, certainly, the run of the year in the FC class....Ashley Force's win over her dad in Atlanta was a winner and, rightfully so. She grabbed the Outstanding Funny Car Race of the Year, or I guess they both did. Tim Wilkerson's win in
Memphis
when he beat John Force,
Mike Neff
and Ashley Force to win the race was also acknowledged for the Outstanding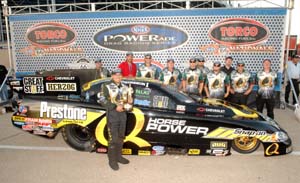 Tony Pedregon
Performance by a Funny Car at an event...
Tony Pedregon
also was mentioned for his comeback in
Chicago
. That's the race where he had a big fire and crash in qualifying and then came back to win the event. That was special but so was Tony's effort simply to come back from his huge explosion and fire in
Pomona
. Sure it took him two races to do it, but when he won in Gainesville it capped a tough couple of weeks for the reigning champ and it showed what kind of team, crew and driver they had on the "
Q Horsepower" Chevrolet
. Just a thought, but I wonder which event received more media attention this year, Ashley's win over John or Tony's explosion in
Pomona
?
I know which one I think it was.
It's hard to argue with the selection of John Force for the Comeback of the Year award. John's crash in 2007 at Dallas looked like it could be the end of the line for the fourteen-time champ, but he showed why he is the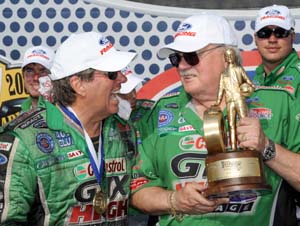 John Force and Austin Coil
"champ" by returning to action only a few months after the accident. John's win in
Topeka
, which he said was "the biggest win of his career," capped his return to action and proved that he still has what it takes to compete and win races. That turned out to be John's only win of the year but it still ran his streak to an incredible twenty-two years in a row in which he has won at least one race. I think he should get an award just for doing that..I have to think that
Dave Connolly
should get some kind of award for what he did, or rather what his team did this year. After missing the first five races of the year Dave came on to win races, qualify for the "Countdown to 1" and make
himself
a factor in the points down the stretch. He didn't win the title, but he will, and his 2008 season was one of the best that we've seen in a long time. By the way, Dave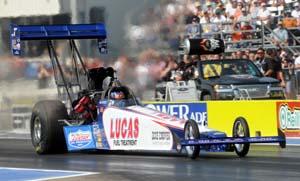 JR Todd
loves the "Countdown" format....I picked
JR Todd's
win over Tony Schumacher in the finals at Dallas as one of the biggest upsets of the year (for an event) and the folks at
Dragster
tabbed
Tony Bartone's
Seattle win for that honor. And you know what, they are right (although JR did win for the Upset of the Year for one round). When you figure that for the entire rest of the year Tony won two rounds (and they came at the same event), it certainly was an upset when he won in
Seattle
. Jim Dunn
will enter 2009 with
Jerry Toliver
driving while Tony will be behind the wheel of
Rick Jackson's
TAFC. I'm not saying that Tony will win the championship next year, after all, that is pretty much the sole property of Frank Manzo, but if he doesn't make a run for the championship and finish at least third or better in the national points I will be very surprised.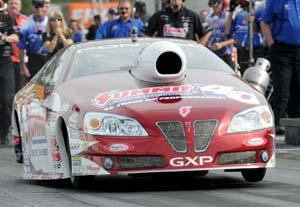 Greg Anderson
Greg Anderson
didn't win the championship in 2008 but he had a couple of very good runs and races. Greg won both of the
Pomona
races and he won both of them in style, by qualifying first, setting low elapsed time and top speed. He also made some great runs at the
Richmond
event and for that he was awarded the Outstanding Run by a Pro Stocker for the year.
Did you know
that seven of the ten quickest runs in the class were recorded this year? And
did you know
that only two of the top ten speed runs were made this year in Pro Stock? And
did you know
that for only the second time in the history of the class the Pro Stock record was not set this year? The only other time that happened was in 2002. Other than that year and this one, every season since the class began in 1970 the record has been set at least once....Even though he didn't win a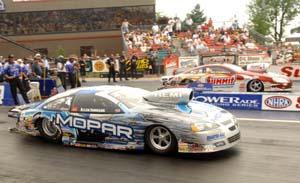 Alan Johnson vs. Anderson
national event,
Alan Johnson
certainly had a good car, a good team and a good weekend in Ohio, didn't he? Alan won the
K & N Horsepower Challenge
and he did it with a perfect reaction time in the final round. The win, which came over Greg Anderson, was worth fifty grand to "AJ" and was probably the highlight of his season.
Did you know
that was the first and only perfect reaction time in the history of the Pro Stock challenge event? The closet any other driver came to that was when
Kurt Johnson
had a .001 reaction time back in 2005. By the way, Kurt's opponent on that run was none other than Greg Anderson. Timing, it's all about timing.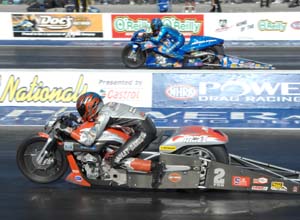 Hines vs. Smith
There were some notable runs in the motorcycle class including
Andrew Hines
6.875 in
St. Louis
.
Matt Smith
also ran 6.882 at that same event and that deserves mention. Speaking of that, the switch for Matt Smith from independent to rider for
Don Schumacher
was one of the more surprising moves of the off-season so far. At least to me it was. That means that
Chip Ellis
and
Craig Treble
are both out of rides as of this moment and I'm not sure if either has anything on the immediate horizon. With
Angelle Sampey
also looking for work next year the bike class could take on an entirely new appearance in 2009..You have to be impressed with what a guy like
Joe DeSantis
does year in and year out.
National Dragster
mentioned his six-second run at
St. Louis
but only because he was in the other lane when Andrew made his monster pass. Still, for a "privateer" to run in the sixes is pretty impressive. Nice job, Joe.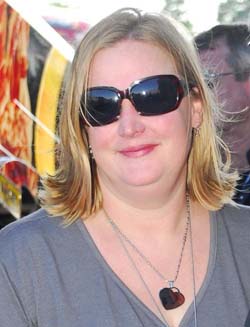 Hollie Faulkner
There were several other great moments during the season, in fact too many to mention, but looking back it was a very interesting year. Of course with the economic climate the way it is, and with almost daily announcements of teams not running next year, 2009 could be the most challenging year in a long while, maybe ever.With all the sponsor news, or lack thereof, nothing has been more tragic this off-season than the news that
Hollie Faulkner
passed away last weekend.
Hollie, who ran the Rolling O (Oakley) trailer at the track, died suddenly last Saturday at the young age of 36.
She was a wonderful person who had gone through several personal tragedies of her own in the recent years and still always managed to have a smile on her face and a kind word to say to everyone. I found her to be a woman of great strength and told her often how much of an inspiration she was to all of us. If you are so inclined, Hollie's family has asked that donations be made in her honor to the
Eric Blake Faulkner Foundation
. You can send donations to the foundation
at

this
address:
Eric Blake Faulkner Fund
St. Vincent Foundation
#2 St. Vincent Circle
Little Rock, AR 72205





NHRA: 10 Most Recent Entries [ top ]

Jun 20- NORWALK - Event Preview
Jun 20- NORWALK - Tim Wilkerson Knows Summit Racing Equipment NHRA Nationals Ideal Place for Turnaround
Jun 20- NORWALK - Thursday Schedule
Jun 20- Summit Racing Equipment Continues Sponsorship of NHRA Summit Racing Jr. Drag Racing League
Jun 20- NHRA Summit National Championship Drawing To Be Held In Norwalk
Jun 19- NORWALK - Steve Torrence Hopes to Go Back-to-Back at Summit Racing Equipment NHRA Nationals
Jun 19- NORWALK - Fact Sheet
Jun 19- BRISTOL - Mickey Thompson Top Fuel Harley Series Championship Points
Jun 18- Farewell to the Mongoose Part III
Jun 18- BRISTOL - Lucas Oil Drag Racing Series Wrap Up