Sun, 21 Dec 2008, 10:40 AM



Let's Hear It For The "Good Time Gang!"



By Bob Frey


Photo copyright 2008 Auto Imagery, Inc.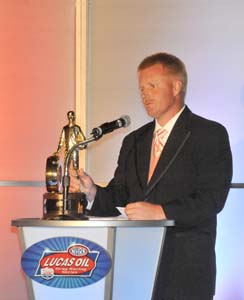 Ricky Decker
It's no secret that I grew up watching drag races at Atco Dragway in New Jersey. My first race, my first (and one of my very few) trips down the quarter-mile in a race car and announcing my first drag race all took part there. What is not quite as well known is that for several years I also did some work, both promotionally and in the announcing booth at Ohio Valley Raceway in Louisville, Kentucky. Working with and for Jesse Ballew, I got to watch a lot of racers during their formative years, racers who later on achieved varying levels of success in the drag racing world. Kenny Schindler, the late John Lingenfelter, Mike Farrell, Mike Keown, Chuck Gallagher and others all participated in some of the great Stock and Super Stock meets of the time at the eighth-mile facility. It was always a joy to go there for one of the combo eliminator brackets and I can honestly say that I got to see some of the best racers in the sport at that track. In addition to the ones already mentioned, there was another guy who raced at the "Valley" regularly and he, too, went on to great success in the sport. His name...Ricky Decker.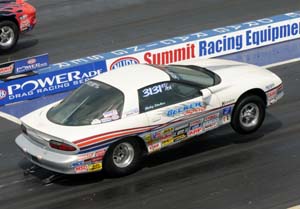 Ricky Decker
Ricky, who is the 2008 Lucas Oil Super Stock World Champion, began racing at Ohio Valley back in 1988. "It was a great place to race," he said. "There were always good cars and you thought that if you could win there you could win anywhere." Ricky, driving a 1969 Nova, did well in the early days and then, as so many do, he hit "the wall," not literally but figuratively. "I went through a stretch where I couldn't do anything right. I began to wonder if I would ever win again. I thought I was all washed up already." Well, he thought wrong. Ricky came back this year to win the world championship even though he didn't win a national event. In fact, he didn't even make it to a final round at a national race but he still had the best season of anyone in the class and, obviously, the best season ever in his career. "I had some top ten finishes before but just ran out of races back then to catch the guys in front of me. This year I got off to a good start and was pretty much in the lead or in contention all year long." His previous best finish was in 1999 when he was seventh in the national standings, and he has another pair of top ten finishes to his credit to go along with a Division 3 title (before this year) and an All Star appearance. Not bad for a guy who thought he might never win again. And this year, on his way to the championship, he won three divisional races and they go along with the ten other divisional finals that he has been in in his career. "I'm not a professional racer like some of the sportsman guys are these days," he added. "I have a job and a wife and a family and they take a lot of my attention. That makes winning the championship this year that much nicer." He went on to say that the support of his wife, Missy, his sons Jacob and Joshua and his dad and stepmother, Sandra, were instrumental in his success this year. "Without my Dad and our business 'Lawn Cure, Inc.' none of this would be possible. They all stood with me all the way and I can't thank them enough."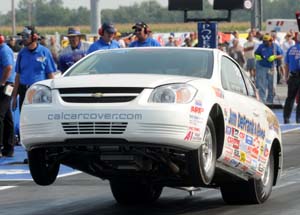 Decker in DeFrank's car.
Another thing that made winning the championship nice was the fact that he had to hold off Jimmy DeFrank to win the title. "I actually drove one of the DeFrank cars at Pomona to start the season," he said. "I made it to the semi-finals there and, later in the year I ran one of their engines in my car." Add to that the fact that his brother, Steve, works for the DeFrank family at the races and you have the makings of a very interesting stretch run. "The Pomona race (Winternationals) was a good way to start the year and then when I put together those races in the middle of the season I started to think that I could win it. Then, once I put all my points on the board, all I could do was sit back and see what would happen." What happened was that he went to Pomona at the end of the year with a lead, but according to Ricky, not a comfortable lead. "Jimmy had to go five rounds but he's a good racer and I knew he could do it. Each round he won was agonizing and I thought that he would win it." He didn't. Jimmy won his first two rounds before losing to Byron Worner in the third round and that gave Ricky the championship. "It was just an unbelievable feeling. To drive for them early in the year, to use their motor later in the season and then to have to hope that Jimmy lost was tough, but it all worked out in the end."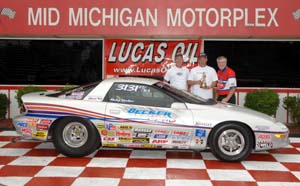 Ricky not only has raced at Ohio Valley for years but he is also part of what is called the "Good Time Gang," a group of racers from in and around the Division 3 area who like to hang out together. "It's just a nice bunch of racers and we all cheer for each other," he said. "And since I won I have had so many phone calls and e-mails from them and other racers and it really makes you feel good. It makes all the work and effort really worth while." And I can imagine what it will be like when the "gang" and all of Ricky's friends show up at the Division 3 award's ceremony this year when he picks up his D-3 crown and is acknowledged as the world champion. "Yeah, we've got a lot of folks going with us. It's going to be fun. I'm going to enjoy this as long as I can."
While he did use an engine from the DeFrank stable during the year, one that his brother probably had a hand in preparing, Ricky was quick to add that he, his brother and his dad have raced for years and have had one man work on their engines. "Mike Keown has done a great job for us over the years and I can't thank him enough." The car that he raced this year was a 1994 Camaro that has been in the family for over a decade. "My dad and brother built this car and it's a very good car to race. Mike's shop is about fifteen minutes away from our house so it's easy to work with him and anytime we need anything he's there for us."
Ricky Decker isn't your classic case of an over-night sensation. He's been racing for years and, like everyone, he has had good years and average years. Now he's the champ and a lot of people want to know where he came from and what he's been doing. Well, for those of us who have seen him race, either at the NHRA events or at the "Valley," we know that he is one of the best racers around and a very deserving champion. And if you don't believe me, just ask the "Good Time Gang." "It's all good right now," Ricky said. Yes it is!!




NHRA: 10 Most Recent Entries [ top ]

May 21- TOPEKA - Pro Mod Championship Points
May 21- TOPEKA - Monday Video
May 21- TOPEKA - Monday Pro Mod Wrap Up
May 21- TOPEKA - Monday Wrap Up
May 21- TOPEKA - Championship Points
May 21- TOPEKA - Summary of Eliminations in Top Fuel
May 21- TOPEKA - Summary of Eliminations in Funny Car
May 21- TOPEKA - Summary of Eliminations in Pro Stock
May 21- TOPEKA - Summary of Eliminations in Pro Modified
May 21- TOPEKA - Summary of Eliminations in Top Alcohol Funny Car