Wed, 17 Dec 2008, 09:08 PM



11th annual John Force Holiday Car Show a Huge Success



Courtesy of Elon Werner



YORBA LINDA, Calif. --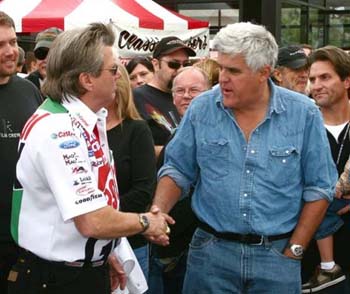 John Force and Jay Leno
The 11th annual John Force Holiday Car Show is in the books and once again the event was a huge success for car show fans and most importantly the California Highway Patrol's "CHiP's for Kids" Toy Drive. Nearly one thousand vehicles were on display and attendance topped 25,000 for the afternoon event on December 7th. John Force Racing collected over 7,500 toys, their largest single day collection in the history of the event.
Sponsors for the Holiday Car Show included System One - Automotive Polishing System, Auto Club of Southern California, Velocity Magazine, KCAL-TV, KCBS-TV, and Coca-Cola. The host car club Classic Cruisers of North Orange County were well represented all day.
A host of celebrity drivers were on hand to sign autographs during the event including John Force, Ashley Force, Brittany Force, Courtney Force, Robert Hight, Mike Neff, crew chief Austin Coil and crew chief Bernie Fedderly. In addition to the team Force drivers and crew chiefs noted automotive celebrities including Tom "The Mongoose" McEwen - Drag Racing Legend, Mousie Marcellus and his "Winged Express" racecar, Genevieve Chappell - ESPN's "Queen of Cars", Chip Foose - Legendary Car Designer and Peter Brandon - Country Western Star were available for autographs during the event.
A surprise appearance by Jay Leno, host of The Tonight Show with Jay Leno, was a highlight of the event. Leno, a well known car nut, simply wanted to enjoy a day soaking up some vintage vehicles and enjoyed milling about with fellow car enthusiasts.
A special award was presented to the Orange County Fire Authority for their heroic efforts during the recent wild fires that swept through Orange County in early November. A complete list of car show winners can be found at www.johnforceracing.com under the Holiday Car Show section.




NHRA: 10 Most Recent Entries [ top ]

Oct 17- We Win, You Win: Get $50 Off Your Next Order!
Oct 16- CHARLOTTE 2 -Through the Lens of Ron Lewis
Oct 15- CHARLOTTE 2 - Lucas Oil Drag Racing Series Wrap Up
Oct 15- CHARLOTTE 2 - Special Awards
Oct 15- CHARLOTTE 2 - Sunday Pro Mod Wrap Up
Oct 15- CHARLOTTE 2 - Sunday Video
Oct 14- CHARLOTTE 2 - Sunday Wrap Up
Oct 14- CHARLOTTE 2 - Countdown to the Championship Points
Oct 14- CHARLOTTE 2 - Pro Mod Championship Points
Oct 14- CHARLOTTE 2 - Bonus Points