Sun, 14 Dec 2008, 08:54 PM



Next Thing You Know Old Jed's a Millionaire



By Bob Frey


Photo copyright 2008 Auto Imagery, Inc.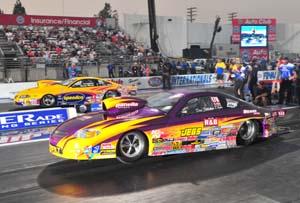 Fletcher vs. Connolly
The regular followers of this column know that I love Competition Eliminator. From the first time that I saw Clyde "Shifting" Harnish take his four-speed dragster down the Atco quarter mile to the last round of Comp at the NHRA World Finals this year, I don't think that there is much more excitement on the race track than a really good round of Competition Eliminator. Over the years there have been 649 races contested at NHRA national events that included Comp Eliminator, and it all started with Tony Nancy's win at Pomona in 1963 and ended, for the time being, with Dan Fletcher winning at Pomona in November. In the interim, there have been 245 different winners in the eliminator bracket, and of that total, an amazing 126 drivers have won only one race, and a scant few can say that they have been national champions. Over the course of the many years that Comp has been part of the NHRA program, we have seen some of the great names in the sport participate in the eliminator bracket, including Charlie Smith, Chico Breschini, Gene Snow, Harry Luzader and more. In recent years the wins have come from Larry Pritchett, David Nickens, Bill Maropulos, the late John Lingenfelter and so many others. Of course, David Rampy is the standard by which all others are measured, but in 2008 there was a new player on the scene, a man who could, if he stays with it, eventually be one of the greats in the class. That man is Dan Fletcher.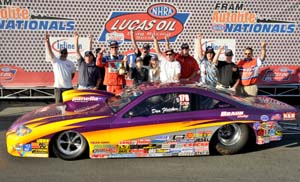 Dan is certainly no newcomer to the sport, only to Comp. He has been racing and winning for a number of years, and between his Stock and Super Stock winnings he has amassed over fifty national event wins. Toss in a pair of Super Gas titles and Dan is up to fifty-three national event wins and that's just on the NHRA side of things and it doesn't include his Comp wins this year. He has also done well, very well at the IHRA national events. But last year Dan put on a new hat, that of Competition Eliminator driver. "Sal Biondo was driving for Rick (Braun) but he had commitments on the east coast so he couldn't make all the races that Rick wanted to attend. So he told Rick to give me a call, we spoke, I drove and the next thing you know old Jed's a millionaire." OK, so Dan makes it sound easy, but I'm sure it wasn't that simple. After all, Comp is one tough class and you don't just step in and win. Or do you? "I drove once or twice for Arnie Martel but this was the first real opportunity I had to drive a Comp car on a regular basis," Dan said. "And I have to tell you, it was a lot of fun." I guess it was, after all, in the end Dan and Rick drove all the way to the 2008 Lucas Oil World Championship in the class. Not bad for their first full year together.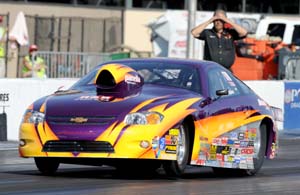 As an outside observer of the sport, I always imagined that if you could drive one kind of car, or be successful in one eliminator, you should be able to do the same in any class. But then I've never driven a race car so I'm obviously over simplifying things. "I guess in one respect it's like the other cars," Dan said. "You stage, you get a green light and you go. But that's really where the similarity ends." Dan said that even he, with all those other national event wins, divisional titles and a pair of world championships, found that driving Comp was different than anything he had experienced before. "The first thing you have to realize is that you're never going to get to the finish line second and see your win light come on," he said. "I mean, in Stock or Super Stock or the '90' categories, the other guy can beat you to the finish line and you can still win. Well, dude, let me tell you, that's not happening in Comp. If you don't get there first you lose." He went on to say that there were several races this year where he felt he let the win get away, "It took a little getting used to, and the car is different to drive, but in the end it all worked out well." Yes it did, and now Dan is a three-time Lucas Oil World Champion.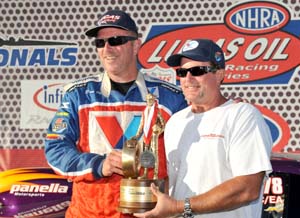 Fletcher and Rick Braun
Rick Braun, who owns the car that Dan drove to the title, has also been around racing for a while and he used to be the driver himself. In fact, Rick made it to the final round at several NHRA national events and, like Dan, he did it in a couple of different classes. Still, like most successful people, and Rick is a successful businessman, he knew that his ultimate success would come from him working on the car and having someone else drive it. "It's a small group that includes Rick and Ricky Barnthouse, the guy who works on the car, and me," Dan said. "We come to the track in a dually with a fifth-wheel trailer and go to work." And they worked very well together this year, making it to five final rounds on the national event level and winning three of them. "We really didn't set out to chase the points," Dan said. "We did well at the Winternationals but really didn't start thinking about the championship until we won the Sonoma race." That's where Dan beat the former world champ, Dean Carter, to get the win, and he followed that up with a win the next week at the divisional race at the same track, and when he went back-to-back at Las Vegas, winning both the national and divisional races at the end of the year, the championship was his. "I don't usually get caught up in all the hype about the races," he said, "but I have to say that being in two finals at the Vegas national race, winning Comp and then coming back up the return road on the scooter in front of the packed grandstands in order to be able to race in the Super Stock final was really cool." Dan didn't "double-up" in Vegas and that's the one thing that he said he would still like to add to his resume. "I had three chances to double this yea at national events and didn't get it done. Maybe next year." Well, a look at the 2008 season would seem to indicate that that's all Dan didn't accomplish this year.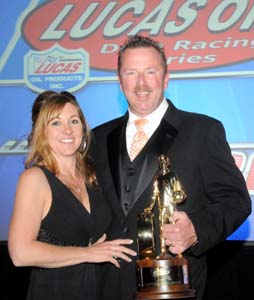 Donna and Dan Fletcher
In addition to his car owner and crew chief, Dan said he needs to thank Mickey Thompson, K & N, Jeg's and Len Schneider Performance for all of their help. "It was a good year," he said in one of Dan's many understatements. "Now we'll just see what 2009 holds. Like everyone else right now, I'm looking for some sponsors for my other cars (his Super Stock and Stock rides), but I will drive for Rick again although I don't think we'll go after the points." Of course, that's what they said in 2008 and look how the season ended up for old Jed. I mean, Dan.




NHRA: 10 Most Recent Entries [ top ]

Jun 18- BRISTOL - Sunday Wrap Up
Jun 18- BRISTOL - Summary of Eliminations in Factory Stock Showdown
Jun 18- BRISTOL - Summary of Eliminations in Super Gas
Jun 18- BRISTOL - Summary of Eliminations in Top Fuel Harley
Jun 18- BRISTOL - Summary of Eliminations in Top Dragster presented by RacingRVs.com
Jun 17- BRISTOL - Summary of Eliminations in Top Fuel
Jun 17- BRISTOL - Summary of Eliminations in Funny Car
Jun 17- BRISTOL - Summary of Eliminations in Pro Stock
Jun 17- BRISTOL - Summary of Eliminations in Pro Modified
Jun 17- BRISTOL - Summary of Eliminations in Super Comp