Fri, 12 Dec 2008, 11:20 AM



NHRA Top Fuel Titlest Tony Schumacher Named 2008 Economaki Champion of Champions



Courtesy of Pete Evanow


Photo copyright 2008 Roger Richards





Drag Champ becomes the First Multiple Winner of the Award, presented by Speedway Motorsports, Inc.



ORLANDO --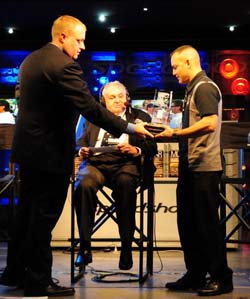 Matt Long presents
Schumacher the trophy.
Continuing his dominance on and off the drag strip, Six-time NHRA Top Fuel Champion Tony Schumacher became the first finalist to win a second Economaki Champion of Champions presented by Speedway Motorsports trophy, when he appeared in Orlando to receive his award from the trophy's namesake, Chris Economaki. Schumacher received his award at the 21st Annual PRI Trade Show, making a special trip to the show to accept his award from Economaki.
"This young man, who celebrates his birthday on Christmas day, gets another early present," Economaki stated, "and that is the recognition not only from his fans, but also from his peers and the motorsports industry at large. We are delighted to recognize Tony's tremendous accomplishments on the track - five consecutive NHRA POWERade Top Fuel championships - six overall - and off it, by awarding him his second Economaki Champion of Champions presented by Speedway Motorsports, Inc."
"I'm delighted to receive this prestigious award, especially when it's given by the man we all admire, who, like my sponsor, the U.S. Army, has been such an inspiration to so many others," declared Schumacher, receiving his award from Economaki and Speedway Motorsports' Matt Long. "We all recognize our soldiers as our American heroes, and I have to add that Chris has always been a hero to me, and an inspiration to motorsports."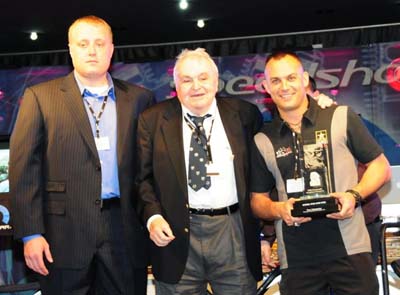 Long, Economaki and Schumacher
Schumacher had a tremendous year as he successfully defended his NHRA Top Fuel title. Over the long season, he scored 15 victories, and on September 14th, Tony surpassed Joe Amato as the winningest driver in NHRA Top Fuel history with an astonishing 56 career wins by season's end (Amato has 53).
"It's been such a great year," Schumacher noted from the MOPAR Stage at the PRI Trade Show. "I've said it a lot, but I've got a lot of people to thank, and I'm extremely grateful to the staff at National Speed Sport News, to Chris and Corinne Economaki, and to the folks at Speedway Motorsports, who have singled me out yet again with this award."
In addition to honoring the individual who has made a valued contribution to racing, the Economaki Champion of Champions Award celebrates the passionate spirit of the award's namesake, Chris Economaki, and the enthusiasm he has instilled in the world of racing through his legendary broadcasting and publishing career.
"I think it's very fair to say that Tony truly deserves this award as he has been one of the most exciting drivers to watch in all of motorsports," noted Economaki, in announcing the win. "The level of consistency in his racing, when you consider how many championships he has earned in a very competitive class, is just amazing. Journalists, fellow racers, and virtually all of us in this industry have a tremendous amount of respect for what Tony has accomplished, and we felt it was important to recognize that once again."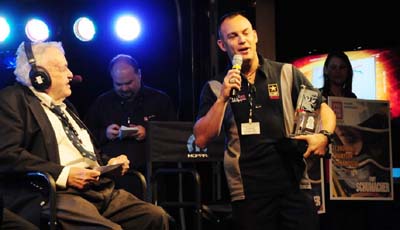 Economaki and Schumacher
In earning his second Economaki Champion of Champions winners, Schumacher joins an exceptional company of drivers, including last year's recipient, Donny Schatz, three-time World of Outlaws champion; NASCAR's Jimmie Johnson; World of Outlaw's Steve Kinser and J.J. Yeley (who represented USAC at the time of his award).
"We're very happy to recognize Tony again for his outstanding and consistent performances this season and in years past. It was a hard choice considering that several other finalists have had such remarkable years in racing," said Corinne Economaki, publisher of National Speed Sport News. "Among the 10 wonderful contenders we considered for the Economaki Champion of Champions this year, we did feel that 'the Sarge,' as he is affectionately known, was ultimately the perfect choice for the Economaki Champion of Champions presented by Speedway Motorsports."
"On behalf of Speedway Motorsports and race fans everywhere, we congratulate Tony and salute his fantastic season," added SMI's Matt Long.
Speedway Motorsports is a leading marketer and promoter of motorsports entertainment in the United States. SMI owns and operates the following premier facilities: Atlanta Motor Speedway, Bristol Motor Speedway, Infineon Raceway, Las Vegas Motor Speedway, Lowe's Motor Speedway, New Hampshire Motor Speedway and Texas Motor Speedway. The company provides souvenir merchandising services through its SMI Properties subsidiaries; manufactures and distributes smaller-scale, modified racing cars and parts through its 600 Racing subsidiary; and produces and broadcasts syndicated motorsports programming to radio stations nationwide through its Performance Racing Network subsidiary. SMI also equally owns Motorsports Authentics, a joint venture formed with International Speedway Corp. to produce, market and sell licensed motorsports merchandise. For more information, visit speedwaymotorsports.com.
Celebrating its 75th Anniversary in 2009, National Speed Sport News is the authoritative voice of motorsports, providing race coverage that is timely, accurate and colorful. Edited since 1950 by the legendary Chris Economaki, and written by some of racing's most talented reporters and columnists, National Speed Sport News covers every series, every track, every week. Since 1934, the newspaper has been the must-read for serious fans, drivers, crew members and industry leaders alike. National Speed Sport News is the only motorsports periodical on Library of Congress microfilm.
For more information or to subscribe, contact National Speed Sport News, P.O. Box 1210, Harrisburg, NC, 28075, or call 704.455.2531; toll-free at 866.455.2531; fax: 704.455.2605, or visit the website at: http://www.nationalspeedsportnews.com.




NHRA: 10 Most Recent Entries [ top ]

Oct 17- We Win, You Win: Get $50 Off Your Next Order!
Oct 16- CHARLOTTE 2 -Through the Lens of Ron Lewis
Oct 15- CHARLOTTE 2 - Lucas Oil Drag Racing Series Wrap Up
Oct 15- CHARLOTTE 2 - Special Awards
Oct 15- CHARLOTTE 2 - Sunday Pro Mod Wrap Up
Oct 15- CHARLOTTE 2 - Sunday Video
Oct 14- CHARLOTTE 2 - Sunday Wrap Up
Oct 14- CHARLOTTE 2 - Countdown to the Championship Points
Oct 14- CHARLOTTE 2 - Pro Mod Championship Points
Oct 14- CHARLOTTE 2 - Bonus Points