Fri, 12 Dec 2008, 10:42 AM



Geico Insurance and Lucas Oil Products Announce 2009 Sponsorship of Morgan Lucas Racing



Courtesy of Jay Wells


Photo copyright 2008 Roger Richards





ORLANDO --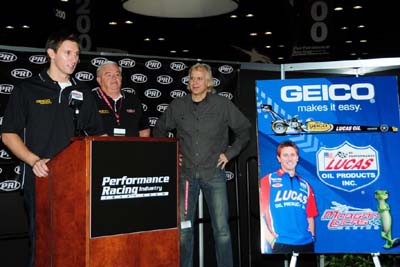 Morgan Lucas, Tom Shawaryn
and Kenny Sergeant
If you happen to be walking through the pits of any NHRA Full Throttle Drag Race in 2009, don't be surprised in case you might see a cave man kibitzing or a 6-foot tall Gecko hanging out in Morgan Lucas' pits.
Morgan Lucas Racing and GEICO, Inc., a wholly owned subsidiary of Berkshire Hathaway (NYSE: BRK.A), announced today the joint multi-year sponsorship of the Forrest Lucas-owned NHRA Lucas Oil Top Fuel dragster for the 2009 NHRA Full Throttle Drag Racing season. 25-year old Morgan Lucas pilots the GEICO/Lucas Oil Dragster with Jimmy Walsh heading up the drag racing team as crew chief.
"We are very excited to have a sponsorship deal in place with Morgan Lucas Racing," said Eric Vaden, GEICO's media buyer in charge of Motorcycle and Powersports products. "We firmly believe this team will post some wins next year and Morgan will be a great spokesperson for our company and our line of Powersports insurance products.
"We are planning to use this sponsorship and Morgan specifically to help us get the word out about all the insurance products GEICO has to offer. We aren't just car insurance anymore and we have great rates on insurance for all the other things that move them. The tricky part to all of this is just getting people to pick up the phone and call us. We know we have great products with great rates and we are hopeful that this partnership with Lucas will help us get a few more folks to give us a try."

GEICO, Government Employees Insurance Company, headquartered in Chevy Chase, Md., goes back to GEICO's first customers in 1936, who were government employees and Military personnel. Founder, Leo Goodwin went into business determined that he could deliver automobile insurance at reduced prices by selecting prime customer groups and marketing directly to them. Goodwin succeeded in driving down operating costs and passes on the savings to policyholders up front as discounts. GEICO continues to find ways to manage its business costs in order to offer saving to all drivers today.
GEICO has 8.5 million policyholders and growing and insures more than 14.4-million vehicles. They are the third largest private passenger auto insurer in the United States based on the latest 12 months written premium with 23,000 GEICO associates based off 12 major offices around the country. One key note of their business is that they are open 24-7, seven day a week, 365 days a year. In addition to auto insurance, GEICO offers customers insurance products for their motorcycles, all-terrain vehicles (ATV's), boats, homes, apartments and mobile homes. Personal umbrella protection and life insurance are also available.
"We couldn't be any happier at Lucas Oil Products and Morgan Lucas Racing than having GEICO on board as our major sponsor in 2009," said NHRA Top Fuel driver, Morgan Lucas. "It's a big step for us in 2009 and seeing their plans for the year will definitely bring excitement to our race team and the NHRA. We're looking forward to having a great season and taking GEICO with us to the winner's circle this year. I know I'm looking forward to their promotional ideas in drag racing giving us a promotional boost."
Based in Corona, Calif., Lucas Oil Products is one of the fastest-growing additive lines in the consumer automotive industry. Through innovative product research and development, along with aggressive marketing programs, Lucas Oil Products has established itself as the top-selling additive line in the American truck-stop industry.
Forrest Lucas and his wife, Charlotte, founded Lucas Oil Products in 1989 after he spent 20 years as a truck driver and owner of a nationwide long-haul trucking fleet. They experienced firsthand the need for better lubricants and fuel treatments to maintain their equipment.
Through innovative product research and development, along with aggressive marketing programs, Lucas Oil has established itself as a top-selling additive line in the American trucking and automotive retail industries. Understanding the need for certain types of products in the trucking and automotive industries, Forrest went to work developing a product to add to the already extensive line of premium oils, greases, and problem-solving additives.
Lucas Pure Synthetic Oil Stabilizer is for all hard-working and high-performance engines, transmissions, and gearboxes, especially in new and used heavy-duty trucks and equipment. It can also replace limited-slip-differential additives. Another key application for this product is the control of heat and wear in motorcycles, air-cooled engines, and all drive-train components.
Lucas Oil Products stepped up in 2006 announcing their sponsorship of the newly built state-of-the art Lucas Oil Stadium for the 2007 Super Bowl Champions, the NFL Indianapolis Colts. Lucas Oil is involved in an array of motorsports sponsorships, including the 'Official Motor Oil of the NHRA'.
The 2009 NHRA Full Throttle Drag Racing Series starts with the running of the 49th annual Kragen O'Reilly Winternationals at the Auto Club Raceway at Pomona on Feb. 8.




NHRA: 10 Most Recent Entries [ top ]

Aug 18- BRAINERD - Sunday Wrap Up
Aug 18- BRAINERD - Championship Points
Aug 18- BRAINERD - Super Stock Final, Round 6 Eliminations
Aug 18- BRAINERD - Summary of Eliminations in Top Fuel Harley
Aug 18- BRAINERD - Summary of Eliminations in Top Sportsman presented by RacingRVs.com
Aug 18- BRAINERD - Summary of Eliminations in Top Dragster presented by RacingRVs.com
Aug 18- BRAINERD - Summary of Eliminations in Competition Eliminator
Aug 18- BRAINERD - Summary of Eliminations in Super Stock
Aug 18- BRAINERD - Summary of Eliminations in Stock Eliminator
Aug 18- BRAINERD - Summary of Eliminations in Super Gas