Thu, 11 Dec 2008, 10:22 PM



Don Prudhomme Racing Names Spencer Massey Driver of the 2009 U.S. Smokeless Tobacco Company Dragster



Courtesy of Skip Allum



VISTA, Calif. --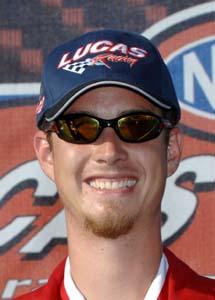 Spencer Massey
Don Prudhomme Racing announced today that Spencer Massey has been selected as driver of the U.S. Smokeless Tobacco Company Top Fuel dragster for the 2009 NHRA Full Throttle Drag Racing Series.
Snake Racing originally signed Massey, 26, in October with plans to see him pilot a new, second Top Fuel dragster team to start the 2010 NHRA season. Massey's driving debut for Snake Racing will now be accelerated as it was announced earlier today that former driver Larry Dixon bought out the remainder of his employment contract from Don Prudhomme Racing.
Massey, who won the 2008 Top Fuel Championship in his first full season of IHRA competition, will immediately become an NHRA Top Fuel championship contender as crew chiefs Don Bender and Todd Smith look to improve on the U.S. Smokeless Racing team's second-place finish in 2008.
"I am very honored to be a part of the U.S. Smokeless Tobacco Company Top Fuel team and Snake Racing," said Massey. "Driving for a legend like Don Prudhomme is something that I have always dreamed of and I am looking forward to working with everyone on the team. Donnie Bender and Todd Smith have a winning combination that I feel is very capable of bringing home the NHRA Full Throttle championship next season and I can't wait to be a part of it."
Massey will also become a leading candidate for the AAA of Southern California "Road to the Future" Award, which honors the top performing rookie professional driver among the NHRA's four professional categories. Former drivers to earn this award upon the development and guidance of team owner Don Prudhomme include two-time NHRA Top Fuel champion Dixon (1995) and 25-time national event winner Ron Capps (1997), thus certifying Prudhomme's ability to identify young, talented drivers.
"We knew when we signed Spencer that he had all the tools to get the job done," said Prudhomme. "Now, he is just going to get his opportunity to prove it sooner than we had expected. Our U.S. Smokeless team is one of the best out there and with Donnie and Todd coming back for their fourth season together, I am sure that they will give Spencer a great car to drive and put him in a position to be successful."
In addition to his 2008 IHRA championship title, Massey also competed in the 2008 NHRA Lucas Oil Drag Racing Series' Top Alcohol dragster class, posting a second-place finish in Division 4, which also placed him ninth in the national standings.
"We greatly value our over 20 year relationship with Don Prudhomme Racing and appreciate all the efforts of not only Donnie and Todd in 2008 but the entire team. We look forward to working closely with Spencer in 2009 and wish him continued success as he begins his inaugural NHRA season," said Tom LoBosco - VP of U.S. Smokeless Tobacco Co.
Massey will begin making plans to relocate to Brownsburg, Indiana - site of Don Prudhomme Racing's race shop - where he can work alongside Bender, Smith and the U.S. Smokeless Racing team in preparation for the upcoming 2009 NHRA season.
Massey's first full season of NHRA Top Fuel competition, Prudhomme's 14th as a team owner and 47th overall, will begin at the NHRA Winternationals in Pomona, Calif., (February 5-8, 2009).




NHRA: 10 Most Recent Entries [ top ]

Nov 19- Match Race Madness 1966
Nov 17- 2019 NHRA and Fox Sports Announce 2019 Broadcast Schedule
Nov 16- Mountain View Racing Announces 2019 Plans
Nov 13- Sonoma Chapter of Speedway Children's Charities Distributes $448,000 to Sonoma County Youth Groups
Nov 13- NFL Hall of Fame Great on Board for Jordan Vandergriff's Rookie Season
Nov 13- POMONA 2 - Special Awards
Nov 13- Torrence, Todd, Gray and M. Smith Honored as 2018 NHRA Mello Yello Drag Racing Series World Champions in Hollywood
Nov 13- POMONA 2 - Lucas Oil Drag Racing Series Wrap Up
Nov 12- POMONA 2 - Sunday Video
Nov 11- POMONA 2 - Sunday Wrap Up