Tue, 9 Dec 2008, 10:22 AM



Pure Hell vs Nanook Match Race Series set for 2009



Courtesy of John Drummond


Photos Courtesy of Goodguys





PLEASANTON, Calif. --
Pure Hell
The Goodguys Vintage Drag Racing Association is proud to announce a historical AA/Fuel Altered match race series for the 2009 racing season. Rich Guasco's "Pure Hell" bantam roadster will come out of retirement to race Dave Hough's "Nanook" '23 Ford roadster at all three Midwestern Goodguys vintage drag racing events next summer. Nostalgia Top Fuel racer Jason Richey will drive Pure Hell while Nanook will be piloted by longtime Hough family member and chassis builder Vince Generalao - the car's regular driver.
Both cars have over eighty-eight years of combined quarter mile history. Pure Hell first appeared on the dragstrip (with Guasco behind the wheel) in 1963 while Nanook debuted in 1965 and was originally driven by Hough himself. Both cars own the top performance records for Fuel Altered roadsters with a best time of 6.18 @ 236mph for Nanook and a 6.32 @ 238mph for Pure Hell. The last time they appeared together came in 2004, when both cars participated in the Goodwood Festival in the United Kingdom.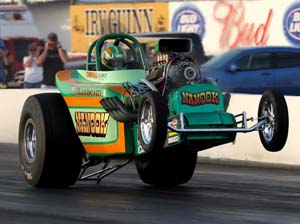 Nanook
www.jetequipment.com The match race series will see the popular Fuel Altered's do battle at the Goodguys 21st Hot Rod Nationals, June 12, 13 & 14 at O'Reilly Raceway Park @ Indianapolis, the 8th DuPont Blue Suede Cruise, August 28-30 @ Summit Motorsports Park in Norwalk, Ohio and the 2nd Nostalgia Nationals, October 16-18 at Beech Bend Raceway Park in Bowling Green, Kentucky.
The sweet return to AA/Fuel Altered match racing, so popular in the 60s 70s is music to the ears of both camps. "I need this," grinned Guasco, who hasn't raced in head to head competition since the 2000 season. The Nanook camp has remained busy on the exhibition and match race circuit campaigning their hot rod extensively throughout the US, Canada, Mexico and the United Kingdom. "We ran fourteen events in 2008," said Hough. "I'm so glad Rich is coming back out to race. This is going to be a real treat to drag racing fans around the country."




Drag News: 10 Most Recent Entries [ top ]

Apr 22- K&N Spring Fling Million Final Day Results
Apr 21- K&N Spring Fling Million Friday Results
Apr 20- K&N Spring Fling Million– Thursday Results
Apr 19- K&N Spring Fling Million- Wednesday Results
Apr 18- Buckeye S/SS @ National Trail April 28th
Apr 18- Don "the Snake" Prudhomme Returns To Baja Competition After 50 Years
Apr 18- K&N Spring Fling Million Tuesday Results
Apr 17- K&N Spring Fling Million Pre-Race
Apr 12- Summit Racing Equipment is Newest Sponsor of Midwest Junior Super Series
Apr 12- Summit Racing Named Official MWPMS Sponsor and Event Title Rights Holder