Mon, 8 Dec 2008, 10:08 PM



Capps to Race in All-Stars Karting Classic for Third Straight Year



Courtesy of Judy Stropus


Photo credit: Matt Ambroziak





CARLSBAD, Calif. --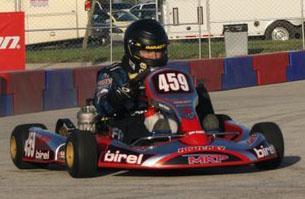 Ron Capps in All-Stars Karting Classic '07.
For the third straight year, NAPA AUTO PARTS Dodge Funny Car driver Ron Capps will be competing in the All-Stars Karting Classic during the Performance Racing Industry (PRI) trade show at the Orange County Convention Center in Orlando, Fla., on Thursday, Dec. 11.
The third annual event, organized by the Stars Of Karting in conjunction with the PRI show, will be held on a newly redesigned seven-turn purpose-built track adjacent to the convention center and will be covered by Fox Sports for 2009 airing. Lap times are expected to be in the 19-to-22-second range. Admission is free to anyone with a PRI show credential.
Capps will again drive for the Motorama Kart Parts-Birel team and will join drivers from other motorsports disciplines, such as Ryan Hunter-Reay, Marco Andretti, Jamie McMurray, Scott Speed, Buddy Rice, his Motorama Karts-Birel teammate Vitor Meira, Michael Valiante, AJ Allmendinger, Ed Carpenter, Cristiano Da Matta, Townsend Bell, Joey Hand, Jan Heylen, Nelson Philippe, Alex Lloyd, Oswaldo Negri Jr. and Raphael Matos in 25-lap prefinal and 40-lap main events.
Slated for the first week of April 2009, Fox Sports will air a half-hour television broadcast of this year's event, with eKartingNews.com's Rob Howden as part of the on-air color commentary team.
Capps' TAG kart, with a Birel chassis, will be sponsored by NAPA AUTO PARTS, the primary sponsor on the Funny Car he races for Don Schumacher Racing in NHRA competition.
"Man, you look down the list of who has raced every year in this event and it's some of the best road racers in the world, whether they're Grand-Am, ALMS, Indy Car, or NASCAR drivers," says Capps, who finished eighth in the NHRA Funny Car point standings this season.
"It's a very, very demanding event. It's pretty neat with the lights set up in the parking lot and the grandstands right there. But it's also very bumpy. After I left the event the past two years it took me two to three days to mend my body. When the race was over, I couldn't even move my arms. When I saw that the other drivers who have many years of road-racing experience were feeling the same way, it made me feel a little bit better."
There's no question Capps finds not only enjoyment but value in competing in other racing venues, which he does regularly. "I really feel that doing all this other racing enhances my hand-to-eye coordination," he says. "It keeps me in shape. And I think it helps the car control and the feedback I'm able to give to my crew and crew chief Ed McCulloch in NHRA. Besides that, it's a lot of fun. And I'm so passionate about representing NAPA not only when I'm racing the NAPA Funny Car. I want to give them the best exposure that I possibly can at all times. So when I'm invited to do these other races it's wonderful to be able to take NAPA AUTO PARTS into an arena where they may not be represented. That's big for me.
"To be able to spread the word about what we do in NHRA racing is also very important to me. I always feel like I've got the weight of the drag-racing community on my shoulders when I do these things and it's why I'm so adamant about trying to do well and not getting in over my head."
The event begins at 7 p.m. Additional information is available on http://www.performanceracing.com/tradeshow/events/stars_of_karting.html and http://starsofkarting.com/content/view/258/64/




NHRA: 10 Most Recent Entries [ top ]

May 25- BOWLING GREEN - Stock Eliminator Class Eliminations Qualifying
May 25- BOWLING GREEN - Super Stock Class Eliminations Qualifying
May 25- BOWLING GREEN - Friday Wrap Up
May 25- BOWLING GREEN - Competition Eliminator Qualifying, Friday Order
May 25- BOWLING GREEN - Stock Eliminator Qualifying, Friday Order
May 25- BOWLING GREEN - Super Stock Qualifying, Friday Order
May 25- BOWLING GREEN - Top Dragster presented by RacingRVs.com Qualifying, Friday Order
May 25- BOWLING GREEN - Top Sportsman presented by RacingRVs.com Qualifying, Friday Order
May 25- BOWLING GREEN - Sportsman Motorcycle Qualifying, Friday Order
May 25- Kurt Elliott Named Assistant Crew Chief for Langdon