Mon, 8 Dec 2008, 09:34 AM



How About a "Twelve-Peat?"



By Bob Frey


Photo copyright 2008 Auto Imagery, Inc.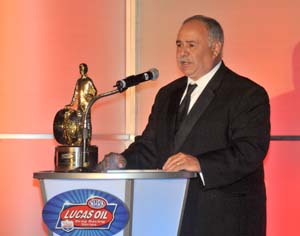 Frank Manzo
Those of you who are computer experts, not to be confused with computer geeks or, in my case, computer dope, know that an easy way to update a file is to go to the "find and replace" function. A simple key stroke can change all of the 2007 references to 2008, or all of the "eleven" time national champion references to "twelve" time champion just as easily. And when you're talking about or writing about Frank Manzo it would be easy to do just that. "Find and replace" whatever he did last year, or the year before that, with this year's accomplishments and you'd have a new story. Easy, right? And even though he makes it look easy the way he wins races and championships, Frank will tell you that it's anything but easy.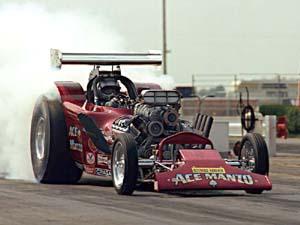 Manzo in his Pro Comp car.
Frank Manzo has been one of the real constants in the drag racing world for over thirty years. He began his career running in the old Pro Comp class and has become the standard by which all other Top Alcohol Funny Car drivers are judged. "I've been blessed with a great wife, a very good team, good sponsors and the opportunity to do what I love," he said. "There are a lot of great teams out there and they keep me motivated." One of those who keeps him motivated, or I should say who kept him motivated, is returning to the class next year. "Tony's (Bartone) coming back and I'm really looking forward to that. He'll talk smack and he'll drive like crazy and we'll have some good runs just like we used to." Tony, who will be back in the alky funny car class for the first time in a while, is one of the few drivers who has been able to run with Frank over the last decade. "He always comes to win," Frank said. "It's like when Bob (Tasca) was running two years ago. He'd come to the race, tell me how he was going to beat me and then he'd make some unbelievable runs. I love the competition, and when Bob was racing he made me better. When Bob Newberry was running, I really think we made each other better. I want to win, I thrive on the competition and guys like that just bring out the best in me." If that's true, you would have to count about 190 drivers in that group because that's how many Frank has raced over the course of his career. And, not that anybody's counting, but he has a winning record against 162 of them, while he is even with another dozen drivers and only a handful can say that they have a winning record against the man we call "Ace."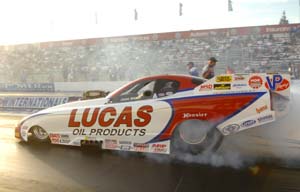 Frank Manzo
Frank won his first national championship in 1981 and he has added eleven more since then including ten in the last twelve years. Those championships have come in a variety of ways and include three years when he had a perfect season. By perfect, in the world of Top Alcohol Funny Cars, it means that he won the maximum five national and five divisional races in order to secure his crown. This year was one of them and that should come as no surprise since it also featured a fantastic winning streak, a streak that stretched to forty-six consecutive rounds over the past two years. "We got off to a great start this year," he said. "When you put a couple of national and divisional wins on the board early it takes a lot of pressure off you and may put it on the other drivers." The fact that you have a car that has made nine of the ten quickest runs in the class (Tasca has the other one) and has all of the top ten speed runs in the class, that may put a little pressure on the other drivers, too. "I'm not saying that this was our best year, but it's in the top three." When I asked Frank to name the other two on that list he was hard pressed to come up with them. "Let's just say that we've had years when we were all but counted out of the championship race as late in the year as Indy and we came back to win it," he said. "Those were great years." Ironically, Frank's first championship in 1981 was one that came down to the last race of the season. Gary Southern needed to win the last race of the year in order to pass Frank and he lost to Brad Anderson in the final round to give Frank the title. To make that race even more dramatic, Gary had beaten Frank in the semi-finals before losing to Brad. "If you told me after that year that I would win a few more of these I would have laughed at you," Frank added. I wonder if he would laugh if I told him that I think he'll still win a few more. "I thrive on the competition and it's what keeps me going. I would love to win two more divisional races to reach one hundred (he is an amazing 98-33 in divisional final rounds) and I would like to reach eighty national event wins, too (he has 78). In addition to those stats, how about this? Frank is 463-120 in his alky career and he is almost unbeatable in final rounds. He is 27-1 in his last 28 national event final rounds and a staggering 45-4 over his last forty-nine national finals.
And when I asked him about trying or passing John Force for the most national championships he just laughed. "Let me tell you," he said. "He's the best. Nobody drives a car like he does. Sure, he has a great team and a great sponsor but I don't think he gets the credit that he deserves for the way he drives. He's amazing." Frank also mentioned that he once thought about running a fuel car and challenging John. "Oh sure, there was a time years ago, many years ago, when I would like to have done that, but not now."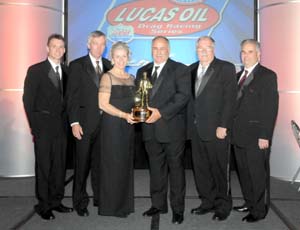 Manzo and team.
Besides the competition, one of Frank's greatest motivators is his wife, Michele. "Let me tell you, she's as competitive as I am. Maybe more. She'll come up to me after a bad run or when I had an "80" light or something like that and say, 'You know, we can't win with those kinds of lights.' And I know that she's right." In addition to Michele, to whom Frank has been married for thirty years, he is quick to give credit to his crew including John Glade, who has been with Frank for every win in his career. Also, Scott Siesing, Ed Hoffman and Fred Bauer who work on his car, all contribute to Franks' success. "I've had good people my entire career and you need that if you want to win at this level." Frank also mentioned his relationship with Tim Richards, a relationship that began over thirty years ago. "I used to drive 140 miles from my house to his shop when he was doing my engines," he said. "And I'd do that twice a week. I learned a lot from him." One thing he learned from the "General" was that if you do things wrong you'll never win. If you do things that are OK, you may win once in a while. But if you do things right, then you'll have a chance to win every time." Good advice from one of the best engine builders and tuners in the sport's history. Frank also learned to work on his own engines and that's something that he has put into practice throughout his entire career. "I rebuild the clutch and the transmission and I know what my engine's doing," he said. "I know what went right and what went wrong on a run and that's a real help when you're racing teams the caliber of those in our class right now." It also didn't hurt when he was racing Brad Anderson in the 1980's, Pat Austin in the 1990's or Steve Harker, Mick Snyder or Tony Bartone in 2009. "Steve works on his car and he's done really well and Mick is a great young kid who runs as well as anyone. Of course in our own division you have great teams, like Mickey Ferro, Jay Blake's team and more. It just doesn't get any easier." That's the same thing that the other drivers are saying when they talk about trying to beat Frank.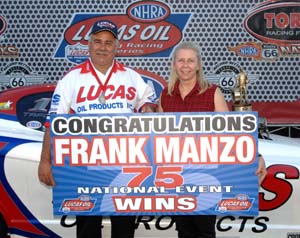 Frank and Michele Manzo.
>From his incredible streak to his twelfth championship to his perfect season, Frank remains as humble and down-to-earth as ever. He never brags about himself or his accomplishments and you'll never see him get out of his car, pump his fist in the air and jump up and down after a win at the races. "The other drivers are out there doing their best just like I am. I respect all of them and as soon as I don't that's when I'll get beat. I am so fearful of not having a car that can win and that's why I don't take any of this for granted. 2009 is a new year and there will be new challenges and we intend to approach it the same way we have the past years, and that is, we want to go out and give it our best and if someone beats us, then good for them." If someone is going to beat Frank they better be ready to bring their best to the races, because nothing else will beat the "Ace." He's been winning in this class since 1981 and he shows no signs of letting up.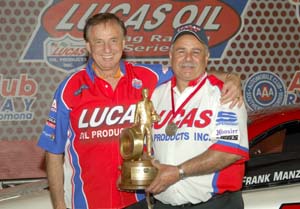 Forrest Lucas and Manzo.
"Besides my wife and my team I would like to thank Forrest and Charlotte Lucas for their support as well as Chevrolet, Hoosier Tires and Jeg's. You need all the help you can get in this class and I appreciate everything those folks do for us." And we appreciate being able to watch Frank race, and in 2009 he'll be going for lucky number thirteen in the championship department. Good luck Frank, or maybe we should say that to the teams that will try to beat him.




NHRA: 10 Most Recent Entries [ top ]

Nov 19- Match Race Madness 1966
Nov 17- 2019 NHRA and Fox Sports Announce 2019 Broadcast Schedule
Nov 16- Mountain View Racing Announces 2019 Plans
Nov 13- Sonoma Chapter of Speedway Children's Charities Distributes $448,000 to Sonoma County Youth Groups
Nov 13- NFL Hall of Fame Great on Board for Jordan Vandergriff's Rookie Season
Nov 13- POMONA 2 - Special Awards
Nov 13- Torrence, Todd, Gray and M. Smith Honored as 2018 NHRA Mello Yello Drag Racing Series World Champions in Hollywood
Nov 13- POMONA 2 - Lucas Oil Drag Racing Series Wrap Up
Nov 12- POMONA 2 - Sunday Video
Nov 11- POMONA 2 - Sunday Wrap Up