Wed, 3 Dec 2008, 09:32 PM



Congrats To Cruz!!



By Bob Frey


Photo copyright 2008 Auto Imagery, Inc.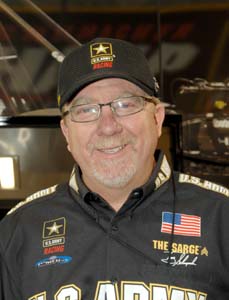 Alan Johnson
Ever year about this time, and some years a lot earlier, the ever famous and very popular "silly season" begins with rumors about who is doing what next year. Drivers, crew chiefs, owners, sponsors, announcers, schedules and more are all fair game for those who engage in such stuff. This year, most of the talk has centered
around
Alan Johnson
and his two car team for next year, or at least one of the cars, the dragster. I mentioned my thoughts on that last week (all based on conversations with Alan and none based on rumor), and I fully expect that we'll have an announcement on the driving situation very soon. Other than that, it has been a very quiet off-season so far with very few "silly" things being mentioned. With the economy and everyone's concerns about that, most of the talk this off-season is about which teams and sponsors will be back for 2009. Of course the
Full Throttle
folks will take over the main sponsorship of the program and I am going to say again what I've said before about that. Mark my words, you will see more promotion, advertising, marketing and point-of-purchase material from the Full Throttle team than you have seen for any drag racing program in a long while, maybe ever, if you take out the first few years of the
Winston
involvement. I've had discussions with the Full Throttle people and I am very enthused about their plans for the series. Stay with me on this one (especially those of you who think I say things just because I work for NHRA) and let's see, together, what the Full Throttle series will look like. I, for one, am very excited.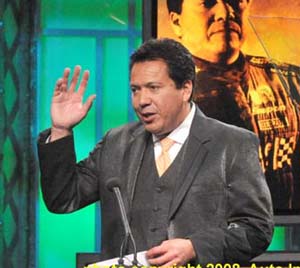 Cruz Pedregon
Having said all of that, I would like to see more of our series and car sponsors do what
Advance Auto Parts
did after their driver,
Cruz Pedregon
, won the
POWERade
Funny Car championship this year. As I mentioned before, the Monday after Cruz clinched, Advance Auto Parts ran a full page ad in
USA Today
congratulating him and promoting their products as well. The ad was well done, nicely written and used drag racing terms to promote the GPS unit that Advance was selling. It was good to see and the company and their advertising people deserve a lot of credit for putting it together. In these tough economic times, we need more things like that to promote our sport and our drivers and it's promotions like that that can benefit everyone. From what I hear, from folks who know about such things, it looks like the Advance Auto Parts people may do even more in 2009 to promote Cruz and that would be very good..Besides having a really good, primary sponsor, Cruz benefited from adding
Rahn Tobler
to his team a little more than a year ago and to say that the partnership worked out to everyone's benefit would be an understatement. Cruz, Rahn and the rest of the team were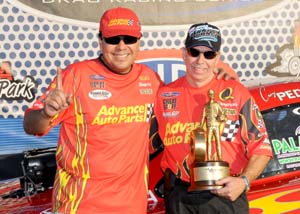 Rahn Tobler and Pedregon
the best when it counted, down the stretch and in the "Countdown to 1" segment of the championship battle.
Did you know
that Cruz won sixteen rounds during the six-race "Countdown" part of the season? He also went to the final round at four of the six races and, just as important, he only lost once in the first round and that was in
Dallas
where
John Force
beat him. Even though John beat him in
Dallas
,
did
you know
that Cruz was 5-2 against the Team Force cars in the "Countdown?"
And those five rounds included four straight wins at the last two races of the year. Cruz beat John and
Robert Hight
in
Las Vegas
and he beat John and
Mike Neff
at
Pomona
. That's not exactly taking the easy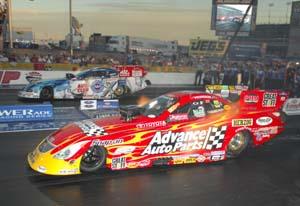 Pedregon vs. Hight
road to the championship, is it? Of all of the rounds that Cruz had during the last six races of the season, only four of them (out of 19) were against drivers who weren't in the "Countdown" themselves. Against the "Countdown" drivers Cruz was 11-3 in the playoffs and that's one of the reasons why he is the champion.
That and the fact that he had a very good car, a very consistent car and a very good team all year long.
Cruz only dropped three opening round encounters all year and that was huge, both in making it to the "Countdown" and winning the championship. Of all the teams in the fuel classes, only
Tony Schumacher
, who didn't lose once in the first round this year, had anywhere near the success that Cruz did in the first round this year.
Did you know
that
Matt Smith
had the second best record in opening round matches this year behind only the "Sarge?" Matt only lost once in round one this year and that's why he was in the championship battle all year long....I know you've heard this before, but I get tired of hearing people complain about the "Countdown."
They say it takes away from what drag racing is all about and that is, the driver who wins the most rounds should win the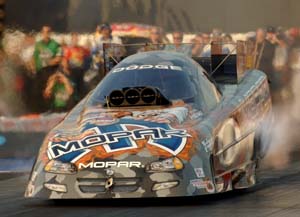 Gary Scelzi in '05.
championship. Or wait, they also say the driver who wins the most races should win the championship. Of course, that didn't always happen even under the old format and I don't remember anyone complaining about it then.
Did you know
that
Ron Capps
once lost the championship even though he won more races than the eventual champion? And
did you know
that
Gary Scelzi
won the championship even though he won fewer rounds and fewer races than the guys who finished right behind him? Gee, sounds like something needs to change to me. In 2006, Ron won five races and finished third in the points, while John Force won three races and won the championship. In that same year Robert Hight won three races and finished second ahead of Ron. Now that's just not fair, is it? In his Funny Car championship season of 2005, Gary Scelzi won three races and thirty-five rounds while John Force won five races and thirty-five rounds and Ron won three races and thirty-seven rounds. Not fair. And back in 1998, Ron, again, won the most races (5) and still didn't win the title, John did. Even Cruz won more races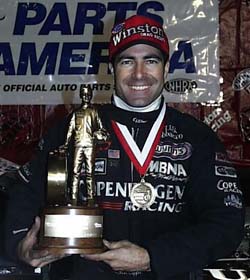 Ron Capps in '98.
than John did (4) and he finished third. Something has to be done to fix this problem, don't you think?...One of the things that a lot of people feel is wrong with the "Countdown" is the fact that teams that are in the playoffs have to race against teams that aren't, and that doesn't happen in any other sport. Well, that's true and there's not much that can be done about that so I guess we'll have to learn to live with it. But nothing's perfect, like when the
Oakland Raiders
beat the
Philadelphia Eagles
in Super Bowl XV and became the first wild card team to win the Super Bowl, I knew something had to change, because that just shouldn't be allowed to happen. Anyway, you get the idea, and if you still don't like the "Countdown" (and I know I won't change anyone's mind about it), just wait until they play that college football championship game this year and you can cheer for your favorite team. Oh, that's
right,
they don't have a championship game, do they? Sorry....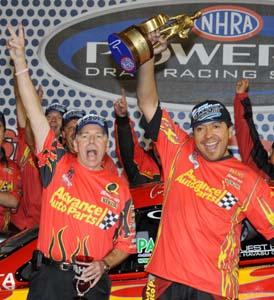 Tobler and Pedregon
Back to Cruz. As Rahn Tobler told me earlier in the year, Cruz has earned the right to be respected for what he has done. He has won two championships, and he did this one as a team owner and a driver. He has been among the top drivers in the class for a long time and he hasn't had anything handed to him.
Did you know
that Cruz is in the top five in every statistical category on the Funny Car class? After being a hired driver for a number of years, he went out and assembled his own team, got the financing, struggled initially and now has added another title to the one he won in 1992. And if you think Cruz was good in round one
matches
this year you should check his record from that 1992 season.
Did you know
that Cruz went 17-1 in round one
races
in 1992? His only loss came against
Paul Smith
at
Denver
that year, but other than that he was perfect in first round matches. Now that's pretty impressive..When I spoke with Cruz this week I asked him about the differences between that 1992 title and this one. "Well, for one thing, in '92 when we went to
Pomona
we pretty much had the thing sewn up. This year we could have finished as low as fifth if we had a bad weekend. So to win the race and the championship at the same time, well, that was pretty exciting."...Over the years I have found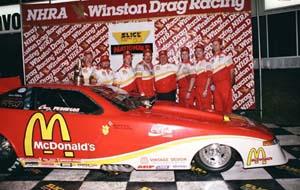 Cruz celebrates win in '92.
that it's the teams who make the least mistakes, the ones who very rarely beat themselves, who win the championships. John Force did that for years, that is, he hardly ever gave a race away and that's what Cruz did this year. He only had one red light all year and he only lost once on a holeshot all year and even that one was close.
It came in
Memphis
and was against Robert Hight. Cruz had a very respectable .059 reaction time and ran 4.222, but Robert was a little better off the line (.047) and, coupled with his 4.228 it was enough to beat Cruz. Still, not a bad record for a season, is it?
Did you know
that in his entire career, a span of over 650
rounds, that
Cruz has only lost fourteen times on a holeshot? As I've said before, now that's pretty impressive. And just for the record, he has won twenty-one times by being first off the line. Speaking of which,
did you know
that Cruz was first off the line in an amazing 73% of his races this year...Cruz gave a lot of credit to Rahn and his team for what they did this year. "Even when we weren't winning earlier in the year, the crew all had a good attitude and I kept telling them that it would come around and we'd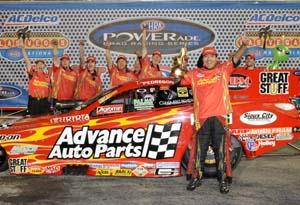 Pedregon and crew celebrate win.
start winning. And when we did, the crew still went about their jobs the same
way,
and Rahn made sure that everything was done right. He's very good at what he does and he made the entire team better." That team includes Rahn,
Shawn Dill, Dustin Heim, Jason Davis, Brad Robinson, Bill Pickett, Jason Turb
and
Adrian Long.
"We'll go into next year with most of the team intact and that's always a good way to start the year," Cruz said.
Cruz went on to talk about the year and the final race. "We knew all year that we were headed in the right direction," he said. "We just weren't winning a lot of rounds." Cruz didn't win a race until the last three races of the year but when he did win them they really counted. "Going into Pomona there was more of a drum roll, an uncertainty as to what was going to happen than there was back in '92. When we won that first round race over Jerry Toliver I honestly didn't realize that we could wrap up the championship that early. I was really expecting a long day regardless of who ended up winning the thing." As we all know by now, that long day didn't happen and Cruz locked up the title when all of the challengers went out early. "Robert's car really scared us," he said. "That
Pedregon vs. Wilkerson
team always does well at
Pomona
and they are capable of putting up some big numbers. I really think the way the 'Countdown' was structured this year it gave everyone a chance.
Tim Wilkerson
had a car that ran well on hot tracks, Robert could run big numbers and we were consistent. I think six races, on the tracks we ran on, really does make it fair for everyone. I'm just glad we were able to get hot at the right time and win it." Of course the fact that Cruz came to the last race of the year in 2007 and failed to qualify was also on his mind as he began his big weekend this year. "You remember things like that, and when we struggled in qualifying this year I started to have flashbacks of 2007." But after not being among the top twelve on Friday, Cruz said that Rahn went back, made some changes and they made the field on Saturday and the rest, well, you know. "At first Rahn didn't think he would make any changes going into Saturday, but he came to me the first thing in the morning and said that he saw something that was wrong, corrected it and he told me that we would be all right. And that's why I have so much confidence in him."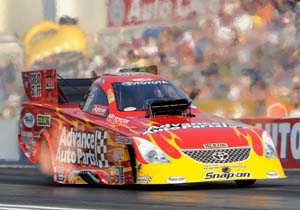 Cruz said that he, his team and most of his sponsors will be back next year and that they are really looking forward to the 2009 season. "We have a good group of guys and a really nice core group of sponsors," he said. "Everyone, from the folks at Advance Auto Parts to the smallest contingency sponsors all
help
us do what we do and we appreciate all of them. This was a good season for us, and with Alan Johnson's team coming in next year, it doesn't look like it will get any easier. We'll just go out, do what we can and see if we can be there when they make the cut for the 'Countdown' again next year." Cruz didn't say it, but I was told that he didn't want me to interview him when we have the press conference in
Charlotte
next year. It seems that, this past season, he was the only Funny Car driver that I didn't interview at the press conference in
Charlotte
(it's a long story), and since racers tend to be a superstitious bunch, he figures that may be a good way to begin the "Countdown" in 2009. Hey, whatever works, right?




NHRA: 10 Most Recent Entries [ top ]

May 24- BOWLING GREEN - Edmond Richardson Still Finds Major Thrill Racing at JEGS NHRA SPORTSnationals
May 24- NHRA Expands Leadership Team with Two Executive Hires and Two Promotions
May 24- TOPEKA - Lucas Oil Drag Racing Series Wrap Up
May 24- TOPEKA - Special Awards
May 21- TOPEKA - Pro Mod Championship Points
May 21- TOPEKA - Monday Video
May 21- TOPEKA - Monday Pro Mod Wrap Up
May 21- TOPEKA - Monday Wrap Up
May 21- TOPEKA - Championship Points
May 21- TOPEKA - Summary of Eliminations in Top Fuel