Tue, 2 Dec 2008, 01:28 PM



Antron Brown to Speak on Panel at Sports Business Journal Motorsports Marketing Forum '08



Courtesy of Ted Yerzyk



NEW YORK --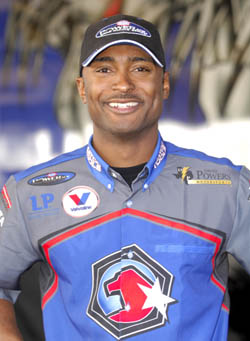 Antron Brown
NHRA Top Fuel star Antron Brown will join a distinguished group from the motor sports community as a panel speaker at Sports Business Journal's 2008 Motorsports Marketing Forum in New York on December 2. Brown and the panel will discuss a variety of racing topics including the economy, TV ratings and the future of motor sports.
The 18-time NHRA winner will be joined by Joie Chitwood of Indianapolis Motor Speedway, Julie Sobieskie of ESPN, Jay Frye of Red Bull Racing, Al Johnson of Aflac and David Zucker of Petty Enterprises at the Westin Times Square in New York City. The two-day event features some of leaders from the motor sports industry. Representing NHRA at the event will be president, Tom Compton, senior vice president of sales and marketing, Gary Darcy and senior director of sales and business development, John Siragusa.
"This is an awesome opportunity for me to be chosen to join such a diverse and notable group from the racing world," Brown said. "I'm excited to talk about and educate prospective sponsors on the sport of NHRA drag racing and its bright future. As the only driver on the panel, I hope I can add a different perspective to the discussion."
The popular racer will focus on the important role a driver can play in sponsor procurement, growing attendance at events, assisting team owners in acquiring sponsorship, and working with the sanctioning body to help build the sport. NHRA, the No. 2 motor sport, recently completed a year that saw several new sponsors enter the sport, increased television ratings, a partnership with IMG, extension of its relationship with the Coca-Cola Company and Coca Cola Enterprises, and a new venue in Concord, N.C. that featured a standing-room-only crowd.




NHRA: 10 Most Recent Entries [ top ]

Dec 17- Cornwell Quality Tools New Official Tool of John Force Racing
Dec 17- Elite Motorsports and Modern Racing Add Tuner Shane Tecklenburg to Pro Mod Powerhouse
Dec 17- Location, Location, Location Part 1
Dec 12- Gainesville Raceway to Install New Racing Surface
Dec 12- Farewell to Dick LaHaie- Top Fuel's "Ironman"
Dec 10- Rob Tucker Racing Joins Forces with Engine Builder Nick Ferri For 2019
Dec 10- Straightline Strategy Group Welcomes the Paul Lee Funny Car to Management Unit
Dec 10- Straightline Strategy Group Welcomes Misty Starkweather as Hospitality Director
Dec 10- Industry Veteran Steven Cole Joins Straightline Strategy Group
Dec 10- Straightline Strategy Group Forms Marketing Alliance Group