Mon, 1 Dec 2008, 09:12 PM



How About a "Three-Peat"



By Bob Frey


Photo copyright 2008 Auto Imagery, Inc.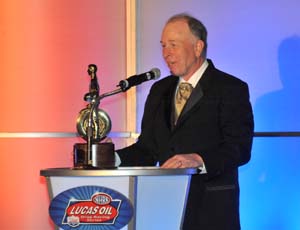 Bill Reichert
When I wrote my column a few months ago about the leaders in the Lucas Oil points, the one class that I said was really up for grabs was the Top Alcohol Dragster class. At that time, Jim Whiteley was in the lead and Bill Reichert was back in third place. I also mentioned that Bill had an extra race to claim and that that may be big down the stretch. Well it was, that and the fact that the defending national champion got really hot and won a bunch of races to catch and pass Jim. And down the stretch, Bill strung twenty consecutive round wins together, a streak that would normally be the talk of the town. But in a year where Tony Schumacher won thirty-one consecutive rounds and where Frank Manzo ran his streak to forty-six in a row over two years, Bill's streak almost didn't even earn the title of "streak." But it was a very good stretch of races for the champ and it propelled him to his third consecutive Lucas Oil World Championship.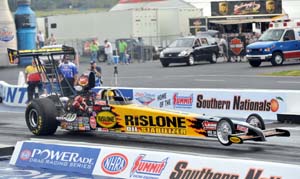 Bill Reichert
For Bill Reichert and his Rislone /Bar's Leaks team, the season started rather slowly. In fact, until about the middle of the year, nobody in the alky dragster class looked like they wanted to win the championship. "We struggled a bit early," Bill said after Pomona. "But no one was pulling away in the points. We knew that if we could get our car running the way it should then we would be all right. We just didn't want it to be too late." What Bill calls "struggling" other teams would call having a good year. He opened up his season with a number two qualifying spot in Gainesville behind only Morgan Lucas, and when he ran 5.228 in the opening round it looked like all was right with the world. But in the second round he slowed to a 5.635 and lost to Brandon Lewis. At the next race it was more of the same, he was the number three qualifier behind Duane Shields and Arthur Gallant and he lost in round two to Randy Eakins on a slight holeshot. His first final round of the year came at his next race in Atlanta where he was the top qualifier with a solid 5.293 but he still wasn't able to close the deal. "We smoked the tires in the final against Spencer (Massey) and that hurt us. We had been running well all day and certainly didn't expect to do that," he told me after the race. When you run 5.35, 5.43 and 5.28 in the previous three rounds smoking the tires is the last thing on your mind going into the final round.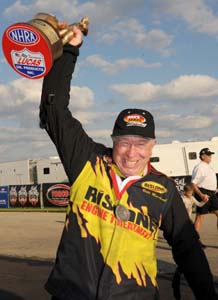 Bill Reichert
Even though he hadn't won a race yet in 2008 Bill knew that he had the car to beat and he put it all together in Chicago when he beat one of the best fields ever assembled in the class. "When it's the All Star race you know that you're going to have to work to get the win," he said. And that's just what he did. Bill struggled in qualifying, at least by his standards, and made the field in the sixth spot. But on race day he was the picture of consistency, running 5.329, 5.355, 5.348 and 5.351 to win the race. His second round win came over Jim Whiteley and it came on a slight holeshot, and that round would prove huge later in the year. "That race really gave us a little momentum," he said. "And we did pretty well after that." Bill came back to Chicago a week later and won the Division 3 race over Marty Thacker before losing to Brandon Lewis again at the national event in Brainerd later in the summer. But all along, his car was running well and he was still within striking distance of the leaders. "We knew we had a good car and we just needed to eliminate those little mistakes that had cost us a few races," Bill said. And that's exactly what he did over the next two months.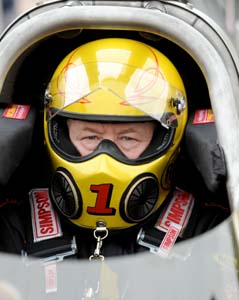 Bill's streak began at the Division 3 race in Bowling Green. After qualifying number one he went 5.314, 5.281 and 5.280 to take the win. And to make it even nicer, he beat his Division 3 rival Marty Thacker in the final round. Next up was Indy, and even though he was second on the qualifying list behind Aaron Tatum, Bill was the class of the field on race day. He ran low elapsed time of every round and he beat Robin Samsel (5.248), Kimmelyn Buff Pesz (5.228, low e/t of the event), Marty Thacker (5.266) and Duane Shields (5.581). And even though his final round time wasn't spectacular, it was good enough to give him the win and make Bill only the second driver to win Indy twice in the Top Alcohol Dragster class. "That's something," he said modestly after the race. "Anytime you can be mentioned with Rick Santos it's quite an honor. We actually got away with one in the final round at Indy. We dropped a cylinder but Duane had bigger problems. Winning Indy is great and that really gave us some momentum going into the home stretch of the season." Bill carried that momentum over to the next race, the first ever at Z-Max Dragway in Concord, North Carolina. "That's a beautiful track and it was great to go there and win the first race." Bill not only won but he swept to victory, qualifying number one, setting low elapsed time and top speed along the way. And in the final he beat another familiar face, another Division 3 competitor, Ken Perry. "Ken's got a great car and we know what he can do," he said after the race. "So we had to be on the top of our game for that one." And he was, running low elapsed time of every round except the second round when he had a bye run. "We had the bye run and we tried something and it didn't work. But sometimes you learn as much from a run like that as you do from a good run." Bill wasn't kidding, since on the next run after the tire-smoking bye run, he set low elapsed time of the meet with a strong 5.246 win over former world champ Arthur Gallant.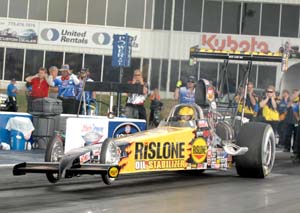 With back-to-back national event wins Bill was back in the driver's seat, figuratively, for the world championship. But it wasn't until he won the Division 2 race in Atlanta and followed that up with a win at the D-2 race at Silver Dollar Raceway that he was home free. Bill went to Reynolds, Georgia, qualified number one, set the track record, won the race and clinched the world championship all in one weekend. "That was a good weekend," he said. And that is an understatement. Now all that remained was for Bill to go to Pomona and win the final race of the season, something he has done for the past three years. "We had a good shot at it and I don't know why it dropped a cylinder in that final run. It did the same thing it did in the finals at Indy but we got lucky there and won the race. Jim (Whiteley) ran well in Pomona and he would have been tough to beat but I think we could have given him a run." I think so, too, since earlier in the day Bill ripped of a stunning 5.162, the quickest run in the class in 2008, and he coupled that up with a 282.66 miler-per-hour blast. "We really wanted to win that race because it makes the ride home so much nicer when you have a trophy sitting next to you." And even though he didn't have the race trophy sitting with him, Bill did have the Lucas Oil World Championship trophy and that's nice to have.for the third time.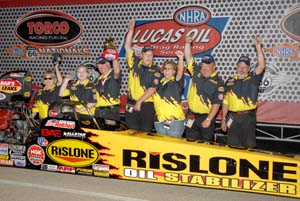 Bill has had one of the best cars in the class for several years now, and a quick look at the numbers proves it. He currently has three of the top ten quickest runs in the class and that includes the quickest, a 5.103 at Houston last year. He also has seven of the fastest runs in the class including the top five, and that list is paced by a 284.75 mph pass at the same Houston race in 2007, while his 282 run at Pomona is the second fastest on that list. He has twenty-six number one spots and that's second only to the late Blaine Johnson who had twenty-seven. He is fifth on the list for the most low elapsed times recorded in the class and his thirty-one top speeds make him the only driver in the history of the class to record top speed more than thirty times. He is also very quick to give thanks and credit to his wife, Gloria, and his son Andy for all of their help. "Every time Andy comes to the races we seem to rip off one of those big runs," he said after the monster pass in Pomona. "I'd also have to say thanks to my daughter, Ashley, my crew, including Corey Eich and Bob Adam. I also have the help and support of Mike Lincoln, Lon Meyers, Jack Gilliand and Zac Running both at the track and at the shop. Plus, we couldn't do this without all the help from the folks at Bar's Leaks and Rislone. Bob Mermuys and everyone over there are great supporters of our program. They're the best." Right now, Bill, you're the best, and your three world championships puts you in a group with Bill Walsh, Blaine Johnson and Rick Santos as drivers who have won the TAD crown three or more times.
Now, as the winter descends on Michigan, Bill and his team can think about 2009. "I'd like to drive again, but if I get the right offer I may put someone else in the car next year. We were close to doing that this year but it just didn't happen." And, as they say, for Bill Reichert, it all worked out well in the end, didn't it?




NHRA: 10 Most Recent Entries [ top ]

Jun 18- BRISTOL - Sunday Wrap Up
Jun 18- BRISTOL - Summary of Eliminations in Factory Stock Showdown
Jun 18- BRISTOL - Summary of Eliminations in Super Gas
Jun 18- BRISTOL - Summary of Eliminations in Top Fuel Harley
Jun 18- BRISTOL - Summary of Eliminations in Top Dragster presented by RacingRVs.com
Jun 17- BRISTOL - Summary of Eliminations in Top Fuel
Jun 17- BRISTOL - Summary of Eliminations in Funny Car
Jun 17- BRISTOL - Summary of Eliminations in Pro Stock
Jun 17- BRISTOL - Summary of Eliminations in Pro Modified
Jun 17- BRISTOL - Summary of Eliminations in Super Comp