Mon, 10 Nov 2008, 07:44 PM



Cowie and Harker Score at LVMS



Courtesy of NHRA Field Marketing


Photo copyright 2008 Bob Johnson Photography





NHRA Lucas Oil Drag Racing Series 2008 Season Complete



LAS VEGAS --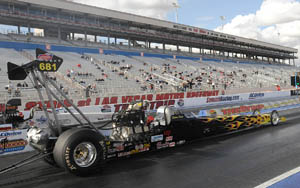 Shawn Cowie
It took a day longer than planned but the Short Line Express Market Gambler Shootout, a round of the NHRA Lucas Oil Drag Racing Series at The Strip at Las Vegas Motor Speedway, is in the books. It was the last of 44 races on the 2008 Lucas Oil Series schedule and boasted more than 800 cars with racers vying for last-minute points toward divisional and national titles. Ultimately, Shawn Cowie, Richmond, B.C., wheeled his Top Alcohol Dragster to the winner's circle and was joined there by Top Alcohol Funny Car pilot Steve Harker of Gainesville, Ga.
Cowie qualified in the No. 5 spot and took out No. 1 qualifier Michael Manners of Willis, Texas, in the semifinals. In the final round he squared off against Phoenix's Mark Niver. Cowie laid down a 5.460-second lap at 266.32 mph which was more than enough to cover Niver who slowed to an 11.418-second pass. For Cowie, the win marked his first trip to the winner's circle after three straight runner-up finishes.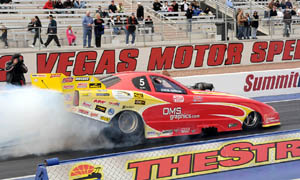 Steve Harker
After qualifying second, Harker made his best run of the weekend in the final round with a 5.582-second, 257.92 mph lap against Jay Payne of Claremont, Calif. who red-lighted. Harker has excelled all season to earn the South Central division championship. He has been to the final round at all nine of the divisional events he has attended and this marks his fifth win.
In Comp Eliminator, Dan Fletcher, who wrapped up his third national championship a couple of weeks ago, put an exclamation point on his season with two wins in two weeks in Vegas. The Churchville, N.Y., resident beat out Arnie Martel of Tewksbury, Mass., in the finals of the Lucas Oil event.
Perry Hall, Md., racer Lee Zane beat Tibor Kadar, Peoria, Ariz., in the Stock Eliminator final today. Zane also earned his second national championship in the category. Although Zane could not earn any more points in the category, winning the race prevented other drivers from catching him.
Frank Grossi, Upland, Calif., wheeled his '05 Sunfire to the win in Super Stock, beating out Justin Lamb of Henderson, Nev. In Super Comp, Mitch Mustard, Arvada, Colo., took the win over Chad Langdon, La Mirada, Calif., while Ryan Herem, Quartz Hills, Calif., wheeled his Super Gas entry to win, beating out Dave Kelly, Walla Walla, Wash. Montrose, Colo., racer Justin Beaver grabbed the Super Street win besting Nikki Cannon, Bothell, Wash., in the final. The Top Sportsman win went to Joseph Mohana, Bourg, La., who ousted Ray Martin of Anchorage, Alaska, while Les Figueroa, Lake Havasu, Ariz., earned the Top Dragster win over Tom Koenen of Tucson, Ariz. In Sportsman Motorcycle presented by Harley Davidson, Brian Johnson, Anoka, Minn., jettisoned Aaron Pine of La Mirada, Calif. In the Top Fuel Harley exhibition class, Doug Vancil of Cedar Crest, N.M., scored the win from Phil Schmidt, Orangevale, Calif.
         
TOP ALCOHOL DRAGSTER
Round 1
1) Michael Manners, Willis, Texas, 5.264, 265.01 def. 
8) Chris Demke, Sunland, Calif., 5.385, 263.31

7) Mark Niver, Phoenix, 5.403, 262.79 def. 
2) Duane Shields, Boulder City, Nev., 5.388, 263.77

6) Jeff Isbell, Salt Lake City, 5.424, 262.64 def. 
3) Del Cox Jr., Downey, Calif., 5.513, 261.62

5) Shawn Cowie, Richmond, B.C., 5.375, 268.22 def. 
4) Kimmelyn Buff Pesz, The Woodlands, Texas, 5.294, 269.56

Semifinals
Niver, broke def. Isbell, no show
Cowie, 5.412, 269.08 def. Manners, 14.316, 69.48

Final
Cowie, 5.460, 266.32 def. Niver, 11.418, 110.05 

TOP ALCOHOL FUNNY CAR 
Round 1
6) Terry Ruckman, Grand Junction, Colo., '01 Firebird, 5.654, 252.10 def. 
3) Doug Gordon, Paso Robles, Calif., '06 Monte Carlo, foul

1) Roger Bateman, Calgary, Alb., '08 Mustang, 5.583, 256.94 def. 
8) Ron August Jr., Pleasanton, Calif., '08 Mustang, 5.742, 244.43

2) Steve Harker, Gainesville, Ga., '05 Monte Carlo, 5.591, 257.24 def.
7) Von Smith, Oak Ridge, Tenn., '08 Mustang, 5.717, 249.72

5) Jay Payne, Claremont, Calif., '07 Mustang, 5.638, 257.63 def. 
4) Steve Gasparrelli, West Covina, Calif., '07 Mustang, 5.739, 255.63

Semifinals
Harker, 5.585, 253.37 def. Ruckman, 12.344, 101.29
Payne, 7.359, 128.59 def. Bateman, DQ

Final
Harker, 5.582, 257.92 def. Payne, foul

COMPETITION ELIMINATOR
Dan Fletcher, Churchville, N.Y., '08 Cobalt, F/AA, 8.147, 157.45 def.
Arnie Martel, Tewksbury, Mass., '08 Cobalt, I/SMA, 9.232, 143.87

SUPER STOCK
Frank Grossi, Upland, Calif., '05 Sunfire, GT/AA, 9.263, 132.13 def.
Justin Lamb, Henderson, Nev., '08 Cobalt, SS/AS, 9.343, 138.19

STOCK ELIMINATOR
Lee Zane, Perry Hall, Md., '98 Firebird, D/SA, 12.218, 77.84 def. 
Tibor Kadar, Peoria, Ariz., '77 Firebird, L/SA, broke

SUPER COMP
Mitch Mustard, Arvada, Colo., dragster, 9.124, 159.48 def. 
Chad Langdon, La Mirada, Calif., dragster, 9.152, 153.79

SUPER GAS
Ryan Herem, Quartz Hills, Calif., '62 Corvette, 10.118, 133.39 def. 
Dave Kelly, Walla Walla, Wash., '02 Firebird, 10.097, 150.33

SUPER STREET
Justin Beaver, Montrose, Colo., '65 Nova, 11.043, 127.80 def. 
Nikki Cannon, Bothell, Wash., '67 Nova, 11.017, 141.64

TOP SPORTSMAN
Joseph Mohana, Bourg, La., '57 Chevy, 7.069, 196.79 def. 
Ray Martin, Anchorage, Alaska, '63 Corvette, 7.242, 189.36

TOP DRAGSTER
Les Figueroa, Lake Havasu, Ariz., dragster, 6.962, 192.96 def. 
Tom Koenen, Tucson, Ariz., dragster, 6.961, 193.07

SPORTSMAN MOTORCYCLE
Brian Johnson, Anoka, Minn., '05 Suzuki, 9.241, 134.18 def. 
Aaron Pine, La Mirada, Calif., '94 GSX-R, 8.387, 156.97 

TOP FUEL HARLEY
Doug Vancil, Cedar Crest, N.M., '00 H-D, 6.354, 226.89 def. 
Phil Schmidt, Orangevale, Calif., '04 H-D, 6.467, 191.46





Drag News: 10 Most Recent Entries [ top ]

Feb 15- Maple Grove Raceway Celebrates at Annual Awards Banquet
Feb 15- Grim Joins PDRA as Competition & Tech Director, Cartwright Promoted to Assistant Event
Jan 24- Callies Performance Products Joins PDRA as Presenting Sponsor of Northern Nationals
Jan 22- Summit Motorsports Park Champions Honored at Edelbrock Banquet of Champions
Jan 22- Jamie Fowler Welcomes NGK Spark Plugs as 2019 Associate Sponsor
Jan 22- Race Star Wheels Named Official Wheel of the PDRA
Jan 22- Steve Matusek, Garrett Advancing Motion Team Up for 2019 NHRA Pro Mod Title Run
Jan 22- Top Fuel Meet at Sydney Dragway Cut Short
Jan 17- New Ownership and Management for Kansas International Dragway
Jan 17- FuelTech Signs as Presenting Sponsor of Season-Opening PDRA East Coast Nationals