Mon, 22 Sep 2003, 10:23 PM



Bazemore Takes POWERade Series Points Lead with Memphis Victory



Courtesy of NHRA Communications
Photo by:Auto Imagery, Inc.



Schumacher, Anderson and Showers Among O'Reilly Mid-South Nationals Winners



MILLINGTON, Tenn. --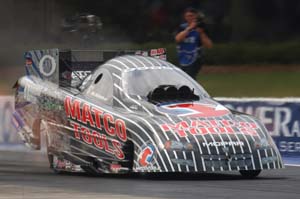 Whit Bazemore
Whit Bazemore moved into the POWERade Series points lead for the first time in his career Monday by winning the rain-delayed O'Reilly Mid-South Nationals presented by Pennzoil at Memphis Motorsports Park.
Tony Schumacher, Greg Anderson and Reggie Showers also were winners at the $1.6 million race, the 18th of 23 events in the $50 million NHRA POWERade Drag Racing Series.
Bazemore raced to his third victory of the season and 15th of his career, defeating Dean Skuza in the final. Bazemore drove his Matco Tools Dodge Stratus to a winning run of 4.894 seconds at 309.42 mph to hold off Skuza's Cornwell Tools Pontiac Firebird, which ran 5.225 at 227.50. With the victory, Bazemore moved seven points ahead of season-long leader Tony Pedregon, who lost in the second round.
"I don't want to add any more pressure because we have five more races to go and a lot of work to do (to win the championship), but this is quite a feeling," said Bazemore, who joins Cruz Pedregon (1992) as the only driver other than John Force to lead the Funny Car points chase this late in the season during the last 11 years. "Tony Pedregon and those guys have a great car and they are not going to back off, but I certainly feel like we have the performance to compete with them each week."
Bazemore defeated Bob Gilbertson, Cory Lee and Ron Capps to advance to the final. Skuza reached his 14th career final the hard way. An engine explosion and major fire in his semifinal victory over Force led to a major thrash to repair his car within the 75-minutes allowed between rounds. Many teams assisted the cause and Skuza made it to the starting line on time, but he couldn't reel in Bazemore once the lights turned green.
"You have to hand it to those guys, they gave it all they had," Bazemore said of Skuza's team. "You certainly want to win these races, you don't want them handed to you. I am glad they were able to get the car ready and make the call. It was exciting."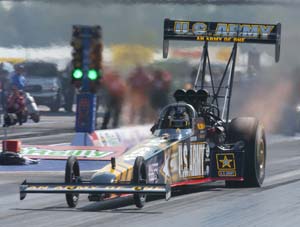 Tony Schumacher
Tony Schumacher rebounded from a spectacular Friday night crash to claim his third Top Fuel victory of the season and 10th of his career. He powered his U.S. Army dragster to a 4.581 at 317.79 to defeat rival and series points leader Larry Dixon, who clocked a 4.651 at 316.52 in the Miller Lite dragster.
"No question, this win is special," Schumacher said. "Any time you wreck a fast race car you know you've lost a great one. But today we found out that our back-up car was pretty good too. To run like we did today and then take out Larry Dixon in the final says it all. Alan Johnson (crew chief) and this team are the best in the business. When next season starts we'll be in the championship chase from the word go."
Schumacher had the quickest car in the first two rounds of eliminations and posted victories over David Grubnic and Clay Millican. In the semis he defeated Doug Kalitta.
Runner-up Dixon increased his points lead to 286 over Kalitta. Schumacher moved to within one point of third place in the standings.
Anderson claimed his ninth Pro Stock victory of the season, including his third in a row, by ou trunning Jeg Coughlin in the final round. Anderson took his 13th career victory with a winning time of 6.814 at 202.67 in his Vegas General Construction Pontiac Grand Am, while Coughlin was a tick slower in his Jeg's Mail Order Chevy Cavalier, posting a 6.825 at 200.95.
"This was a tough race to win," Anderson said. "When you have to beat Kurt Johnson and Jeg Coughlin in the same day you have your work cut out for you. This track used to give me problems, but now it is one of my favorites."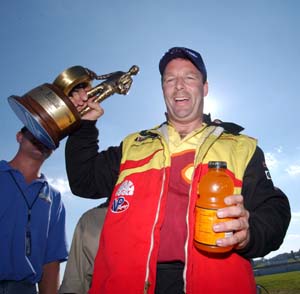 Greg Anderson
Anderson, who also eliminated Steve Schmidt and Mike Edwards in earlier rounds, increased his POWERade Series lead to 240 over Johnson.
"We've still got a lot of work to do," Anderson said. "This gives me some breathing room, but this championship isn't mine yet."
Showers, a double-amputee, earned his second career victory and second in as many starts, when final round opponent Fred Collis fouled at the start in a final round battle between Suzukis.
"I feel like I am living a dream right now," said Showers, who beat Michael Phillips, points leader Geno Scali and Shawn Gann to advance to his third career final. "I set some goals for myself this season and with hard work, those goals are becoming reality.
With the early round loss, Scali's point lead over Gann was cut to 133. Showers moved to a career-best third in the order, 163 behind the leader.
Monday's final results from the 16th annual O'Reilly NHRA Mid-South Nationals presented by Pennzoil at Memphis Motorsports Park. The $1.8 million race is the 18th of 23 in the $50 million NHRA POWERade Drag Racing Series:
Top Fuel -- Tony Schumacher, 4.581 seconds, 317.79 mph def. Larry Dixon, 4.651 seconds, 316.52 mph.
Funny Car -- Whit Bazemore, Dodge Stratus, 4.894, 309.42 def. Dean Skuza, Pontiac Firebird, 5.225, 227.50.
Pro Stock -- Greg Anderson, Pontiac Grand Am, 6.814, 202.67 def. Jeg Coughlin, Chevy Cavalier, 6.825, 200.95.
Pro Stock Bike -- Reggie Showers, Suzuki, 7.237, 182.11 def. Fred Collis, Suzuki, foul.
Competition Eliminator -- Michael Park, Chevy Cavalier, 8.731, 145.41 def. Charlie Westcott Jr, Pontiac Grand Am, 9.344, 140.55.
Super Stock -- Mark Faul, Pontiac Grand Am, 10.414, 117.53 def. J Allen Sherman, Grand Am, 9.384, 139.33.
Stock Eliminator -- Donald Hough, Chevy Camaro, 11.342, 108.76 def. Chris Jackson, Camaro, 11.594, 109.89.
Super Comp -- Todd Ewing, Dragster, 8.923, 169.38 def. Scott Costello, Corvette, 8.911, 169.04.
Super Gas -- Tommy Phillips, Chevy Corvette, 9.892, 146.07 def. Caffey Broadus, dodge Dart, 9.885, 145.67.




NHRA: 10 Most Recent Entries [ top ]

Apr 18- Haney Headed for NHRA Pro Mod with Summit Racing on His Side
Apr 18- HOUSTON - Richie Crampton Enjoying Early-Season Success Heading to 31st Annual NHRA SpringNationals
Apr 18- 2018 Mustang Cobra Jet Celebrates 50th Anniversary of Racing Legend with Quickest
Apr 18- New Ford Mustang Funny Car Scheduled to Debut In 2019 NHRA Mello Yello Season Opener
Apr 16- HOUSTON - Fact Sheet
Apr 16- HOUSTON - After Early-Season Mishap Funny Car's Jonnie Lindberg Looks to Get On Track