Tue, 23 Sep 2003, 09:05 PM



Jenkins Maintains Winning Edge with NHRA O'Reilly Mid-South Nationals Victory



By Bobby Bennett, Jr.
Photo by:Auto Imagery, Inc.



MILLINGTON, Tenn. --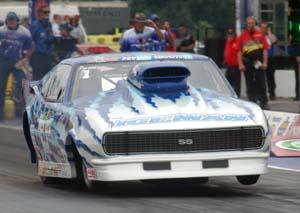 Shannon Jenkins
Shannon Jenkins was as fired up before final eliminations for the NHRA O'Reilly Mid-South Nationals as he has ever been in his extensive racing career. Then it began to rain, and then it rained and rained enough to cancel Sunday's final eliminations. For the four-time Pro Modified World Champion from Tuscaloosa, Ala., the inclement weather just prolonged the inevitable – it was his day to win.
Jenkins didn't let falling short of gaining a berth in the eight-car AMS Pro Modified Shootout in Dallas deter him from running roughshod over the field for his first win on the tour in 2003. The veteran driver needed to qualify third or better to gain a spot in the elite show. He may not have been the quickest car in eliminations, but he was certainly on the gun when he needed to. Jenkins was smiling proudly as he crossed the finish line en route to beating Von Smith in the final round.
"It feels really good to be back in the winner's circle again," explained Jenkins, who won six out of ten events last year. "I really have to thank Mike Castellana for giving me a great team to drive for and Brandon Switzer at Nitrous Pro-Flow systems. The weather made tuning for this race a challenge. We were confident headed into the event after winning at Epping last week. I think we have two cars on this team that are very capable of winning on any given day."
Smith appeared to be the man to beat despite missing the final qualifying session on Saturday with a cracked rear-end and various other parts ailments on the Roy Hill Mustang. The extra day enabled the crew to go through everything in the rear suspension on the supercharged entry.
Even though Jenkins had his number in the final round, Smith's record has been proven incredible. In his first three races since switching over to a Pro Modified from Alcohol Funny Car, the former World Champion has two runner-ups and a semi-final to his credit.
But, as hard as Smith may have tried this was Jenkins' day to win. Coming off of an impressive victory one weekend earlier in Epping, NH, Jenkins entered Memphis as the fourth quickest qualifier and the top nitrous entry in the field. Last year Jenkins was the quickest car on the grounds and was the last man standing when the battle was complete on Sunday.
In the first round of eliminations, Jenkins provided an example of why he is the winningest driver on the AMS Pro Modified Challenge tour by strapping a .006 reaction on Scott Ray and complimenting it with a 6.276, 222.58.
The semi-final proved to be an entertaining venue for the race fans as Jenkins and Thomas Patterson staged a memorable staging battle that lasted for nearly a full minute. Neither driver budged on the starting line and starter Rick Stewart threw up his hands in frustration and took a seat on the wall. Only when Patterson realized through a message from his crewchief Brandon Pesz that his car wasn't carry the usual compliment of fuel did he roll into stage with Jenkins following. Patterson later admitted that he burned nearly four gallons in the duel. Just one round earlier, Patterson eliminated low qualifier Tim McAmis on a holeshot following a shorter staging battle.
Patterson got off of the line first, but drifted out of the groove and enabled Jenkins to win with his quickest run of the day, a 6.247, 222.99
For his part, Smith was quicker than Jenkins in every round and outqualified him as well. Smith entered eliminations with a 6.210 qualifying best, which he says could have easily been a 6.16. He then used a 6.233, 228.92 to send Rickie Smith packing in the first round. In the semi-finals, he gained the final round advantage with a 6.236, 228.11 that was more than enough to take out Mitch Stott.
Smith may have been favored but Jenkins was not intimidated in the least. Despite losing the starting line battle, Jenkins tracked down the out-of-the-groove Smith and passed him with a 6.260, 221.71. Smith absorbed the loss with a 7.072, 140.33.




NHRA: 10 Most Recent Entries [ top ]

Apr 19- HOUSTON - Friday Schedule
Apr 19- Tige Boats Named Presenting Sponsor of E3 Spark Plugs NHRA Pro Mod Drag Racing Series Portion of NHRA SpringNationals
Apr 19- HOUSTON - Previous Success, Early Win has Funny Car's Courtney Force Excited
Apr 18- Haney Headed for NHRA Pro Mod with Summit Racing on His Side
Apr 18- HOUSTON - Richie Crampton Enjoying Early-Season Success Heading to 31st Annual NHRA SpringNationals
Apr 18- 2018 Mustang Cobra Jet Celebrates 50th Anniversary of Racing Legend with Quickest
Apr 18- New Ford Mustang Funny Car Scheduled to Debut In 2019 NHRA Mello Yello Season Opener
Apr 16- HOUSTON - Fact Sheet
Apr 16- HOUSTON - After Early-Season Mishap Funny Car's Jonnie Lindberg Looks to Get On Track