Tue, 23 Sep 2003, 09:35 PM



Greg Anderson….What He Is And Isn't



By Bob Frey
Photo by:Auto Imagery, Inc.



There were so many highlights from this weekend's race in Memphis that I really don't know where to start.
Tony Schumacher's
amazing comeback from his crash on Friday night to the winner's circle on Sunday surely has to be at the top of the list. So does
Dean Skuza's
remarkable 75-minute thrash after his fire in the semi-finals. Just to get back to the line was amazing, but to run as well as he did in the final round was a real credit to the team. And to hear
Don Skuza
talk about how amazed and moved he was when the team came back to their pit area after the fire and saw all of the teams and people who were there waiting to help is a great story in itself. Don, who is one of the truly nice people in the sport, actually got emotional when he spoke about it and the entire drag racing community should be proud of what they did in Memphis, and that's just one example of what makes this sport so great. And let's give some major props to
Brian Corradi
who has done a great job since being named the crew chief on the Skuza car.
Did you know
that, coming into the Memphis race this year, Dean Skuza had won a grand total of four rounds at the Tennessee track? Four, and he almost matched that in one day. Stop by the Skuza pit if you're in Chicago and congratulate them for a job well done.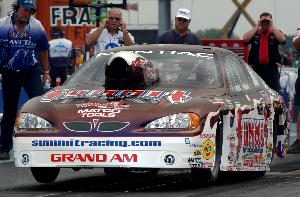 Mark Pawuk
Greg Anderson
had another great weekend and he is definitely on his way to the 2003 POWERade championship. What Greg isn't on his way to is the
Summit Racing
sponsorship. With all of the rumors floating around about it I asked Greg on Monday if he was going to be sponsored by Summit next year and he said no. "I would never go after Mark's deal, I respect him too much and that just wouldn't be right." When I pressed him further he said that he hadn't had any discussions with the Summit folks and he doesn't know how all the rumors got started. When I asked him if I could mention this to put an end to all the talk he said, "Please do it." So, unless the folks at Summit Racing (who sponsor this site, obviously) know something that they're not even telling Greg, look for
Mark Pawuk
to be carrying the colors of Summit again next year. In fact, I can tell you that Mark Pawuk's deal with Summit is signed through the end of the 2004 year. Now, let's move on…Greg had another sensational weekend winning his 9
th
race of the year when he stopped
Jeg Coughlin
in the final
round.
Did you know
that the record for wins in a single season in Pro Stock is 11 and that it was set by
Darrell Alderman
in 1991? Greg's nine wins ties him with
Warren Johnson, Jim Yates
and
Bob Glidden
for the third best season in the history of the class and, with five races remaining on the schedule he has a great chance to make a little bit of history. With that kind of record I would think that it's only a matter of time before some major company sees the light and gets on the Greg Anderson /
Ken Black
bandwagon….Two other things of note in the Pro Stock class;
Mike Edwards
had a perfect reaction time and
Kurt Johnson
fouled out.
Did you know
that this was the 6
th
perfect reaction time in the pro classes this year and
did you know
that it was also the 5
th
time that the guy who was perfect on the tree lost the race? As a matter of fact, of the 48 perfect reaction times in the past eighteen years exactly half of them have come on losing runs…Kurt's red light was only his third of the year but it was his second straight against Greg and that round alone may have been the one that clinched the deal for Greg….If you're a numbers kind of person you knew that
Scott Geoffrion
had no chance against Jeg Coughlin in their first round match. Why? Well,
did you know
that Jeg was 9-0 against Scott in their careers. And
did you know
that Scott had never won a round when he qualified 16
th
and Jeg had never lost a round when qualified number one? You do the math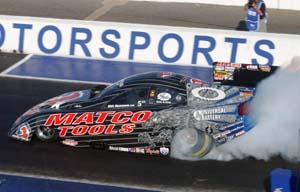 Whit Bazemore
Whit Bazemore's
win propelled him into the point's lead for the first time in his career. With
Tony Pedregon
going out in the second round, Whit took over the lead by a mere 7 points.
Did you know
that this is the latest in the season that someone other than
John Force
has led the points since 1992? With three wins to Tony's six on the season it's apparent that the
"Matco Tools"
car has been running very consistently all season long and that the team seems to "go rounds" at almost every event. Hey, looks like we've got us a point's chase that will go right down to the final race of the season and with races coming up at a lot of the fast tracks it should be a lot of fun for everyone….John Force was beaten by Dean Skuza in the semi-finals and that continued the troubles that the champ has had recently at the Memphis track.
Did you know
that this is the only track on the tour where John hasn't won in the past four years? In fact, John hasn't won in Memphis since the 1997 race and his loss to Dean dropped him 193 points behind the leader and, for all practical purposes, he's running for third place right now…..
Ron Capps'
first round win over
Cruz Pedregon
was the 199
th
round win of his career…And if you get to Chicago make sure you stop by Cruz's pit area and look at the new truck and trailer that he has because it is magnificent.
Tony Schumacher's run to the title was spectacular and he is now just one point out of third place (behind Darrell Russell). The resurgence of the Army team since Alan Johnson came on board has been nothing short of amazing and, as hard as it may be to believe, that may be the best Top Fuel car out there right now. I say "hard to believe" because that "Miller Lite" car is still pretty good!!... Speaking of pretty good, is it me or is anyone else amazed at the fact that Brandon Bernstein is still in the top ten in points? His dad, Kenny, is knocking on the door and may slip past him in the next race or two but I think it's impressive that a kid who hasn't raced since Englishtown is still a top ten member….Kenny and Doug Kalitta engaged in the only real tire-smoker of the race in TF and that's a real credit to the men and women of the Safety Safari who did a great job in getting the Memphis track ready for racing after the rain on Sunday. Still, the two red cars surprised everyone when they went up in smoke in their second round match. Kenny was starting from the #7 spot for the 35th time in his career and only twice had he won a race when qualified number seven….Scott Kalitta never has liked the Memphis track. Did you know that his first race there was at the inaugural event in 1988 and he DNQ'd? After that, even with all of his success, did you know that Scott never went past the second round at Memphis? And he didn't get out of the first round this time around, either.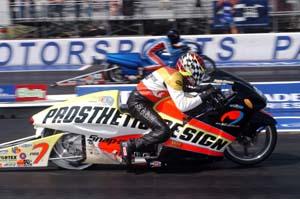 Reggie Showers
Reggie Showers
continues to be the hottest thing in the Pro Stock Bike class and his win in Memphis ran his current streak to 13-1 over the past three events. Now that includes Brainerd, the K & N Filters Pro Bike Clash, Indy and Memphis and that's pretty good. Reggie is only the second rider to win consecutive races this season and the first since
Angelle
opened up the year with two wins. Right now he is in third place, thirty points behind
Shan Gann
who is in second and 163 out of first place….
Fred Collis
, the runner-up and the flagship rider for
Star Racing
, really likes coming to Memphis.
Did you know
that Fred went to the final round there in 1999 at his very first NHRA Pro Stock Bike race? And get this, at that '99 race Fred faced
Chris Reuter
in the opening round and then ran
Antron Brown, Matt Hines
and
Angelle Savoie
. At this race, he faced Antron Brown,
Andrew Hines
and Angelle Savoie before meeting Reggie. Like I often say, "what are the odds?"
The Jeg's All Stars will take place this weekend in Chicago and it's shaping up to be the best ever. It looks like all, or at least most, of the west coast cars are coming and that should make for some great racing. Did you know that, after this past weekend, we have three alky funny car drivers who have competed a perfect season on the divisional level? Frank Manzo, Chuck Cheeseman and Bucky Austin are all 5-0 on the divisional level ands, let's see, yep, they'll all be in Chicago. This is going to be good.




NHRA: 10 Most Recent Entries [ top ]

Apr 22- HOUSTON - Sunday Pro Mod Wrap Up