Wed, 24 Sep 2003, 06:17 PM



Schumacher Confident about CARQUEST Nationals at Route 66 Raceway



Courtesy of NHRA Communications



JOLIET, Ill. --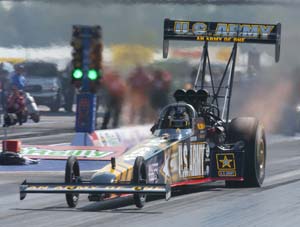 Tony Schumacher
Now Tony Schumacher can't wait to get to his home track just outside of Chicago. The Long Grove, Ill. resident didn't always feel that way, however. In fact, the anxiousness to return to Route 66 Raceway is a whole new feeling for Schumacher and the U.S. Army dragster team.
The NHRA has two national events at the state-of-the-art stadium each season. Until the most recent event at the end of May, Schumacher not only had never won a race at his home track, but he barely won a round. That was until the team hired championship tuner Alan Johnson.
Schumacher was in winner's circle in Johnson's first appearance as the team's crew chief. That event, by the way, was earlier this season in Chicago.
"I was a little scared to go there before because it seemed like we always had something go wrong. But we've gotten past that now," Schumacher said. "We broke that losing streak we had at Route 66 Raceway and now we have a new streak going. We are now going back to that track with confidence, knowing that we can run good there. We've tested since then and have run even better. I can't wait to get there."
Schumacher is hoping he can sweep the two Route 66 Raceway events when the track plays host to the third annual CARQUEST Auto Parts NHRA Nationals, Sept. 25-28. Doug Kalitta, Tony Pedregon and Jeg Coughlin are the defending winners for the fall event in their respective pro categories at the $1.6 million race, the 20th of 23 events in the $50 million NHRA POWERade Drag Racing Series.
Not only did Schumacher snag the spring race in Joliet, but the Army team is coming off a big victory at the Mac Tools U.S. Nationals in Indianapolis and the O'Reilly Mid-South Nationals at Memphis, Tenn., as well. The NHRA POWERade Top Fuel championship is out of reach for Schumacher as points leader Larry Dixon is nearly 600 points ahead. But there is still time to win a few races.
"It is very hard to win a race this season because there are so many top notch teams," Schumacher said. "It means more to win a race right now because the competition is so tough. When we beat Dixon in the final round at Chicago it was an unbelievably good feeling.
"We really are looking forward to the 2004 season. We've found out a lot about this new tune-up and what we can do with it on this car. We're going to be at some great tracks with cool temperatures and that is where Alan Johnson's tune-up works best." Route 66 Raceway opened in 1998 and remains the only stadium-style quarter-mile facility on the NHRA schedule. The ultra-modern facility provided the blueprints for new drag strips recently constructed in Bristol, Tenn. (1999) and Las Vegas (2000). Schumacher is ready to take advantage of his home track again.
"This stadium is the best track on the circuit in my opinion and it just happens to be an hour away from my house," he said. "Route 66 Raceway is everything you could dream of for a race track. I'm not sure if I would change anything." The track is not the only thing Schumacher wouldn't change. He thinks he will keep his crew around for a while too.
"I think we have the single-best team around," Schumacher said. "I am sure other drivers feel the same way about their teams, but I truly believe we have the best crew chief, car and crew. I wouldn't change anything about this team. I'm looking forward to going to the track and winning with this team every weekend."




NHRA: 10 Most Recent Entries [ top ]

Apr 24- CHARLOTTE 1 - Steve Torrence Enjoying Four-Wide Success Heading to NGK Spark Plugs NHRA Four-Wide Nationals
Apr 24- CHARLOTTE 1 - Fact Sheet
Apr 24- Kalitta Motorsports Welcomes NASCAR Stars to the SealMaster Track Walk in Charlotte
Apr 24- zMAX Dragway Celebrates 10th Anniversary
Apr 24- CHARLOTTE 1 - NGK Spark Plugs NHRA Four-Wide Nationals Brings 40,000 Horsepower Thrill Show to zMAX Dragway
Apr 23- HOUSTON - Lucas Oil Drag Racing Series Wrap Up The NHRA Lucas Oil Drag Racing Series Wrap Up
Apr 23- CHARLOTTE 1 - J.R. Todd Aiming for Two Four-Wide Racing Wins in 2018
Apr 23- Mid America Dragway Joins NHRA Member Track Network
Apr 23- HOUSTON - Special Awards
Apr 23- HOUSTON - Sunday Video