Wed, 24 Sep 2003, 06:17 PM



Route 66 Raceway Continues to be a Racer Favorite



Courtesy of NHRA Communications



JOLIET, Ill. --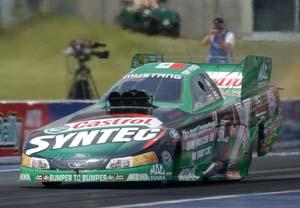 Tony Pedregon
Tony Pedregon might be a little biased, but he really loves Route 66 Raceway. He swears by the state-of-the-art quarter-mile track just south of Chicago.
Of course, he is the defending NHRA Funny Car event winner, so that may be one reason why the championship contender is looking forward to making a return to the third annual CARQUEST Auto Parts Nationals, Sept. 25-28. Doug Kalitta, Pedregon and Jeg Coughlin are the defending winners in their respective pro categories at the $1.6 million race, the 20th of 23 events in the $50 million NHRA POWERade Drag Racing Series.
"If we had every race there I wouldn't mind," Pedregon said. "It is the nicest facility and the track surface is great. At that time of the year, we can have some real nice climate conditions. Any time the weather cooperates, it turns into the best track that we get to race on."
While Pedregon is the defending event winner, he knows qualifying is tough and any one of the 16 cars that qualify for Sunday's elimination rounds will have a shot at winning. But he also knows the Castrol Syntec team has one advantage over the competition - four rounds of data.
"We do have information from last year and a lot of that we might be able to use because we have the same car. I see that as an advantage," Pedregon said. "That is one of the pivotal races for us. We're rounding third and we are headed for home and at this point every race is important, but I do love Chicago. I always get excited about going to that race track." Pedregon isn't the only driver looking forward to blazing into the Windy City. Even without a victory on his resume, Top Fuel pilot Scott Kalitta can't wait to check out the track. The two-time NHRA Top Fuel champion hasn't been drag racing since the track was created.
Kalitta drives the Jesse James/Mac Tools dragster, part of a two-car team. His cousin, Doug Kalitta, drives the Mac Tools dragster and is in second place in the Top Fuel standings.
"Absolutely I am looking forward to that facility, especially when it starts to cool down again," Kalitta said. "All of the tracks at the end of the year are pretty comparable and I think you are going to see some great times. We pretty much tested for a few weeks leading up to (the team's debut at the Mac Tools U.S. Nationals) and we are doing everything we can to get ready for next year.
"We have the ability to test under national event conditions because we aren't in championship contention. But we have a little bit of a head start on next season and we are enjoying that. I didn't want to quit when I did quit, it was just that I had some business commitments and so forth. I was pretty much ready to come back as soon as I quit and it just took this long to do it."
Jeg Coughlin is also looking forward to the '04 campaign. The defending NHRA Pro Stock champion has twice won the series title, but he won't be snagging a third this season. He is, however, trying to move up the standings. Route 66 Raceway just might be what he is looking for.
"We always look forward to Chicago. Chicago is a fun race," Coughlin said. "The facility is unique in its own right and the track has come into its own in the last couple of years. It has really become one of our finer tracks. There are still some bumps that you have to navigate around. The neat thing is that you never know what you are going to be welcomed with as far as atmospheric conditions.
"I think some of us are most likely not in championship contention at this point, which is unfortunate for us. Bottom line is that we have to keep plowing forward. We just took delivery of a new car and we would like to roll that out and get it broken in before the start of next year. We are focused on trying to climb up into the No. 2 spot. Kurt Johnson is ahead of us by a few rounds but we are just going to keep climbing up there."




NHRA: 10 Most Recent Entries [ top ]

Mar 17- GAINESVILLE - Top Dragster presented by RacingRVs.com Round 1 Eliminations
Mar 17- GAINESVILLE - Top Sportsman presented by RacingRVs.com Round 1 Winners
Mar 17- GAINESVILLE - Super Gas Round 2 Winners
Mar 17- GAINESVILLE - Super Stock Round 2 Winners
Mar 17- GAINESVILLE - Top Sportsman presented by RacingRVs.com Round 1 Eliminations
Mar 17- GAINESVILLE - Super Gas Round 2 Eliminations
Mar 17- GAINESVILLE - Super Stock Round 2 Eliminations
Mar 17- GAINESVILLE - Super Comp Round 2 Winners
Mar 17- GAINESVILLE - Stock Eliminator Round 2 Winners
Mar 17- NGK Adds 'Spark' to NHRA Four-Wide Nationals