Thu, 25 Sep 2003, 11:03 AM



One on One with Alan Johnson



Courtesy of NHRA Communications
Photo by:Auto Imagery, Inc.



JOLIET, Ill. --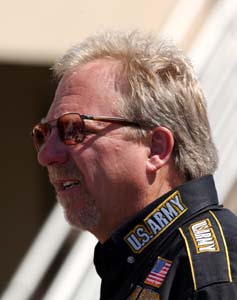 Alan Johnson
Want to be a crew chief? Read this. Alan Johnson has experience in the ways of winning in NHRA POWERade drag racing competition. With his brother Blaine behind the wheel of a Top Alcohol dragster, they won four championships in the 1990s before successfully moving up to the quickest and fastest class in drag racing. He also won three Top Fuel championships with Gary Scelzi (1997-'98, 2000). He can tell you the secrets to making the right calls when it comes to tuning a car. But pay attention, because Johnson is going to make the lesson quick and to the point. He walks around, quietly observing many things, while saying little. But yes, he is confident about what he does for a living. When he joined the U.S. Army team at the end of May, Johnson needed just one weekend to put Tony Schumacher in winner's circle. Yep, just one race. Going into this weekend's CARQUEST Auto Parts Nationals back at Route 66 Raceway, Johnson and Schumacher have three wins in four final rounds to their credit. Oh, and one other thing. Johnson also has the U.S. Army car in the record books as Schumacher piloted the car down the Reading, Pa., track in the quickest run in NHRA history. When the rain-delayed race picks up again in October, the team has at least three chances to back it up and turn the 4.465-second run into a national record. In this Q&A session, Johnson talks about what it is like to tune the car for someone who used to be his biggest rival, whether he ever thought about leaving the sport and what he has planned for the U.S. Army team in 2004.
Q: Were you surprised that Don Schumacher called you up and offered you a job, especially considering how you were at one time on rival teams?
JOHNSON: Did it surprise me? Not necessarily. When he called surprised me a little bit. But it didn't surprise me that he called because from an outsider's point of view it looked to me like he was in trouble and he needed to do something. It is a pretty high-profile team being sponsored by the U.S. Army and for them to barely be in the top 10 in the point standings is saying something. If I put myself in his situation, I would need to make a move somewhere. You just can't sit around and leave things hanging. You have to make a move and I wasn't really doing anything at the time. I was surprised at the timing and how it happened during an actual event.
Q: How important was that Chicago victory - the first win as a team?
JOHNSON: It was obviously really good for the Army, which was the best thing. It also instilled a lot of confidence on the guys on this team. They were working their butts off all year long. When I came over here they had to change a lot of things. We didn't have a lot of time, either. They had to do three weeks worth of work in three days. They took care of business. It was really good for those guys to get a win to give those guys some confidence.
Q: Describe your relationship with Tony Schumacher, how do you get along now that you are on the same team?
JOHNSON: It's working out fine. It's going well. When you race against each other you see the things you want to see. He really is an OK guy. Sometimes he says things before he thinks. When you are racing with him, you accept it. When you are racing against him, you hold it against him. I've never taken anything personal out here anyway. People that I raced against in the past, I can't take things personally with. This is a business. If you start taking things personally, you are really going to be messed up out here because a lot of people say things they don't mean anyway.
Q: How have you grown as a tuner over your career?
JOHNSON: I think there are a couple of steps when you are learning. If you are going to be good at it, you have to be meticulous. Attention to detail is paramount. So you learn and you learn and you do pretty well. Then you actually learn even more and that is when you can actually start over-analyzing things. That gets you in trouble. You need to get past that phase and get to the point where you know you can catch yourself over-analyzing things so you don't miss the big picture. I think that is a trap that some people get into, over-analyzing things. Some guys have trouble when they don't want to vary away from things they know. That gets people a little stagnate. I've never really had that problem. I'll change everything on the car overnight, but you have to have confidence that you can do that and still run well. That can be difficult sometimes. I think the biggest thing sometimes is being able to grow into that phase where you're not afraid of changing a bunch of stuff rather than sticking to that same box you've been in for so long.
Q: Does that theory still apply with such a high-profile team like the U.S. Army? Can you still feel confident about making several changes without feeling added pressure to perform?
JOHNSON: After you spend enough years and you have enough experience and you have enough confidence and you know what's going to change when you change something, then yes, it still applies. If you know how you got where you're at, then you can move around a little bit. If you don't know how you got there, well, you can get lost pretty easily. For the most part I know how I got to where I am, and I can change things around.
Q: The U.S. Army dragster snapped in two during qualifying last weekend in Memphis, causing an accident that fortunately left Schumacher unharmed. What have you done to correct the problem?
JOHNSON: I have already added some diagonal braces in the chassis just in case we have similar circumstances again. I don't want to break another car like that, ever. Those braces will stay in there. It's running just fine with them. It's not that these cars are flimsy up there [in the front section], that's just the way they build them. Our Hadman cars were never that flexy, but the McKinney cars are flexy right in front of the [driver's] box and that's where it broke. I'm not saying a Hadman car wouldn't have broken in the same situation I just think it may have withstood it better.
Q: What goes through your mind when you watch an accident like that?
JOHNSON: You're in shock for one thing. Once you get over the shock you try to figure out what happened. Obviously, you're worried about the driver. That goes without saying.
Q: How have you adjusted to the new team and how does this U.S. Army crew compare to other teams that you have worked with?
JOHNSON: The adjustment has been extremely easy because these guys are all hard workers and they all know what they are doing. There aren't any personality clashes. It is a very cohesive group. It is easy to work with guys that are focused on winning. These guys are all here because they want to win. They're not here just to pick up a paycheck. That makes it easy. As far as how they compare to other teams, they are right there with some of the Winston teams that we had. We had some good Winston teams and I would say that these guys are just as good as some of the Winston teams that won championships.
Q: Do you tune the car any differently for Tony Schumacher than you did for Gary Scelzi?
JOHNSON: No. I don't even consider the driver as input into the way I tune the car. I tune the car for what I think the race track can handle. Driving technique doesn't affect the performance of the car, at least not on a dragster.
Q: What is more difficult to tune, a Top Fuel dragster or a Funny Car?
JOHNSON: I don't think one is any more difficult to tune, really. Funny Car, because it has a high-maintenance body on it, is more labor intensive. As far as tuning it, it is all the same stuff. Maybe on some race tracks your window between smoking the tires (losing traction) and not smoking the tires is smaller for a Funny Car. But when you are running a dragster and you are trying to run on the edge, you are already on the edge. I don't have a preference, really. If someone gave me a big sack of money and told me to run whichever one I want, I would probably take the Funny Car only because it appears that I have not mastered that yet. I have some really good ideas on how to run a Funny Car.
Q: Do you still have plans to bring your own team back out again?
JOHNSON: We still have plans for that. I don't think drag racing is going to disappear anytime soon. I'm not going anywhere and I am not in a hurry. When I get the money put together to do it right, I will come back out with a team.
Q: Have you signed with Schumacher Racing to tune this car again next year?
JOHNSON: We haven't yet, but we're negotiating.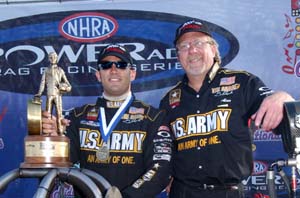 Schumacher and Johnson celebrate in Memphis.
Q: What is it going to take to get this car into winner's circle on a more regular basis?
JOHNSON: I think we are pretty close right now. On a good race track, and I think the only one we've been on since I have been here is Chicago, and we did pretty good there. After Chicago we had three hot race tracks and the tuneup wasn't in sync with the new chassis. I hadn't run that chassis before. The chassis, the clutch tuneup and the engine wasn't in sync for a hot tuneup. We've really done a little bit of testing and we've made some pretty good strides. I think we've got it where the car is competitive. My goal was to peak in Indy and whether we have or not, I don't know. The rest of the year this car should be pretty mean.
Q: How would you rate Larry Dixon and the Miller Lite team compared to what you and Scelzi did with the Winston team?
JOHNSON: I'd rate them pretty close to equal. The only difference is that they really haven't had the teams to race against. They're missing at least one or two strong dragsters in the class. With that said, they haven't made any mistakes. They've made a few, but not many. On that standpoint, they are pretty darn good.
Q: How are you and Gary Scelzi getting along these days?
JOHNSON: We're doing pretty well. We get along fine.
Q: What drives you to succeed?
JOHNSON: I'm just a very competitive person. I have always been that way. Everything and anything that I have done, whether it was sports or racing, I have been competitive. I played baseball, basketball, football, I still golf. Always been competitive and I've always wanted to win.
Q: What made you decide to come into racing in the first place?
JOHNSON: It was never a conscious decision, really. I started racing when I was a fairly young age, about 20 years old. I just kept going up a class. I didn't start at the stock level. I started at the dragster level, but we raced in the sand drags. I spent a year in an injected gas dragster. Then I switched over to blown alcohol and raced that for a few years. Then my brother started driving. We had a lot of success and then we decided to try Top Fuel. We started it and that was a challenge. First year was a challenge, second year was a challenge and I don't like to lose. So I decided to work as hard as I could until I got to where we could win.
Q: Did you ever think about quitting?
JOHNSON: After my brother died I did. Time made me come back, for one. The people at Winston didn't put any pressure on me to come back, but we had a deal that was going on and I wanted to come back.
Q: What made you decide to quit driving and be a tuner?
JOHNSON: A couple of things, really. It was difficult to tune and drive at the same time. That is a very difficult chore. In Top Fuel it is basically impossible. My brother worked very hard to drive. The whole thing was pretty much driven by me to begin with because he was four years younger. He worked hard and he always wanted to drive. The fact that he was 30-40 pounds lighter was just a bonus. He and I were always the same in the fact that we were very competitive from the start and he was a good driver. It turned into a really good deal.
Q: What do you think about the 2004 season and can this team challenge for the Top Fuel championship?
JOHNSON: That is pretty easy because if I didn't think we could win the championship, I wouldn't come back. And I'm coming back. I would say our chances of winning the championship are as good as any team next year.




NHRA: 10 Most Recent Entries [ top ]

Aug 17- BRAINERD - Super Gas Round 2 Eliminations
Aug 17- BRAINERD - Super Stock Round 2 Eliminations
Aug 17- BRAINERD - Super Comp Round 2 Eliminations
Aug 17- BRAINERD - Stock Eliminator Round 2 Eliminations
Aug 16- BRAINERD - Saturday Schedule
Aug 16- BRAINERD - Super Stock Class Eliminations Finals
Aug 16- BRAINERD - Stock Eliminator Class Eliminations Finals
Aug 16- BRAINERD - Friday Wrap Up
Aug 16- BRAINERD - Pro Stock's Matt Hartford Looking Forward to First Trip
Aug 16- BRAINERD - Top Fuel Qualifying, Session #2 Order