Thu, 25 Sep 2003, 06:29 PM



Grease(tm) is the Word







Shirley Muldowney and Mac Tools Celebrate 25 years of the Hot-rod Musical



JOLIET, Ill. --
As part of her Last Pass sendoff, Shirley Muldowney has brought a series of colorful Mac Tools top fuel dragsters to select National Hot Rod Association events throughout the 2003 drag racing season. This weekend during the CARQUEST Auto Parts NHRA Nationals at Route 66 Raceway near Chicago, Muldowney and Mac Tools will showoff a cool Pink Ladies(tm) paint scheme to commemorate the 25th anniversary of one of the most successful movie musicals of all time - Grease(tm).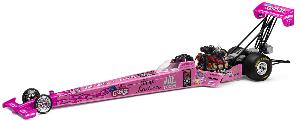 Rendering of Shirley's Grease car.
In addition to the Grease 25th Anniversary paint scheme, Muldowney's Mac Tools top fuel dragster will retain the official Last Pass logo, marking her final season in drag racing. Race fans can get a close-up view of the Grease-themed dragster beginning with top fuel and funny car qualifying on Friday night, September 26. Final eliminations will conclude on Sunday, Sept. 28, 2003.
Action Performance Companies Inc., the leader in licensed motorsports collectibles, has created a complete line of Muldowney's Last Pass season dragsters, including the Grease 25th Anniversary edition. The die-cast replicas are available through the company's standard distribution channels. To reach any one of Action's 18-member ARC distributor network, please call 1-800-411-8404. To join the exclusive RCCA collectors club, call 1-800-952-0708 or visit www.goracing.com.
Muldowney, the first lady of drag racing, began her career in 1965. She is the only woman to win the Top Fuel Eliminator Championships at the US Nationals, drag racing's oldest and most prestigious event. She also won the 1987 AHRA title and has competed in and won several IHRA races. She survived a nearly fatal accident in 1984, and by 1986, she had received "Comeback of the Year" honors. Muldowney's life in the top fuel driver's seat was chronicled in the 1983 film Heart Like a Wheel. She also was voted No. 61 on Sports Illustrated's list of the 100 Greatest Women in Sports.
Fred W. Wagenhals, Action's chairman, president and CEO, described Muldowney's impact in drag racing earlier this season: "Shirley Muldowney helped the sport make history and is an essential part of its heritage. The NHRA certainly is losing a special presence without Shirley behind the wheel. However, I am pleased that she is sharing her monumental final season with Action and with all of her fans. I am proud that Action has partnered with Shirley on so many different events over the years and wish her all the best in the years to come."
Grease, originally released in 1978, showcased the antics of the tough-cool T-birds and their chic-hip female counterparts the Pink Ladies at Rydell High School and was set in 1959, a prime era for street hot rods. In all, Grease has grossed more than $340 million worldwide, while the movie soundtrack has topped 20 million albums sold.
About Action Performance Companies: Action Performance Companies Inc. (NYSE: ATN) is the leader in the design, promotion, marketing and distribution of licensed motorsports merchandise. The Company's products include a broad range of motorsports-related die-cast replica collectibles, apparel, souvenirs and other sports-inspired memorabilia. Action Performance markets and distributes products through a variety of channels including the Action Racing Collectables network of wholesale distributors, the Racing Collectables Club of America, QVC, goracing.com, trackside at racing events, direct corporate promotions, mass retail and department stores, specialty dealers and select online retailers. For more information about Action Performance and its many subsidiaries, please visit the company's corporate Web site at www.action-performance.com.
About Viacom Consumer Products: Viacom Consumer Products merchandises properties on behalf of Paramount Pictures, Paramount Television, Viacom Productions, and Spelling Television, as well as third-party properties. Viacom Consumer Products, a unit of Viacom Entertainment Group, is a subsidiary of Viacom Inc.
(tm) & © 2003 Paramount Pictures. All Rights Reserved.




NHRA: 10 Most Recent Entries [ top ]

Apr 19- HOUSTON - Friday Schedule
Apr 19- Tige Boats Named Presenting Sponsor of E3 Spark Plugs NHRA Pro Mod Drag Racing Series Portion of NHRA SpringNationals
Apr 19- HOUSTON - Previous Success, Early Win has Funny Car's Courtney Force Excited
Apr 18- Haney Headed for NHRA Pro Mod with Summit Racing on His Side
Apr 18- HOUSTON - Richie Crampton Enjoying Early-Season Success Heading to 31st Annual NHRA SpringNationals
Apr 18- 2018 Mustang Cobra Jet Celebrates 50th Anniversary of Racing Legend with Quickest
Apr 18- New Ford Mustang Funny Car Scheduled to Debut In 2019 NHRA Mello Yello Season Opener
Apr 16- HOUSTON - Fact Sheet
Apr 16- HOUSTON - After Early-Season Mishap Funny Car's Jonnie Lindberg Looks to Get On Track