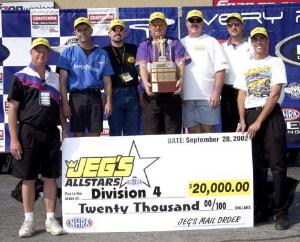 '02 Team Champs Division 4
For a sportsman junkie like me, this weekend may be the most exciting of the year. In addition to the great racing the normally accompanies a race at Rt. 66 Raceway, this fall weekend will also feature the latest running of the Jegís All Star championship, the best gathering of sportsman cars in the country. For the casual fans, admittedly the smallest group reading this story, let me just tell you the all star program brings together the best sportsman racers from NHRAís seven geographic regions for one big bash. By the time all the dust settles on Saturday we will have crowned new champions in all of the individual classes and we will have named a new team champion. In addition to some pretty nice pay checks ($7,000 to the alky winners, for example), the race also give the drivers bragging rights for the next year and the team that wins can rightfully say that their division is the best of the best. Points are earned based on how you do at your divisional events for the previous year so, theoretically, you have the best racers in each class from each division coming to town to slug it out. Thatís why I love the Jeg ís All Star weekend.
This year, with very few exceptions, almost all of the qualified drivers are coming to Joliet. A couple, like the Division 6 Comp champ, Adam Bowdish and Division 4ís alky dragster pilot, Lee Callaway, were not able to make the trip and when that happens they can be replaced. Still, itís a great group of cars and drivers and it promises to be among the most hotly contested All Star events in history and thatís saying something since we have had great racing, extremely close competition and some stunning final rounds over the years. Division 1 won the initial team title back in 1985 while the stars from Division 4 come in as the reigning champs. A look at the lineups for each class and from each division lead me to believe that this may be the best field ever assembled, and thatís saying a lot when you look back at the past eighteen years of this race.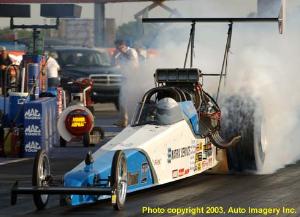 Marty Thacker
Since Iíve never been afraid to stick my neck out (I should be, but Iím not), Iím going to give you my picks for the winners this weekend, a job slightly easier than picking the numbers in this weekís Powerball lottery. Iíll also tell you who the new team champ will be, if you care, and then we can all read this again on Saturday night and laugh. But not too hard, I hope. In the Top Alcohol Dragster class Iím looking for a repeat, that is, I think the defending champion, Marty Thacker will do it again. If he does he will join a rather small group of one as the only guy to win the top spot in consecutive years. The great Tom Conway did it in back-to-back years in 1990 and 1991 and, while a couple of guys have won it twice, Tom is the only guy to do it in two straight years. Marty, who runs the best blown car in the country right now, will have to deal with a couple of fuel injected cars including the 280 mph missile of Mike Gunderson and the Jerry Darien owned car thatís driven by Morgan Lucas if he wants to win it again. Throw in some great supercharged challengers and Marty certainly has his work cut out for himÖ.The alky funny car class is absolutely loaded, with Frank Manzo and Bucky Austin the odds on favorites, but donít tell that to Jim Sickles, Cy Chesterman, Steve Gasparrelli or the defending champ, Jay Payne. The real sleeper here just might be the home town favorite (or at least the home division favorite) Chuck Cheeseman, who has quietly worked his way to a perfect five win season in his divisional races which includes a win here at Rt. 66. Then thereís Tate Branch, who usually visits hospitals in the area around the tracks where heís racing as part of his efforts on behalf of his sponsor Rapid Temps. This year, however, Tate is actually in the hospital suffering from a bout with pneumonia, something that may keep him away from the all star race this weekend. We wish him well and hope heís feeling better, and if he gets out in time and shows up for the race, all bets are off. My pick hereÖBucky Austin.
Competition Eliminator is always a treat and the All Star show is nothing short of spectacular. Mike Trumble whipped Ďem all last year and he certainly could repeat, although Iím going to go with Ed Sigmon. The great veteran from the west coast hardly ever travels east and this should be a treat for all of us, well, except for those who have to race him. This could be Edís biggest weekend since he took his MG to the win at the Winternationals in 1969. His chief competition should come from, well, everyone, since this class is absolutely loaded. Consider this, you have the reigning Lucas Oil World Champion, Mike Saye, a former World Champion, Sal Biondo, the guy who may be the next World Champion, Doug Engles all in the field. Like I said, good luck Ed, youíre going to need it.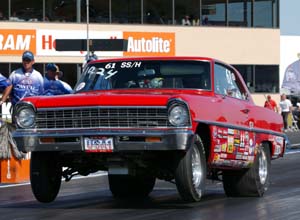 Terry Anderson
Super Stock features two guys who are racing in two classes. Peter Biondo and Harvey Emmons III qualified for the show in both Super Stock and Stock and both should go rounds in each class. Terry Anderson, the Division 6 champ and a guy who made a serious run at the national title last year, may come in with the lowest profile of the guys in the class but he will be high profile after he wins the race. The Chevy II from Meridian, Idaho, will join Jim Gorman and Jeff Lane as the only racers from D-6 to stand on the podium as the winner in Super StockÖ.The Stock class should find either Peter or Harvey in the final round, or both, but I like Jim Meador to win it all, if for no other reason than I get to say that Jim is the only guy ever to compete in the Jegís All Star show who once played guitar from the ďVenturesĒ group.
The Super categories are always a tossup, but I like Mike Drzayich, Butch Kleewein and DJ Jannuzzi in Super Comp, Gas and Street respectively. Why? Well, thatís what the little Eight-Ball told me. Actually, like all of the other classes, there really are no favorites here and each of the contestants could win it and no one would be surprised, but since I had to pick someoneÖ.And in the all important team competition, Iím going with those snappy dressers from Division 7 to win it all. With uniforms sponsored by Auto Imagery Photos, the D-7 stars will look great when they pose for that team championship picture on Sunday.
Now remember, this is all for fun and donít write to my boss and tell him that Iím an idiot for picking (fill in name here) because he already knows that and I know that every driver and every team could win this thing. I also know that it will be a lot of fun to watch and I wish the best to everyone.




NHRA: 10 Most Recent Entries [ top ]

Apr 23- HOUSTON - Sunday Video
Apr 22- HOUSTON - Sunday Pro Mod Wrap Up