Fri, 26 Sep 2003, 09:53 AM



Top Alcohol Points Leaders Bradshaw, Manzo will go up Against the Best of the Best



Courtesy of NHRA Field Marketing
Photo by:Auto Imagery, Inc.



JOLIET, Ill. --
More than 500 racers in NHRA's Lucas Oil Drag Racing Series will compete alongside their professional racing brothers at the CarQuest Auto Parts NHRA Nationals, September 25-28, 2003. Drivers in Top Alcohol Dragster (TAD), Top Alcohol Funny Car (TAFC), Comp Eliminator, Super Stock, Stock, Super Comp, Super Gas and Super Street will be at Route 66 Raceway to continue their quest for points leading to national championships.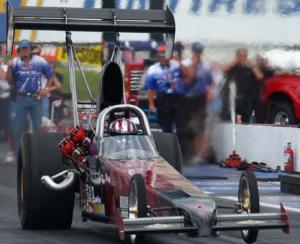 Alan Bradshaw
The hottest driver in TAD right now is Alan Bradshaw who won three consecutive national events before a scheduling conflict forced him to withdraw from the US Nationals in Indianapolis when the event was postponed due to rain. However, while the US Nationals were being completed the following week, Bradshaw was at the final West Central division race in Earlville, Iowa, where he took the win. The chiropractor from Odessa, Texas, started his win streak in Seattle, won in Denver and again in Brainerd, Minn.
Bradshaw is nearly 100 points ahead of second place racer Morgan Lucas, a 19-year-old rookie driver from Riverside, Calif., who was the winner in the drawn out event in Indianapolis. In third place coming into this event is Tony Bartone of Manhasset, N.Y. Bartone opted to sit out the US Nationals after a disappointing finish at the Northeast division race the week before. Both Bartone and Lucas started the year on a hot streak but have cooled considerably in the summer months. All three drivers are expected to be at Route 66 Raceway so it could be the turning point in the points battle.
Just two weeks ago, reigning TAFC champion Manzo was a long way out of first place but on the division level he won two events in one weekend (due to the rescheduling of a rain out), as well as the final race in his division last week. He catapulted himself into the lead. At the US Nationals he lost in the opening round of competition but he still has three national events from which he can earn points. Bucky Austin, of Fife, Wash., will also be in Joliet looking to regain his lead over Manzo. Like Manzo, Austin has made a clean sweep of his division and he made it to the semifinals at the US Nationals.
Lucas, Manzo and Austin will also compete in the Jeg's Allstar event, Saturday's race within a race where the best drivers from each of NHRA's seven divisions square off in a single day competition. The 64 drivers are vying team and individual honors and a share of the $100,000 payday. Last year's winning team, the South Central division, split a $20,000 purse. Individual winners were Marty Thacker in TAD; Jay Payne in TAFC; Mike Trumble in Comp Eliminator; Terry Emmons in Super Stock; Larry Hodge in Stock; Dick VenderMeer in Super Comp; Frank Kohutek in Super Gas; and Frank Nichols Jr. in Super Street.
NHRA Lucas Oil Drag Racing Series competitors in TAD, TAFC, Comp Eliminator, Super Stock, Stock, Super Comp and Super Gas will head back to Maple Grove Raceway to finish the rained-out race there before heading to Dallas for the O'Reilly Fall Nationals October 9-12.




NHRA: 10 Most Recent Entries [ top ]

Apr 21- HOUSTON - Sunday Schedule
Apr 21- HOUSTON - Saturday Video
Apr 21- HOUSTON - Saturday Wrap Up
Apr 21- HOUSTON - Super Stock Class Eliminations Finals
Apr 21- HOUSTON - Funny Car Qualifying, Session #4 Bonus Points
Apr 21- HOUSTON - Total Qualifying Bonus Points
Apr 21- HOUSTON - Funny Car Eliminations Ladder
Apr 21- HOUSTON - Funny Car Final Qualifying, Session #4 Order
Apr 21- HOUSTON - Top Fuel Qualifying, Session #4 Bonus Points
Apr 21- HOUSTON - Pro Stock Qualifying, Session #4 Bonus Points