Tue, 30 Sep 2008, 08:24 PM



The Big Question Is...?



By Bob Frey


Photo copyright 2008 Auto Imagery, Inc.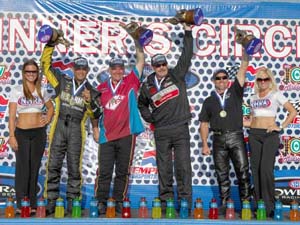 Schumacher, Wilkerson, Edwards, and Treble
The racing on Sunday in
Memphis
was about as good as it could get. Round by round the fuel cars put on a great show until the champions were finally crowned and
Tim Wilkerson
and
Tony Schumacher
rolled into the winner's circle. In the Pro Stock classes, wins by
Mike Edwards
and
Craig Treble
had to be considered surprises, if not upsets, even though both are in the "Countdown." In the press room after the race Tony Schumacher was asked about his next crew chief and he responded by saying, "I can't let anything out of the bag but it will be a real surprise." At which time
Don Schumacher
added that his selection will make everyone go "Wow." That wasn't his exact word but you get the idea. So the big question is, just who will be the crew chief on the Army car next year? It's a great team, sponsor and opportunity for someone, but who? And who will drive
Alan Johnson's
dragster next year? And which announcement will be the more surprising of the two? There are big rumors going around about both and I guess we'll all know very soon, and when we do, I wonder which one will make us go "Wow." I will tell you this, I have heard rumors about both jobs, but since I have no official word on either of them I won't speculate because that wouldn't be fair to anyone. And rather than try to be first with a story I would rather be fair.
Schumacher vs. Herbert
Tony won his 54
th
Top Fuel race when he beat
Doug Herbert
on Sunday and that just continues to add to his record season and his record career. As I've pointed out before, Tony wins even though he doesn't appear to have the best car in the field. He qualified sixth, didn't set low elapsed time or top speed and yet he still won the race. What he did was leave the starting line first against every opponent and, when he had to, he drove the car well on the track. And by that I mean in the semi-finals when he went 4.225 to beat
Hillary Will's
4.476.
Did you know
that in each of the other three rounds Tony ran 3.88? Now that's the stuff that wins races and championships. Since I mentioned leaving the line first,
did you know
that Tony has done that sixty-four percent of the time this year? That compares to the forty-one percent of the time that he was first off the line in his first championship season of 1999. Tony is now 166 points ahead of
Cory McClenathan,
who moved into second place, and he's just a few rounds away from clinching his sixth Top Fuel title.
Did you know
that Tony's win moved him into the top ten on the all time win list? Of course
John Force
leads that list with 126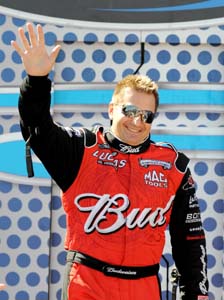 Brandon Bernstein
wins and there are four other current drivers on the list including
Warren Johnson
(96),
Frank Manzo
(78),
David Rampy
(70) and
Greg Anderson
(56)....
Brandon Bernstein
was the top qualifier in Memphis and that almost guaranteed that he wouldn't win the race. I say that because the top qualifier at that race has only won twice and those wins both came in the first two years of the event when
Darrell Gwynn
and
Gary Ormsby
went wire-to-wire. And
did you know
that since those first two races the top qualifier has only made it to the final round three times in Top Fuel?....Brandon did set top speed of the meet with his 313.88 mile per hour run in qualifying and that's the 26
th
time that he has done that.
Did you know
that ties him with Cory for fifth on the TF list?
Joe Amato
still holds the record with 69 top speeds but Tony is closing the gap and he now has sixty-six, including six this year....On average I have to say that the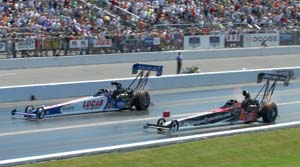 Herbert vs. Todd
racing at the new 1,000 foot distance is producing more close races than we saw at the traditional quarter-mile distance. I'm not advocating for one length over the other, I'm just stating what I see as an observer of the sport. There were what I would call five very good races in round one at
Memphis
in the dragster class, three in round two, one in the semi-finals (although the Tony-Hillary run was fun to watch). The final round between Tony and Doug was also very good and I think the fans saw a great show in
Memphis
. By comparison, and I know that conditions dictate a lot of what happens on the track, but last year I would say that there was exactly one good, competitive round of Top Fuel racing in Memphis. So I ask you, which was the better show?...While the battle for the top spot appears to be over (I know, anything can happen, but I really like Tony's chances), the race for second place is wide open. As I mentioned, Cory moved into second and he is thirteen points ahead of
Antron Brown
while the sixth place driver, Brandon, is only thirty-five points behind Cory. Hey, finishing second isn't bad, especially when you're finishing second to a driver and a team who are having a "career year" in 2008.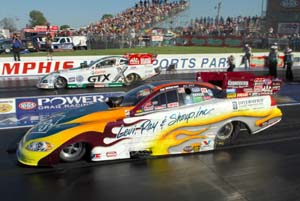 Wilkerson vs. Force
Tim Wilkerson gets a lot of credit for winning the
Memphis
race and he gets a lot of credit for the way he did it. By that I mean that, after beating
Melanie Troxel
in round one, he then beat three of the Team Force cars in order to win the race. Now that's doing it the hard way, isn't it?
Did you know
that Tim is now a combined 14-6 against the Team Force cars this year as opposed to the 8-25 he was against them coming into this year? Now that could be the difference between winning the championship or finishing second couldn't it? Not that there's anything wrong with finishing second but I don't believe that's Tim's game plan right now.
Did you know
that Tim has raced at least one member of John's Ford team at sixteen races this year? Tim, like Tony Schumacher, didn't have the best car statistically at
Memphis
and yet he still won the race. He qualified eleventh in the field and was average in his first two rounds, running 4.186 in round one (ten cars ran better in that round), and 4.231 in the second round (four cars ran better in that round). But, as he always seems to do, Tim rebounded with solid runs of 4.168 in the semis (the best of the round) and another 4.166 in the final round to win for the sixth time this year.
Tim was docked fifteen points for an oil-down in the final round and, because of that,
Ashley Force
actually earned more points in
Memphis
than he did. Tim gained ninety-seven points while Ashley, the runner-up, added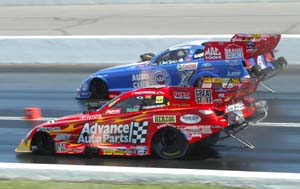 Pedregon vs. Hight
ninety-eight to her total. Tim's lead is now seventy-two points over
Jack Beckman
while
Robert Hight
is in third, two points behind Jack and
Tony Pedregon
is another two points behind Robert while Ashley is in fifth place, ninety-two points out of first...Ashley qualified number one and, while it's not quite as bad as the dragster class, it's also not often that the top qualifier wins in the FC class in
Memphis
.
Did you know
that in twenty-one years of racing in
Memphis
the winner in the Funny Car class has been the top qualifier exactly five times? Another five times, including this year, the number one driver made it to the finals only to come up short....There were what I would call eight really good or close races in the Funny Car class and that made for some good racing for the fans to watch. In the interest of fair reporting that's about the same number of "good races" that we had last year in
Memphis
in the Funny Car class. This year, however, there were only two runs over five seconds in the FC class while last year there were nine runs that were over 5.25 seconds (adjusted for a quarter-mile distance)....Tim won from the number eleven spot and that's the fifth time this year that the eleventh qualifier has won in the Funny Car class.
Did you know
that's the most wins from any position in the Funny Car field this year? And
did you know
that coming into 2008 the eleventh qualifier had won a grand total of nine times in the history of the FC class? .Melanie Troxel set top speed in the Funny Car class and I only mention that because it was her fifth top speed which ties her with her husband,
Tommy Johnson
on the list.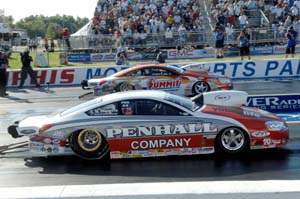 Edwards vs. Line
With his win in Memphis Mike Edwards moved into fifth place and to within sixty-nine points of the leader,
Jeg Coughlin.
To say that the Pro Stock points are wide open would be a huge understatement since there are seven drivers within one hundred points of the lead.
Allen Johnson
, the top qualifier in
Memphis
, is in seventh place and he's only five rounds out of first, and the way the Pro Stock class is going in the "Countdown" you can almost make that up in one race. Who would have thought that three races into the "Countdown" Jeg,
Greg Anderson, Dave Connolly, Kurt Johnson
and
Jason Line
would all still be looking for their first win?...Mike, who has been driving well this year, was first off the line in three of his four rounds. In fact, the only driver who beat him off the mark was Jason Line in the final round and that's surprising because, in his history, Mike has been first off the line an amazing seventy-four percent of the time in final rounds. Of course he is first off the mark sixty-four percent of the time in all rounds of competition. Now that's really good, isn't it? Mike even beat
Dave Connolly
off the line in round two, a round he won on a holeshot.
Did you know
that was Dave's first holeshot loss of the year and only his tenth in almost 300 rounds of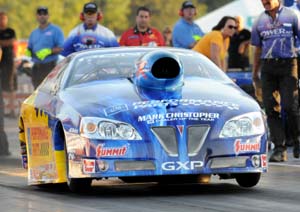 Warren Johnson
racing. That's good, too, isn't it?...
Warren Johnson
, who has been at all twenty-one of the Midsouth Nationals in
Memphis
, had his best weekend in quite a while. The "Professor" ran well in qualifying and then made it to the semi-finals before shaking and losing to Mike Edwards
. Did you know
that this was
Warren
's first semi-final since the
Chicago
race and that, since then, he had dropped ten round one matches in a row?...Like the fuel classes, the top guns in Pro Stock weren't around for the final round. Allen Johnson was the number one qualifier and he also set low elapsed time while Greg Anderson had top speed yet neither of them won the race. A good race in Virginia next week could propel almost anyone to the top of the pack while a bad race might not be as devastating as it may be in the other classes.The parity in the Pro Stock class has never been more evident than it is right now. A look at the tree winners in the "Countdown" or a look at the cars in the semi-finals would prove that. As good as they are, two of the drivers in the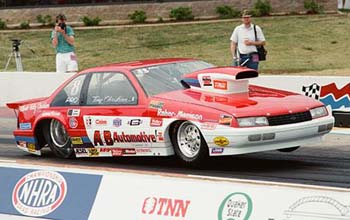 Tony Christian
semis, Warren and Allen Johnson, haven't won this year, while Mike hadn't won since
Atlanta
and Jason was looking for his first win since
Seattle
.
Did you know
that we have had eight different winners in the last nine races in the Pro Stock class? Like I said, the battle for the championship is wide open....Jason Line moved up to third place with his runner-up finish and he is fifty-five points behind Jeg Coughlin. Jason was trying to win from the number twelve spot and, since I told you how tough it is to win from the number one spot in
Memphis
, I should tell you this.
Did you know
that in the entire history of this event a car from the bottom half of the field has won just twice in Pro Stock?
Tony Christian
did it in 1988 and
Mark Pawuk
did it in '95 and they had both qualified ninth. And since the number twelve qualifier had won a grand total of five times in the 615 race history of Pro Stock, I didn't like Jason's chances going into that final round.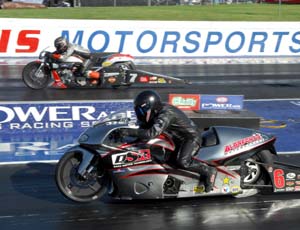 Treble vs. Krawiec
Red lights sidelined five of the contenders for the Pro Stock Motorcycle championship in
Memphis
.
Karen Stoffer, Steve Johnson
and
Chip Ellis
all fouled out in round one while
Andrew Hines
fouled in round two and
Matt Smith
got the red eye in the semi-finals. For Matt, the points leader, it was his first foul start of the year and that could be one of the reasons why he is leading the class. Among those at the top of the standings,
Eddie Krawiec
and
Chris Rivas
each have five fouls this year,
Angelle Sampey
has three and Steve Johnson has five.
Andrew Hines
is next in the points and he has five fouls this year while
Chip Ellis
has six. I know the motorcycles are hard to ride and that getting off the starting line is an art form, but once you foul there's not much that can save you on the track. In a world where everyone is talking "green," no where is being green more important than on the starting line in a drag race.
Please, no e-mails from the environmentalists out there, you know what I mean..Matt Smith had three bikes in
Memphis
and he said after the race that that's too many.
Angie McBride
was running the
myhollywood.com
bike while
GT Tonglet
returned to action with another one of Matt's bikes. "That was a lot of work," he said after the race. Even though it was a lot of work the plan worked out rather well for Matt, don't you think? Angie beat Steve Johnson (foul) and Andrew Hines (foul) while GT beat the top qualifier, Chip Ellis (foul) in round one. In the end, though, it was Eddie Krawiec who gained the most and he is now just forty-two points behind Matt in the standings. The top four riders are grouped within 102 points, but remember, they only have two more races to go as opposed to three for the cars, and those last two races should be very exciting from a racer and a fan point of view.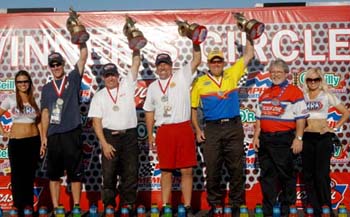 Adam Davis, Carl Shane,
Edmond Richardson and Arnie Martel
Jimmy Hidalgo Jr
. just missed winning in
Memphis
for the second time in as many years when he lost to
Adam Davis
in the final round. Adam, who has been making the rounds of the national events this season, was competing in his twelfth national event of the year and he earned his first major win.
Did you know
that, in addition to Jimmy's two final rounds, his dad also went to the Stock Eliminator final round in
Memphis
in 2006? And
did you know
that in both 2006 and 2007 the
Hidalgo
family beat
Edmond Richardson
in the final round?...Edmond got a little revenge by winning Super Stock in Memphis to record his forty-third national event win..In addition to Adam,
Carl Shane
also won his first national event when he beat
Jeremy Jensen
for the Super Gas crown..Out west, at the Division 6 Lucas Oil event in Medford, Oregon,
Mike Ferderer
and
Jimmy DeFrank
both won and that moves them into the lead in Super Gas and Super Stock respectively. Mike is twenty-one points ahead of
Brina Splingaire
and they each have one national and one divisional race remaining to claim. Jimmy is thirty-two points ahead of
Ricky Decker
and Jimmy has raced at four national events to five for Ricky. In both the professional and sportsman classes the next few weeks should be very exciting.




NHRA: 10 Most Recent Entries [ top ]

May 27- BOWLING GREEN - Saturday Wrap Up
May 27- BOWLING GREEN - Stock Eliminator Class Eliminations Finals
May 27- BOWLING GREEN - Super Stock Class Eliminations Finals
May 26- BOWLING GREEN - Competition Eliminator Eliminations Ladder
May 26- BOWLING GREEN - Competition Eliminator Qualifying, Saturday Final Order
May 26- BOWLING GREEN - Super Stock Eliminations Ladder
May 26- BOWLING GREEN - Super Stock Qualifying, Saturday Final Order
May 26- BOWLING GREEN - Stock Eliminator Eliminations Ladder
May 26- BOWLING GREEN - Stock Eliminator Qualifying, Saturday Final Order
May 26- BOWLING GREEN - Top Sportsman presented by RacingRVs.com Eliminations Ladder