Sun, 28 Sep 2008, 08:42 PM



Schumacher, Wilkerson Keep Their Points Leads



Courtesy of NHRA Communications


Photo copyright 2008 Auto Imagery





Edwards, Treble Move Closer To Championships With Wins In Memphis



MILLINGTON, Tenn. --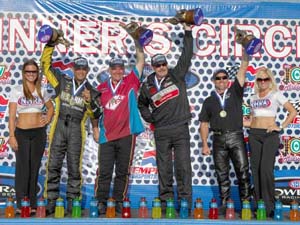 Professional Winners (l-r): Schumacher,
Wilkerson, Edwards & Treble
Top Fuel pilot Tony Schumacher and Funny Car driver Tim Wilkerson strengthened their points leads as many Countdown contenders fell early Sunday at the O'Reilly NHRA Mid-South Nationals presented by Pennzoil.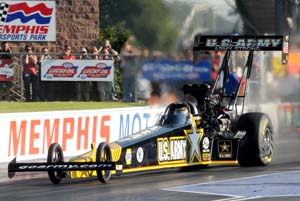 Tony Schumacher
Pro Stock's Mike Edwards and Pro Stock Motorcycle's Craig Treble joined Schumacher and Wilkerson in the winner's circle with three races remaining in the Countdown to 1 playoffs.
Schumacher drove his U.S. Army dragster past Countdown competitors Rod Fuller, Doug Kalitta, Hillary Will and Doug Herbert en route to his 13th win of the season and second since the playoffs began. Schumacher's final-round pass of 3.880 seconds at 309.91 mph was strong enough to get past Herbert and build his points lead to 166 on second-place Cory McClenathan.
"I walked into this race 97 (points ahead) and I said I wanted to leave 150 ahead," Schumacher said. "I wanted to leave here knowing that with each race, with three left, they're going to have to pull 50 points on me just to catch up."
McClenathan, Schumacher's Don Schumacher Racing teammate, moved past David Powers Motorsports driver Antron Brown into the second-place spot after Brown lost to Countdown driver Larry Dixon in the first round. Herbert's runner-up finish also moved him up one spot from eighth to seventh in the point standings.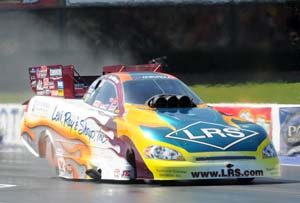 Tim Wilkerson
Wilkerson also faced some of the most difficult competition on the circuit en route to his sixth win of the year. He won a first-round match-up with Melanie Troxel before facing three of four John Force Racing entries that are all still alive in the playoffs, starting with John Force himself. Wilkerson then defeated Robert Hight in the semifinals and took down No. 1 qualifier Ashley Force in the finals to maintain his points lead. Wilkerson is now 4-1 against the younger Force in head-to-head meetings this year.
Wilkerson drove his Levi Ray & Shoup Chevy Impala SS to a 4.166 run at 298.47.
"We were lucky enough to get by the three Force cars and that was a tremendous opportunity for us to build on our points," Wilkerson said. "When Tony and Cruz (Pedregon) went down and Robert (Hight), we had to beat him, he's right behind me in the points so it was a pretty spectacular weekend for the whole team."
Ashley Force's runner-up finish moved her up in the point standings from sixth to fifth, while JFR teammate and father John Force jumped from eighth to seventh in the point standings.
Mike Edwards
Edwards strengthened his spot in the Pro Stock point standings with his second win of the season. He drove his Young Life/Penhall Pontiac GXP to a 6.702 at 207.27 past Countdown driver and runner-up finisher Jason Line. The win also shot Edwards from ninth to fifth in the point standings.
"It seems like ever since this Countdown started, crazy things are going on in Pro Stock," Edwards said. "You've got a lot of people that are better than our team but they're having a lot of problems like everybody else. Every race we've done a little bit better. We've got three races to go and if I can pick up another win that would be awesome for our team."
Points leader Jeg Coughlin stayed in the top spot following a second-round loss to Allen Johnson after his Jegs.com Chevy Cobalt broke on the line and nudged his precarious lead over second place Kurt Johnson to 32 points.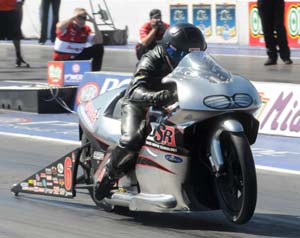 Craig Treble
In Pro Stock Motorcycle, Craig Treble rode his Albrecht's Fast Track Suzuki to a 6.985 at 188.57. It was Treble's first win of the season in three final-round appearances and his first since joining Don Schumacher Racing.
"I'll tell you what, Steve Tartaglia, all the guys over there work so hard," Treble said. "Man, it's just a privilege to be part of it. And (DSR teammate) Chip Ellis, what an awesome rider he is. We're trying to work together. I'm not as good a rider as he is. I'm probably a better racer on Sunday and if we can combine our efforts I think we can be some pretty tough guys out here."
Runner-up finisher Eddie Krawiec kept his second-place spot in the point standings and moved to within 42 points of leader Matt Smith, who lost in the semifinals.
Sunday's final results from the 21st annual O'Reilly Mid-South Nationals presented by Pennzoil at Memphis Motorsports Park. The race is the 21st of 24 in the NHRA POWERade Drag Racing Series:
Top Fuel -- Tony Schumacher, 3.880 seconds, 309.91 mph def. Doug Herbert, 3.979 seconds, 295.85 mph.
Funny Car -- Tim Wilkerson, Chevy Impala, 4.166, 298.47 def. Ashley Force, Ford Mustang, 4.183, 294.18.
Pro Stock -- Mike Edwards, Pontiac GXP, 6.702, 207.27 def. Jason Line, GXP, 16.481, 48.20.
Pro Stock Motorcycle -- Craig Treble, Suzuki, 6.985, 188.57 def. Eddie Krawiec, Harley-Davidson, broke.
Competition Eliminator -- Arnie Martel, Chevy Roadster, 7.897, 147.02 def. Kevin Self, Bantam Roadster, 8.239, 128.32.
Super Stock -- Edmond Richardson, Chevy Camaro, 10.880, 96.26 def. Lee Sharp, Chevy Cavalier, foul.
Stock Eliminator -- Adam Davis, Chevy Camaro, 11.095, 109.02 def. Jimmy Hildago Jr., Pontiac Firebird, 10.643, 118.23.
Super Gas -- Carl Shane, Chevy S-10, 9.938, 149.08 def. Jeremy Jensen, Chevy Corvette, 9.958, 142.00.




NHRA: 10 Most Recent Entries [ top ]

Apr 18- Haney Headed for NHRA Pro Mod with Summit Racing on His Side
Apr 18- HOUSTON - Richie Crampton Enjoying Early-Season Success Heading to 31st Annual NHRA SpringNationals
Apr 18- 2018 Mustang Cobra Jet Celebrates 50th Anniversary of Racing Legend with Quickest
Apr 18- New Ford Mustang Funny Car Scheduled to Debut In 2019 NHRA Mello Yello Season Opener
Apr 16- HOUSTON - Fact Sheet
Apr 16- HOUSTON - After Early-Season Mishap Funny Car's Jonnie Lindberg Looks to Get On Track