Fri, 26 Sep 2008, 10:24 PM



Bernstein, A. Force, Johnson and Rivas Provisional No. 1 Qualifiers in Memphis



Courtesy of NHRA Communications


Photo copyright 2008 Auto Imagery, Inc.





MILLINGTON, Tenn. --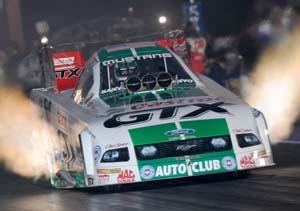 Ashley Force
Four playoff contenders lead the packs after what some crew chiefs called the best weather conditions Memphis qualifying sessions have ever yielded.
Ashley Force, Brandon Bernstein, Allen Johnson and Chris Rivas were the provisional No. 1 qualifiers at the 21st annual O'Reilly NHRA Mid-South Nationals presented by Pennzoil at Memphis Motorsports Park, the third of six events in the NHRA Countdown to 1 playoffs.
Force drove her Castrol GTX Ford Mustang to a strong 4.079-second pass at 298.87 mph to take the top spot in Funny Car. It would be Force's third No. 1 qualifier of the season and of her career.
"I was surprised when I saw the numbers," Force said. "It felt like I was just driving all over the place. Some runs that are real good runs just go nice and smooth and they don't feel that fast, so I was very pleasantly surprised with that number."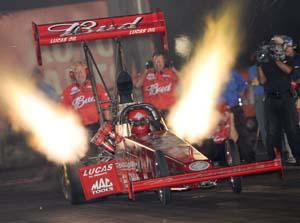 Brandon Bernstein
In Top Fuel, Bernstein drove his Budweiser/Lucas Oil dragster to a 3.825-second pass at 313.88 mph to take the provisional top spot. It would be Bernstein's second No. 1 qualifier of the season and 13th of his career.
"The track was great tonight," Bernstein said. "You could tell that Tim (Richards, crew chief) was anxious to get up here and see what this track could hold, especially with the conditions the way they were tonight."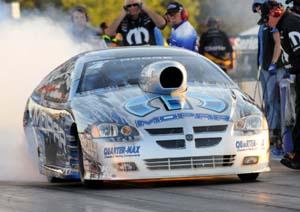 Allen Johnson
Johnson ran the quickest time in the Pro Stock category, driving his Team Mopar/J&J Racing Dodge Stratus to a 6.591 at 208.52. It would be Johnson's third No. 1 qualifier of the season and sixth of his career.
"We came up here on keel for this run," Johnson said. "When conditions get like this, we really perform well. We just went for the throat with this run."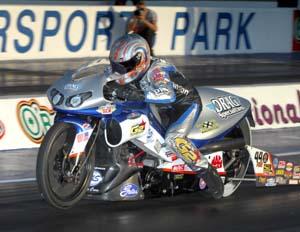 Chris Rivas
Rivas had the fastest run on a motorcycle, riding his G-Squared/Drag Specialties Buell to a 6.979 at 187.31. It would be Rivas' third No. 1 qualifier of the season and of his career.
"We're still leaving some stuff on the table, as are all the teams," Rivas said. "I think the tune-up on the bike means more than me doing anything different. At this point, I just feel like I don't have to do anything different. It's a good tune-up."
Qualifying continues Saturday with sessions at 11:15 a.m. and 2:15 p.m. Sunday's eliminations begin at 11 a.m.




NHRA: 10 Most Recent Entries [ top ]

Mar 17- GAINESVILLE - Saturday Wrap Up
Mar 17- GAINESVILLE - Super Gas Round 3 Eliminations
Mar 17- GAINESVILLE - Pro Modified Eliminations Ladder
Mar 17- GAINESVILLE - Pro Modified Final Qualifying, Session #4 Order
Mar 17- GAINESVILLE - Super Stock Round 3 Eliminations
Mar 17- GAINESVILLE - Super Comp Round 3 Winners
Mar 17- GAINESVILLE - Stock Eliminator Round 3 Eliminations
Mar 17- GAINESVILLE - Super Comp Round 3 Eliminations
Mar 17- GAINESVILLE - Top Alcohol Funny Car Round 1 Eliminations
Mar 17- GAINESVILLE - Total Qualifying Bonus Points