Fri, 26 Sep 2008, 12:14 AM



I Want To Get A Real Race Car



By Bob Frey


Photo copyright 2008 Auto Imagery, Inc.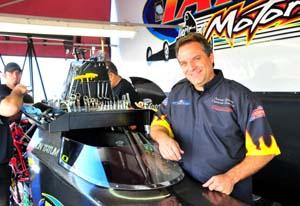 Aaron Tatum
Every now and then people ask me where the next generation of professional race car drivers will come from? When you're talking about the Pro Stock class the obvious place to look is the sportsman ranks, especially Competition Eliminator. Drivers in that class have a tendency to want to be Pro Stock drivers when they grow up, so to speak. Rodger Brogdon is an example of a guy who is racing in Comp and who wants to race Pro Stock full-time on the NHRA tour. At the recent Dallas event Mark Beuhring competed in Pro Stock and, earlier in the year, his partner Shane Heckle tried his hand at racing in the professional ranks. And when the discussion turns to Top Fuel and future participants in that class, the place to look is the alcohol dragster class. Among the current TF drivers there are several who have raced in the alky class and the trend looks like it will continue in the future. Spencer Massey stepped up to Top Fuel this year (and is still racing in the alcohol class), while Ashley Force made the move from the dragster class to the fuel Funny Car class last year and several others are likely to follow suit. I don't know if Aaron Tatum will ever turn pro but I do know this, he would certainly like to.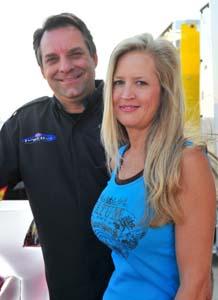 Aaron and Michelle Tatum
Aaron is a relative new comer to the ranks of the Top Alcohol Dragster class, having just joined the class last year. "I raced a long time ago back in Moore, Oklahoma," he said between rounds of qualifying at Dallas. "There were and still are a lot of really good racers from Moore." Some of the early racing that Aaron did was on a drag bike before stepping up to a car, and one of his earliest rides was a Chevrolet Malibu with a big block Chevy engine. "It was nothing fancy, just a regular car. And then I got married and had two boys and I had to stop racing and concentrate on my family and my job." While racing in Moore, Aaron met a beautiful girl named Michelle. The two dated for all of three months before getting married and that was twenty-four and a half years ago. "I knew right away that she was the one for me and I was the one for her," Aaron said. Today Michelle works as the office manager for Aaron's business, a home building firm, and she goes with him to all the races. "For a while it was just Michelle and me and we did everything at the races together." But that was back in the early days when Aaron was running a Super Gas car. Today he still has the 9.90 entry but he also runs one of the most competitive A/Fuel dragsters in the alcohol class. In fact, he was the top qualifier at the Mac Tools U.S. Nationals and he went to the final round at Brainerd this year. Throw in a couple of top speeds and it's easy to see why he is considered one of the top prospects in the class. So how did a guy from Moore, Oklahoma make it to the big time?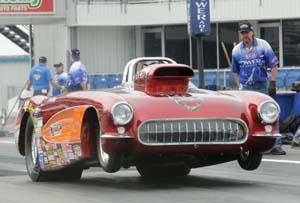 Tatum's Super Gas
Like many racers, Aaron knew that his time away from the track was being well spent, and between his business and the family he kept very busy. He also realized that if he came back to the races he would be hooked. "Joe Lytle, a friend of mine talked me into going to a race a few years ago and that was it," Aaron said. "I told Joe that I wanted to race again but that I needed to get a real race car, so I went right out after that and bought Jacky King's old Super Gas car and I went to the races." Aaron admits that the new car was a little different from the old Malibu that he used to have. "It had a roll cage and all of these electronics. It was a lot more complex than what I remembered from my early days." Aaron wanted to run at the national events but since he didn't have any grade points he had to hit the divisional circuit. "Our division director told me that if I wanted to run at the nationals I needed to go to several divisional races and so that's what I did." He competed in both Super Comp and Super Gas and promptly won the Mile High Nationals in Denver in 2004 then a couple of divisional races in Rusk and Ennis. After that, at one of the races, he started to take notice of Steve Torrence who was in the Top Alcohol Dragster class. "I saw what Steve was doing and I thought that looked like fun. Actually, it looked like a challenge and anyone who knows me will tell you that I love a good challenge." With nothing but a dream, Aaron contacted car builder Joe Monden and asked him if he would like to be part of his team. "Joe was very enthusiastic about the opportunity, but he was very busy building cars. When he said that he would help me I was so excited and the next part of my racing career began to take shape."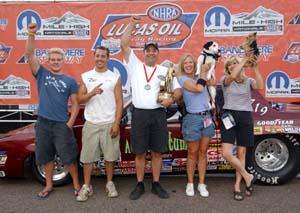 Tatum won 2004 Mile Highs.
With Joe's help, Aaron put a team together that includes Yancy Cordell, a talented young man who makes a lot of the composite wings and bodies that are in use in the dragster class today. Also coming on board was Chase Copeland and Cody Draper and together they formed the nucleus of the team. "I have found out that whether it's business or racing you need to surround yourself with good people," Aaron said. "Joe has taken care of that and I think we have one of the best teams out there. I told Joe when we started that if I do this I want to be competitive and that I'm not just out there to have fun. When I pull up next to someone on the line I want them to know that they're racing a guy who has a good car, all the best parts and a real desire to be the best." And, in just his first full year in the dragster class, he has already won three divisional races and has been to a final round at the national level and is solidly in the top ten in the national points. "When we began the year we set goals for our team. I'm a big believer in establishing goals, reaching them and then setting new goals." Among their goals was to win the Division 4 title and to finish in the top ten nationally. "I know that sounds ambitious for a first year team," he said. "But with the car that Joe built and with the team he has assembled, I think they were very realistic goals. And I like to think that I contribute my part as a driver by not making mistakes."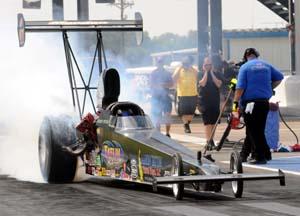 Aaron Tatum
With a business, two sons and a budding career in drag racing, Aaron's days are very full. "My one son and his wife are getting ready to have twins in a few weeks and my other son is getting married this year. The home building business has been sluggish this year so I have to stay on top of that. But I love racing and so does Michelle and we're enjoying everything right now. If I can get some financial help and develop some marketing partnerships I'd like to run a full schedule of races next year. Hoosier Tire has been very good to us and we have done some testing with the new tire that they have for the A/Fuel cars so that's been a big help." Aaron said that he wants to excel in this class before even thinking about moving up to a Top Fuel car. "I want to race with the best in this class and see how I do. Joe has put together a very good team and I'm really enjoying it. We'll leave a few races on the table as far as the points go this year, but we'll see where we finish." For a man who has built his own business from scratch and who has developed into a very good driver in the alky ranks, who knows what the future may hold. One thing is for sure, if you are wondering where the next group of Top Fuel drivers may come from, you could just start in Moore, Oklahoma. It seems like a lot of good drivers have already come from there.




NHRA: 10 Most Recent Entries [ top ]

Mar 22- LAS VEGAS 1 - Defending Funny Car Winner Tommy Johnson Jr. Excited for Four-Wide Racing
Mar 22- NHRA Northwest Nationals Tickets on Sale Now
Mar 21- LAS VEGAS 1 - Fact Sheet
Mar 21- LAS VEGAS 1 - Event Preview
Mar 20- Strong Stable of Contending Pro Stock Racers Vie for Final Starting Position for K&N Horsepower Challenge
Mar 20- GAINESVILLE - Special Awards
Mar 20- GAINESVILLE - Lucas Oil Drag Racing Series Wrap Up
Mar 19- GAINESVILLE - Sunday Video
Mar 18- GAINESVILLE - Pro Mod Sunday Wrap Up
Mar 18- GAINESVILLE - Sunday Wrap Up